CHISINAU, April 8, 2015 – Moldova's real GDP grew 4.6 percent in 2014, but has been slowing down since the third quarter of the year. The economy is projected to go into a recession in 2015, reflecting the negative shocks from external demand, remittances and financing. The forecast for 2016 is also less optimistic, as main trading partners from the CIS are expected to recover only gradually, and trade growth with the EU is below the potential. In the longer term, strong reforms in all sectors of the economy are needed to improve the living standards of Moldova's citizens.
"Russia's economic downturn has affected Moldova's remittances and Government revenues. We expect economy growth in Moldova will go into a 2 percent recession in 2015," said Ruslan Piontkivsky, World Bank Senior Economist for Moldova. "We have also reduced the GDP growth forecast for 2016 to 1.5 percent."
Despite the fact that Moldova's economy has performed well in 2014, unfavorable regional and domestic environment started to affect Moldova's growth. Consumer inflation increased to the upper bound of the target range of the National Bank of Moldova. The current account deficit widened to 5.7 percent of GDP in 2014, due to a sharp drop in remittances and foreign investments. Moldovan currency depreciated by over 20 percent against US dollar, while foreign reserves declined by 25 percent, though they are still covering 3 months of imports. The government managed to maintain fiscal discipline in 2014, yet already in 2015 it faces fiscal pressure challenges for the higher expenditures introduced in mid-2014.
Moldova remains vulnerable to the geopolitical tensions, the soundness and transparency of the banking sector, and the fiscal management pressures. The authorities need to recognize the losses incurred by the state in the banking sector, to overhaul prudential supervision and improve governance of the sector to minimize further risks. Moldova should continue to implement prudent macroeconomic policies with low fiscal deficits and a flexible exchange rate subordinated to inflation to shelter from external vulnerabilities.
Special Topic to this issue provide recommendations on how to restore social sustainability of the pension system and argues that the current pension formula requires urgent measures to prevent continuous pension benefits' decline. One of the reforms should focus on pay-as-you-go system before considering a mandatory fully-funded pillar.
"In order to restore economic confidence, Government could take decisive action on governance in the banking sector as well as using monetary policy to control inflation," said Alex Kremer, World Bank Country Manager for Moldova. "For the longer term we have pointed out how pension reform could prevent the pensions system from becoming an economic deadweight."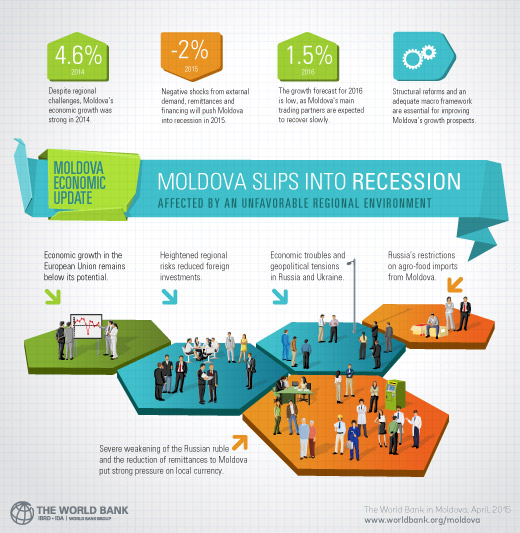 Since Moldova joined the World Bank in 1992, over US$1 billion has been allocated to about 50 projects in the country. Currently, the World Bank portfolio includes 8 active projects with total commitment of US$245.74 million. Areas of support include regulatory reform and business development, education, social assistance, e-governance, healthcare, agriculture, environment, and others. The International Finance Corporation has invested US$259 million in 24 projects in various sectors, and the Multilateral Investment Guarantee Agency has provided guarantees totaling US$95 million. Both institutions are members of the World Bank Group.