Region facing geopolitical and structural challenges
WASHINGTON, April 9, 2014 ― Growth in the Emerging Europe and Central Asia (ECA) region is decelerating this year due to downward adjustments in the eastern part of the region, the World Bank said at a press briefing during the World Bank/IMF Spring Meetings. With growth going from 2.1 percent in 2013 down to an anticipated 1.9 percent in 2014, economic growth in ECA is expected to be the slowest among all developing regions in 2014.
"The Emerging Europe and Central Asia region is at a crossroads, with the potential for many countries to fall behind unless they change track quickly," said Laura Tuck, Vice-President for the World Bank's Emerging Europe and Central Asia region. "ECA has still not fully recovered from the aftereffects of the financial crisis, and geopolitical risks and structural rigidities remain a constraint to growth."
Tuck added, "The ECA region was the hardest hit by the global crisis in 2008-09, contracting by over 4 percent in 2009, and has been the slowest to recover. The region is now facing a deceleration of growth. Many countries in the region need to pursue tough reforms to set the stage for boosting shared prosperity and creating jobs. This will also help build resilience to future shocks and build the foundation for strong growth."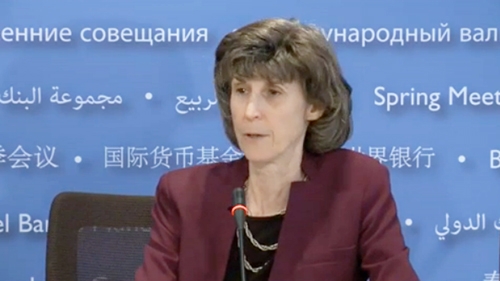 A Mixed Growth Outlook for Emerging Europe and Central Asia
While most of the other developing regions are expected to see a modest acceleration of growth in 2014, ECA growth is retrenching primarily due to a deceleration of growth in the Commonwealth of Independent States (CIS) countries – particularly Russia – and Turkey, while much of the rest of ECA, notably the EU11, are expected to see a modest acceleration.
Despite the glimpses of growth in the ECA region, there are significant downside risks and uncertainty for the region going forward.
"Our high- and low-case scenarios for the region reveal a high-case of 2.7 percent growth to a low-case contraction of 0.2 percent," said Tuck. "The large range reflects the high degree of uncertainty and geopolitical risks faced by the region since the Ukrainian crisis and subsequent East-West tensions. Our base-case scenario of 1.9 percent anticipates no further deterioration in economic relations between the countries, nor does it anticipate a quick resolution of the crisis."
For 2014, GDP growth in all sub-regions is expected to be around 1.9 percent. For Central and South East European (CSEE) countries, this is a slight acceleration from 2012 and 2013 when growth was feeble (0.7 percent in 2012 and 1.3 percent in 2013). Several CSEE countries will continue to experience unemployment rates of above 10 percent in 2014.
While the rest of ECA has seen sluggish growth over the last 12 months, the sharpest downward adjustment has been in Turkey, Georgia, and the CIS countries, including Ukraine. In the Commonwealth of Independent State (CIS) economies, economic growth has fallen by more than 2 percentage points from its 2011 level and prospects for a rebound are not promising. In Turkey, there is expected to be a marked slowdown in economic growth to 2.4 percent compared to 4.0 percent in 2013.
Factors affecting growth in ECA
"The ECA region has been the slowest to recover from the financial crisis," noted Hans Timmer, Chief Economist in the World Bank's Emerging Europe and Central Asia region. "This reflects the slow adjustments of the region's current account balances, lack of resolution of non-performing loans to free-up credit, and the stalling of reform progress on governance, business restructuring, and other structural rigidities that have dampened private investment and the recovery. The lack of progress on structural reforms is particularly evident among the CIS countries, including Ukraine, as well as Georgia."
Private investment fell the most in ECA out of all the other regions, while public investment and consumption grew marginally. Meanwhile, current account deficits remain large compared to other regions, and growth of exports of goods and services since the crisis has been weakest in ECA.
Within the region, industrial production has been recovering modestly in Central and Eastern Europe (1 percent), while the CIS has seen a sharp slowing beginning in November 2013 to January 2014 (-4.8 percent). Sluggish growth in the CIS has been accompanied by weak export growth, particularly among those countries with closest trade ties to Russia, which has seen frail domestic demand and lack of investment over the last year. These recent events have led to the large downward adjustments to the growth projections for several CIS countries and Turkey. Meanwhile, resource-rich economies of the CIS are facing head-winds from soft commodity prices.
Geopolitical uncertainty and weak economic fundamentals have weighed heavily on the region, putting these risks at the forefront.
Lower growth in Russia is likely to dampen economic activity among its trading partners. Accompanying the deteriorating investment climate, both Turkey and Russia have experienced nominal exchange rate devaluations against the dollar in excess of 20 percent over the last 12 months (21 percent for Russia and 25 percent for Turkey). Other ECA countries with close economic ties to Russia have also seen increased spreads and volatility in high frequency data (interest rates and exchange rates) suggesting greater uncertainty.
The ongoing banking sector weakness has contributed to low private credit growth, while unemployment has stabilized at very high levels across most ECA economies, which is putting downward pressure on prices.
Structural rigidities remain a key constraint to growth in ECA.
While structural reforms have taken place across ECA, the pace of reforms has slowed and large gaps remain for the CIS, in areas such as competition policy, small scale privatization, trade and foreign exchange system, and price liberalization.
Reinvigorating reforms is key to building economic resilience and setting the region back on the path to robust growth. The World Bank is helping its ECA client countries address these and other challenges to reduce poverty and boost shared prosperity through policy dialogue, analytical work, project funding, and reimbursable assistance services.