Today, World Bank Country Manager for Kosovo, Jan-Peter Olters, discussed sustainable energy options with civil society organizations.
He remarked that Kosovo's socio-economic development required energy that was consistently available, that remained affordable in a country with high rates of unemployment and poverty, and that was generated within the stringent environmental constraints defined by the EU.
"No-one is helped by an energy crisis a few years down the road, by energy shortages—with all the effects that these would have on jobs and income," said Jan-Peter Olters.
"Every effort undertaken to create employment and income, to reduce poverty, and to close the income gap with other countries in Europe would have been in vein and for naught, setting Kosovo back to the very beginning of its development phase," he added.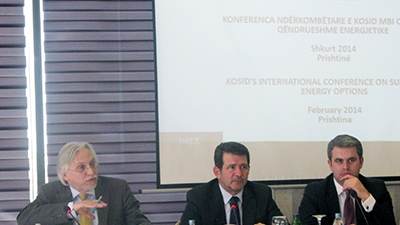 The World Bank official made these remarks while speaking at an international conference on energy options for Kosovo -organized by Kosovo Civil Society Consortium for Sustainable Development (KOSID). He was joined on a panel discussion by Minister of Economic Development Fadil Ismajli, Minister of Health Ferid Agani, and the CEO of GAP Institute - a member of KOSID - Agron Demi.
The conference was attended by civil society representatives from Kosovo, the European Union, and the United States, as well as by officials from the Government of Kosovo and several donor organizations.
-------------------------------------------------------------------------------------------------------------------------
Read the full remarks from World Bank Country Manager for Kosovo, Jan-Peter Olters, at this event.