As Africa's second-most populous country, Ethiopia boasts of one of the region's most robust economies, with an estimated growth of 6.4% in the fiscal year 2021/22. In terms of water and sanitation, roughly 60 million citizens now have easier access to basic drinking water, and the practice of open defecation has significantly declined.
Despite these strides, approximately 60 million Ethiopians still lack access to safe drinking water, contributing to 7% of the global water crisis, and over 112 million are without basic sanitation facilities, with 22 million continuing open defecation. Water contamination remains a critical challenge, exacerbated by insufficient sanitation infrastructure, leading to the spread of diseases such as cholera and diarrhea. In 2017, water-related diseases were a leading cause of death, second only to undernutrition. The ongoing conflict also aggravates water scarcity by uprooting communities and destroying water systems.
A study supported by the Global Water Security and Sanitation Partnership (GWSP) revealed that inadequate access to clean water and proper sanitation is linked to more than 60% of all communicable diseases in the country. Only 8% of the population can access handwashing facilities with soap and water. Issues like surface water pollution, stemming from rapid population growth, urbanization, industrialization, and inadequate waste management, compound the problem. The study stressed the need for capacity-building and specialized training for local businesses to manage large-scale construction projects effectively.
Ethiopia's diverse topography and dependence on rain-fed agriculture make it prone to natural disasters and hydro-meteorological hazards. Droughts and floods have increased in magnitude, frequency, and impact over the past 50 years and are expected to continue to worsen in the coming years due to climate change. Severe food shortages due to droughts affect on average 1.5 million people annually. Conversely, floods are also a prevalent hazard in Ethiopia affecting around 250,000 people every year and causing significant damage to infrastructure and agricultural land. This is expected to reduce Ethiopia's annual GDP growth by between 0.5 and 2.5 percent, exacerbating the existing issues posed by water-borne diseases, and negatively impacting the nation's electricity supply.
Addressing WASH Challenges through a Multi-Sectoral Approach
The World Bank has actively supported Ethiopia's WASH sector since 1994, through the Water Partnership Program (WPP) and Water and Sanitation Program (WSP) with programs aimed at bolstering regional water bureaus and advancing towards the Millennium Development Goals. In the last 10 years, the Bank's support in the water sector has provided access to improved water supply and sanitation to over 10 million people. Currently, three major water and sanitation projects are underway, led by the Water Global Practice and representing a collective investment of approximately $1 billion. These initiatives also draw additional support from other development partners, amounting to around $300 million.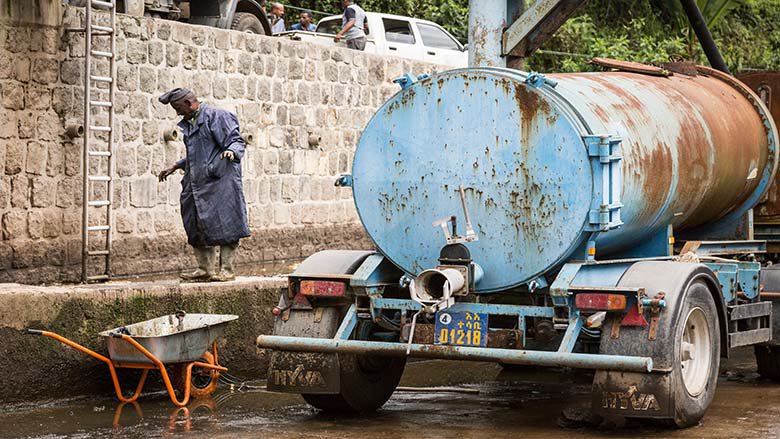 In 2018, GWSP continued to build on the foundational work of its predecessors by contributing to the design and implementation of ongoing World Bank projects. These include efforts to increase access to water supply and sanitation services and enhance the efficiency of water and sanitation utilities in Addis Ababa and select secondary cities and to assess water security risks and investments, particularly in the capital. Past projects have focused on sustainable WASH services, strategic water management, and integrating climate resilience into water service delivery.
The technical assistance from GWSP has been crucial in shaping Ethiopia's One WASH National Program, which is helping scale up access to water and sanitation by bringing together the water, health, education, and finance sectors. The second phase of the program, which started in 2019, aims to provide safe water to 4.4 million people and better sanitation services to 4.8 million. It has also already made significant inroads in improving sanitation facilities in schools and public spaces. The success of the One WASH National Program and plans to bring this model to South Sudan and Nigeria demonstrate the knowledge-into-implementation where GWSP-supported activities can be replicated in other countries.
The World Bank's role in convening stakeholders and attracting donor participation has been pivotal in advancing the One WASH National Program. However, there's an ongoing need for support in implementing projects and building local capacity to mitigate the impact of droughts and floods, ensuring sustained progress in Ethiopia's WASH sector.
GWSP is a multidonor trust fund administered by the World Bank's Water Global Practice and supported by Austrian Ministry of Finance, Ministry of Foreign Affairs of Denmark, Australia's Department of Foreign Affairs and Trade, Netherlands' Ministry of Foreign Trade and Development Cooperation, Bill and Melinda Gates Foundation, Switzerland's State Secretariat for Economic Affairs, Spanish Ministry of Economic Affairs and Digital Transformation, Swiss Agency for Development and Cooperation, United States Agency for International Development and Swedish International Development Cooperation Agency.