BAHI, June 29, 2022—The bumpy dirt road that runs towards the hamlet of Nholi from Mzogole village emerges and disappears in turns, through dried-out seasonal swamps, and patchy, sometimes dense, tree cover or shrubbery. Eventually, the hamlet spreads out boldly, a mix of permanent houses and shacks, with new, shiny colored iron roofs and dusty streets. The narrow main street is lined with bars, hair salons, barbershops and restaurants, each booming choice music out of their stereos, against the defiant sounds of generator- or electricity-powered stone crashers at the far end of the street.
Not long ago, this same street in rural Tanzania was dotted with just a few small businesses struggling to make ends meet. Access to electricity was low, making it difficult for businesses to keep long hours, and energy prices were too high to stay afloat.
Electricity is critical for reducing extreme poverty for both urban and rural populations and fostering opportunities for productive economic activities. While access improved in urban and peri-urban areas, the pace of rural electrification lags substantially behind the national average. The Tanzania Rural Electrification Expansion Program is helping to close this gap.
Lighting the Way for Businesses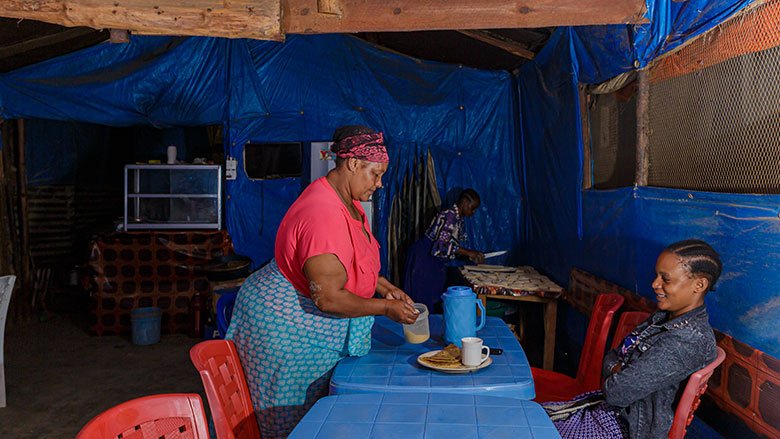 Mama Ali Pendo's restaurant sits directly across from a busy hair salon, where some of her customers have their hair done while dining on the food she has served them. Mama Ali, as she's known around the neighborhood, was one of the first arrivals in Nholi in 2016, after artisanal miners found new mineral concentrates in these hills of Bahi district, and turned Nholi into a mining hub.
"Food business can be very lucrative in a mining area, because miners must eat and most of them don't have their own gardens," said Mama Ali, a married mother of four.
With no electricity supply to the area, Mama Ali and other business owners who could afford it used diesel-powered generators. Mama Ali paid her generator service provider Sh1,000 ($0.45) per day to light a single bulb every evening and Sh3,000 ($1.30) for her fridge.
"I was spending up to Sh130,000 [$56] per month for the generator, but in addition I was buying inputs like food and charcoal, paying my staff, and also paying rent," she said. "It was tough, but we were all surviving the same way."
As soon as grid electricity arrived in Nholi in January of 2021, Mama Ali connected her building which she now owns and from which she operates. "Having electricity has helped a lot; my monthly bill averages about Sh6,000 [$2.60]," she said.
With an estimated 4,000 residents, Nholi—together with neighboring Mzogole village—recently joined the ranks of nearly 4,300 newly-electrified villages in the country as part of the implementation of the $209 million Tanzania Rural Electrification Expansion Program (TREEP). Approved in 2016, TREEP is financed jointly by the government of Tanzania, the International Development Association (IDA), and the Scaling up Renewable Energy Program (SREP) in Low Income Countries of the Strategic Climate Fund (SCF), and implemented by the Rural Energy Agency (REA) and the Ministry of Energy.
TREEP is designed as a Program for Results (PforR), supporting the government's National Rural Electrification Program (NREP) by innovatively linking the disbursement of funds directly to the delivery of defined results and achieve its objectives, which include:

Expanding rural access to electricity
Increasing the supply of renewable electricity in rural areas
Strengthening the capacity of sector institutions to deliver on the NREP
Building on Progress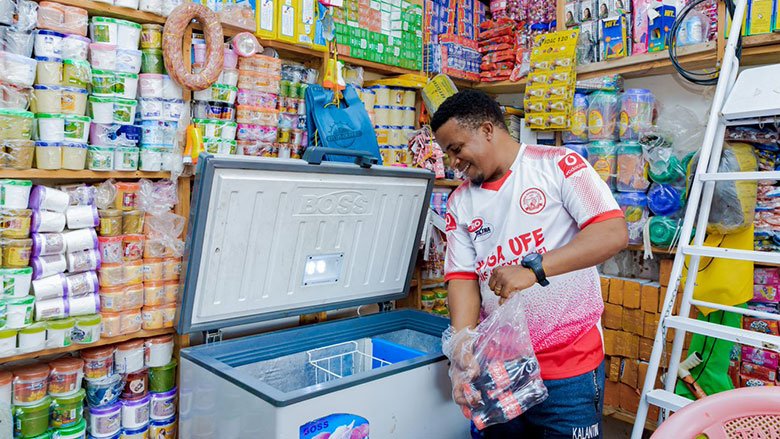 With TREEP, this is the first time the World Bank is using the PforR financing instrument for the rural electrification sector and in the energy sector in the Africa region. The PforR was considered the most appropriate approach to streamline and accelerate electrification as it allows for a strong focus on achieving tangible results to increase electricity access and scale up renewable electricity generation. It also crowds in additional support to the NREP and the government's access agenda from other development partners and the private sector.
Over the past decade, electricity access in Tanzania increased from 7% in 2011 to 37.7% in 2020, one of the fastest access expansion rates in Sub-Saharan Africa. This rapid increase in access has been attributed to several factors, including a strong political commitment and support for the rural electrification expansion programs, the introduction of a petroleum levy to finance the NREP; and reductions in connection fees and service charges that were first introduced in 2013.
Despite this progress, a large gap remains between electricity access rates in urban areas (73.2%) and rural areas (24.5%), and between grid coverage (78.4%) and the overall access or connectivity rate (37.7%). The government is committed to further accelerating access to modern energy services and has set a target to achieve universal access to modern energy services by 2030, of which 75% will be electrified through national and mini-grids and the remaining 25% through quality verified off-grid solutions.
Now in its sixth year of implementation, TREEP has contributed toward this goal through grid extension, as well as with more than 900,000 connections, providing over 4.5 million people with access to electricity. This achievement exceeds the program's initial target of 500,000 connections (or 2.5 million citizens) by end of the program. Among these new connections are 1,664 healthcare facilities and 5,900 education facilities.
To meet the country's national and international climate change goals and mitigate climate change risks, the program also supports the government strategy to diversify the energy mix through enhancing the use of renewable energy resources. The program is funding a credit line for small power producers (SPP) and renewable energy companies (REC), which had its first loan approved and disbursed in February 2022 for the Ijangala Hydro Project with an expected capacity of 0.36 MW and the project construction is currently underway. In addition to a strong SPP pipeline with several SPP projects currently being evaluated, these projects will together contribute a total 13MW renewable energy capacity which will benefit at least 100,000 people.