At 65, Mama Teresia Saveri never thought that she would see the day when she would have a tap with water flowing from it right at her house. So when the Mtisi village water scheme was completed in February 2021, Teresia and her husband Helman Mwendowasa immediately signed up, and theirs became the very first house connection on the scheme.
"I never thought our water challenge would ever be resolved in my lifetime," said Teresia. "Sometimes people with pressing needs spent nights at the seasonal spring waiting for water which would come in a trickle. Personally, I would aim to be there by 4:00 a.m., yet by 9:00 a.m. you would be lucky to gather a full 20-liter bucket, and this would be reserved only for cooking and drinking. If you needed to shower or wash clothes, there was a separate stream for this, and many people opted to do these chores right by that stream."
Mtisi is one of 2,354 villages that recently gained access to a clean water supply since the implementation of the World Bank-financed Tanzania Sustainable Rural Water Supply and Sanitation Program (SRWSSP) began in 2019. The program, whose development objective is to increase access to rural water supply and sanitation services in participating districts and strengthen the capacity of select sector institutions to sustain service delivery, is financed through the International Development Association (IDA)* in the amount of $350 million.
Utilizing a results-based financing instrument—known as "Program for Results" (PforR)—the SRWSSP has three result areas. Results Area 1 focuses on sustainable access to improved water services in rural areas, while Result Area 2 focuses on improved sanitation services. Result Area 3 aims to strengthen the capacity of sector institutions to sustain service delivery.
A Theory of Change
As almost 65 percent of the population resides in rural areas, the Tanzanian government has underscored its mission to provide them with better services in its ambitious Water Sector Development Program (WSDP 2006–2025) as well as National Five-Year Plans. The Rural Water Supply and Sanitation Agency (RUWASA) is responsible for implementing the SRWSSP which targets 17 administrative regions considered to have the highest poverty and stunting rates and the lowest rates of access to water supply and sanitation services.
To address the dual challenge of increasing and sustaining access to improved rural water services, the SRWSSP promotes a sector-integrated approach with incentives provided at village, district, and national levels. The program supports both the rehabilitation of existing nonfunctional water points, as well as the construction of new water schemes through a strengthened project cycle focusing on improving the technical quality of investments, as well as enhancing community engagement and ownership. The disbursement of funds is directly linked to the number of sustainably functioning water points that meet service criteria. Disbursement-Led Indicators (DLIs) are used to reward districts or villages for keeping water points operational throughout the year.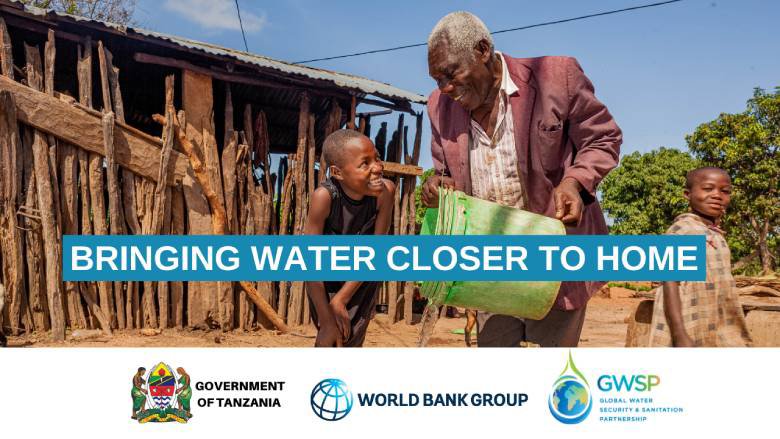 In addition, the SRWSSP is addressing rural sanitation challenges in an integrated way through the achievement of Community-Wide Sanitation (CWS) villages for improved overall health outcomes. In the targeted villages, the program is supporting initiatives to address the challenge of open defecation through the Community-Led Total Sanitation (CLTS) approach. The program is not only providing toilets for schools and dispensaries, but it is also providing financial incentivization for villages and communities to achieve and maintain open-defecation free (ODF) status through activities focused on sanitation demand creation (via behavior change campaigns), progress monitoring, and regular follow-ups.
The SWRSSP design recognizes that the challenge of providing sustainable water and sanitation services in rural Tanzania requires an institutional structure to enable proper policies, funding, implementation, management, and monitoring of services. Thus, SWRSSP has supported the operationalization of RUWASA as the centerpiece of rural-focused service delivery to support the overall goal of sustainability of water supply.
Throughout the implementation of the program, more than 3.3 million people were provided with access to better water supply (against a target of three million by end of project implementation in July 2024); with over half of them women. Beneficiaries receive their water supply service from "water points" (individual public taps or outlets) or "domestic points" (a stand with multiple taps) constructed, expanded, or rehabilitated under the program. These domestic points (DPs) are supply outlets located strategically along each street, with adequate pressure and safe water quality.
"Given the critical need for accurate and complete data to keep track of rural water supply needs and coverage, RUWASA's Central Data Management Team has been strengthened through the program, to enable it deliver on this in a timely manner," said Toyoko Kodama, World Bank Water and Sanitation Specialist, who is co-Task Team Leader for the SWRSSP. "It's now three years into its establishment and RUWASA is managing data and generating reports in compliance with the requirements of the Disbursement-Linked Indicators."