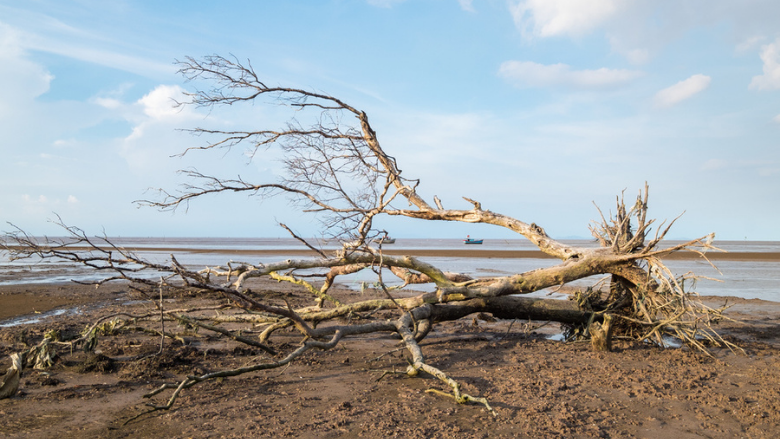 Sunrise over clump of dead trees as salt marsh occurred in Mekong Delta area. Photo: TonyNg/Shutterstock
Extreme floods. Extreme droughts. Saline intrusion. Coastal and riverbank erosion. Land subsidence.
The Mekong Delta, Vietnam's vital agricultural and aquaculture hub, has it all. While the Delta has been hailed as a biological treasure and is home to one of the most abundant biodiversity systems on Earth, its ecosystems are experiencing dramatic degradation on many fronts.
The Delta loses about 500 hectares of land per year to erosion, Vietnam's agriculture ministry estimates. In addition, unsustainable land and water management practices are polluting its labyrinths of rivers and canals. Upriver saltwater intrusion has risen to four grams per liter in places, four times higher than tolerance thresholds for major crops, triggering a region-wide freshwater shortage crisis. While climate change and sea level rise are responsible for some of these changes, direct human impacts such as upstream dam development and over-exploitation of sand and groundwater are also stressing the Delta.
This environmental deterioration threatens the lives and livelihoods of millions of people across 13 provinces.
Since 2016, the World Bank, through the Mekong Delta Integrated Climate Resilience and Sustainable Livelihoods Project, has supported the Government of Vietnam in applying broad policies and operating activities in the Mekong Delta enabling more than one million farmers transition to more climate-resilient and resource-efficient ways of living.
The Delta has four hydro-ecological zones that are connected by water flows, and the project promotes strategies specific to each area. In the upper Delta, the objective is to encourage flood retention, which is vital to alleviating droughts and saline intrusion downstream. In the river's estuary, the goal is to adapt to increasing salinity. Along the Ca Mau Peninsula, protecting the extremely exposed coastline and addressing water shortage is the priority.