The year 2020 was a leap year, and it was on that extra day, February 29, that the Ecuadorian government officially announced the first known case of COVID-19 infection in the country. An elderly lady had returned from travel abroad with the virus 15 days earlier. The announcement marked Ecuador as the 55th country in the world to report a case of the deadly disease.
Just a few weeks later, Ecuador rapidly became a country with one of the world's highest rates of infections and deaths. Ecuador's second-largest city, Guayaquil, was hit particularly hard.
The true horror began when bodies began to appear on the streets. They were of people who had collapsed as they struggled to breathe, or of those who had died in their homes and whose relatives had placed their bodies on the sidewalks in the hope that the authorities would take charge of the situation.
The months that followed were not encouraging. Large city hospitals were overburdened, and the lack of testing impeded authorities from tracking infections or explaining the unusual increase in deaths compared to annual averages.
Ecuador was entirely at the mercy of COVID-19: by late 2020, the country had recorded over 200,000 cases and 14,000 deaths, appalling figures for a country of just 17 million.
Therefore, it was even more remarkable that Ecuador became a leader in vaccination rates. But getting there was no easy task.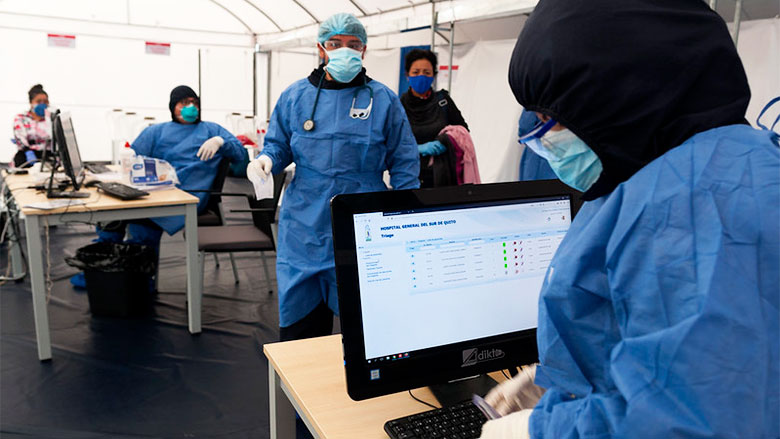 The arrival of the vaccine
On December 8, 2020, the United Kingdom became the first country to administer the vaccine. Ecuador did not begin vaccinating its population until mid-March 2021, targetting specific priority groups, such as healthcare workers, security personnel and the elderly.
During those early months, the immunization process suffered several setbacks. Some vaccination centers experienced overcrowding and people had to wait hours to receive their vaccine. The Ecuadorian government appealed to private universities and other institutions to support the process. Nevertheless, vaccination rates remained low.
Between January and May 2021, the government delivered 2.5 million doses and guaranteed the arrival of more large shipments. The pace of vaccination rose dramatically with the incoming administration of President Guillermo Lasso. A week after taking office, he presented an ambitious vaccination plan, which many believed would be impossible to achieve.