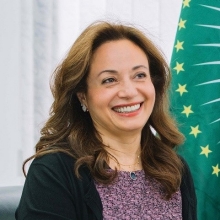 What is the biggest challenge for a digital transformation in Africa? What can you do to ensure an inclusive digital economy for all?
Challenges in implementing the digital transformation include strengthening the coordination framework, aligning policies and sector regulation and the need for a massive scaling-up of investment and dedication of resources. To address the challenges, the African Union Commission in collaboration with other continental institutions and regional economic communities are working with member states to identify and address barriers to harmonize laws and regulations and drive leadership for necessary reforms that ensure future investment in digital transformation.
An additional challenge is that nearly 300 million Africans live more than 50 kilometers from a fiber or cable broadband connection, hence the lack of widespread availability of high-speed internet remains a significant hurdle for Africa to fully harness the potential of digital transformation.
To reap the benefits of digital transformation, abundant, low-cost connectivity is essential as broadband drives productivity, innovation and growth. One of the specific objectives of Africa's Digital Transformation Strategy is to create a harmonized environment necessary to guarantee investment and financing in order to close the digital infrastructure gap and achieve an accessible, affordable and secure broadband, across demography, gender, and geography. The strategy also has a target for an additional 300 million people in Africa to come online by 2025.
How has COVID affected the digital transformation roadmap in Africa?
The COVID-19 pandemic crisis has undoubtedly had negative effects in all socioeconomic sectors. Africa, as the rest of the world, is experiencing the most unprecedented economic impacts since the Great Depression of the 1930s. The pandemic is reversing the continent's developmental progress made in recent years. In these unprecedented times, the African Union and African governments have taken measures to limit the spread of the COVID-19 outbreak and mitigate its impacts as well. Related measures include disease control, information, education, payments, provision of government's services and retail transactions that rely basically on digital platforms and tools. Digitalization has become a high priority. However, the huge use of the Internet resulted in a five-fold increase in cyberattacks and cyber threats due to a lack of cyber security frameworks in most countries. In this respect, the African Union and its member states are speeding up the implementation of the digital transformation roadmaps and strategies at national, regional and continental levels.
Looking forward, what role do you expect the private sector to play toward achieving the digital transformation vision in Africa, and how does the AU engage with private sector partners?
We recognize that direct linkages are necessary to realize the objectives of the digital transformation strategy. While the public sector must retain leadership, accountability and oversight capabilities, the role of the private sector in the implementation of the strategy is important. Previously, solving connectivity challenges could only be tackled by governments investing vast resources in state-owned networks. The mobile phone revolution opened the door to private sector investment in telecommunications and now new business models and services have extended sustainable communication services significantly further. Today, the digital infrastructure landscape is shifting again. The value chain of digital infrastructure networks has been unbundled and new private sector players are developing network infrastructure, such as independent broadband operators and tower companies.
Dr. Amani Abou-Zeid is the Commissioner for Infrastructure and Energy at the African Union Commission (AUC) in charge of sectors covering Energy, Transport, Tourism and ICT. Prior to joining the AUC, Dr. Abou-Zeid served for more than 30 years in leadership roles at the African Development Bank (AfDB), UNDP and USAID, with a focus on infrastructure and energy programs. An Egyptian national, Dr. Abou-Zeid speaks French, English, Arabic and Spanish. She is a trained telecommunications engineer with an MBA in project management from the French University for African Development (Université Senghor), a Masters in Public Administration from Harvard University and a Ph.D. in Social and Economic Development from University of Manchester.