Aleppo-born Jamal Dahdouh and Nuriye Gülübük, a Turkish citizen, work together at a catering company in the Pendik district of Istanbul. The job has allowed Dahdouh to pay all his debts and he is now looking forward to having social security for his young family. Gülübük is back at work after a five-month layoff and is now "standing on her own feet" again. They are both grateful for their jobs and enjoy working together.
Thanks to the efforts of the Ministry of Family, Labor and Social Services (MoFLSS) and İŞKUR - the Ministry-affiliated public employment agency - this encouraging pattern of Syrian refugees and Turkish citizens working side-by-side is being replicated in many other enterprises as well, from food processors to, textile manufacturers, to software development companies - and everywhere in between. This trend is not confined to Istanbul, either, but can be seen in many large provinces with sizable Syrian populations, including Adana, Gaziantep, and Şanlıurfa.
This integration has been fostered through the "Employment Support Project for Syrians under Temporary Protection and Turkish Citizens (ISDEP)" project, a €45.5 million initiative financed by the European Union, with administrative support from the World Bank. The project is designed to bring Turkey closer to addressing an issue which it has been tackling for years: boosting inclusion among the country's large Syrian population.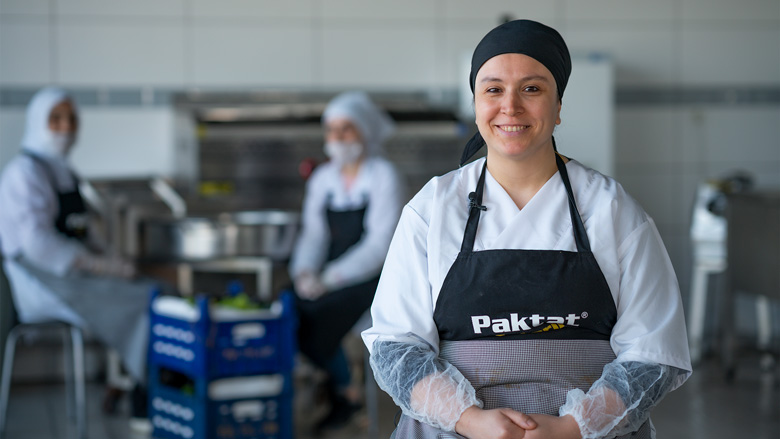 The jobs challenge
Syrians began to flee a war in their country in 2011 and some 3.6 million are now living under temporary protection in Turkey. The government of Turkey is providing public services, while the European Union and other international organizations continue to lend support. Despite these efforts, however, employment remains a sticking point.
A first step in allowing refugees to access formal work was the Regulation on Work Permits of Foreigners under Temporary Protection, passed in 2016. However, this regulation requires certain conditions before issuing work permits to Syrians. Moreover, many Syrians and prospective employers alike remain unaware of the procedures involved.
Inadequate knowledge of the Turkish language or a lack of skills or qualifications can also make it hard for some Syrians to find jobs. At the same time, employment opportunities often remain limited for local people as well.
Strengthening access to formal work opportunities for Syrians has become a priority for the country, as many have only been able to work in tenuous, casual and often-underpaid jobs - prolonging both their marginal position in society and their reliance on social assistance.
To overcome this challenge, the ISDEP project leverages the experience of well-established national institutions, such as İŞKUR – which provides job counselling and placement services and conducts active labor market programs throughout Turkey. Its local offices have extensive knowledge of local labor markets, enabling them to reach additional groups.