When Morgane, a MA candidate in international studies, came back from her spring break to her prestigious university in Washington DC for her last classes before the final exams, she didn't expect it to go awry. Neither did her teacher. Both had some difficulties switching to online education in one day. For a week, her classes were suspended because of a privacy breach. Massive transition to online education across the world caused a remote learning nightmare for students and educators.
If this is the situation in the US, imagine the situation in Africa. As country after country announced lockdowns, universities emptied out. The majority of students are at home, most do not have access to laptops and in some cases, even to smartphones. According to Mike Hughes, Advisor Science, Technology & Innovation Ministry of Education, Government of Rwanda, "It is important to maintain equity in education during this COVID-19 pandemic". Many students from poor backgrounds do not have electricity in their homes. Even if they have access to the internet at home, the cost is high. The situation can be similar to some faculty members who do not have any devices at home. Most universities have limited content online and both teachers and students lack the digital skills required to engage in online teaching and learning. Online repositories need server space, which is not immediately available. Science and technology students are affected by the lack of access to online resources that could substitute for laboratories and practical experiments. In the face of these difficulties, many governments have started using TV channels to broadcast lessons.
In the short run, the Partnership for skills in Applied Sciences, Engineering and Technology (PASET) has made a special effort to mobilize technical resources to help African universities at this difficult time of transition to online learning. The Université Mohammed VI Polytechnique (UM6P)(Kingdom of Morocco) and Worcester Polytechnic Institute (Massachusetts, United States) international partner universities of the PASET Regional Scholarship and Innovation Fund (RSIF), are offering support to the African RSIF host universities through webinars, short training programs on online training as well as access to electronic resources. Dr. Anouar Jamali, Director of the Africa Initiative at UM6P highlights that "In these difficult times where our universities raises the same issues of disruption to the education provided, UM6P & EPFL (Switzerland), partners in the "Excellence in Africa" initiative, have decided to join forces to help mitigate the effects of the current crisis by making available to the African academic partners, a series of educational resources as such as a webinar on May 19 (French) and May 20 (English) on the use of online educational resources in higher education dedicated to more than 150 focal points (Academic Affairs & IT Manager) representing 50 institutions."
Beyond the immediate support to transition to online learning, it is necessary to help universities and the broader education system with establishing learning and business continuity. A critical aspect of this process is to have clear guidelines and communications for everything, from admissions to examinations, and how to operate laboratories and student hostels. Learning Management Systems have to be procured or shared and courses migrated online. Students and faculties have to be trained in digital skills to use technology. Technical support groups and help desks have to be established.
Some innovative projects carried out by partner universities like UM6P range from the development of digital plotting applications, to the manufacture of respirators, the production of protection face shield for front line staff, the production of hydroalcoholic gel, the development of Marketplace platform dedicated to cooperatives and to the use of artificial intelligence for modeling pandemic trends. For the Director of the Africa Initiative at UM6P, there is no doubt that "these projects represent a great potential for the continent to develop solutions 100% made in Africa".
The COVID-19 crisis is shaping the landscape of education in a completely unprecedented way. Universities and students are facing a high degree of disruption that previous cohorts have not faced. According to Mike Hughes, Advisor Science, Technology & Innovation Ministry of Education, Government of Rwanda, "this pandemic has illustrated how recent joint efforts between faculties and African governments, and between the education and technology sectors would realize the potential of the next generation. Never has it been more important to focus on digital skills and digital technologies and the benefits they bring to everyone around the world, especially for African universities."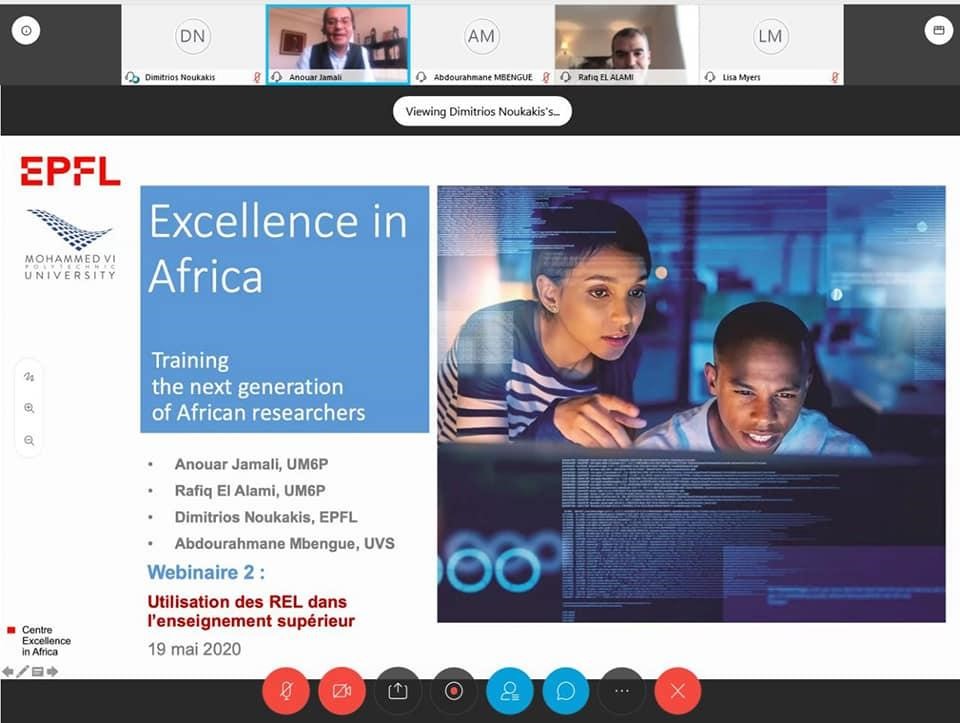 Screenshot of a webinar UM6P & EPFL. Credit: Mohammed VI Polytechnic University (UM6P)