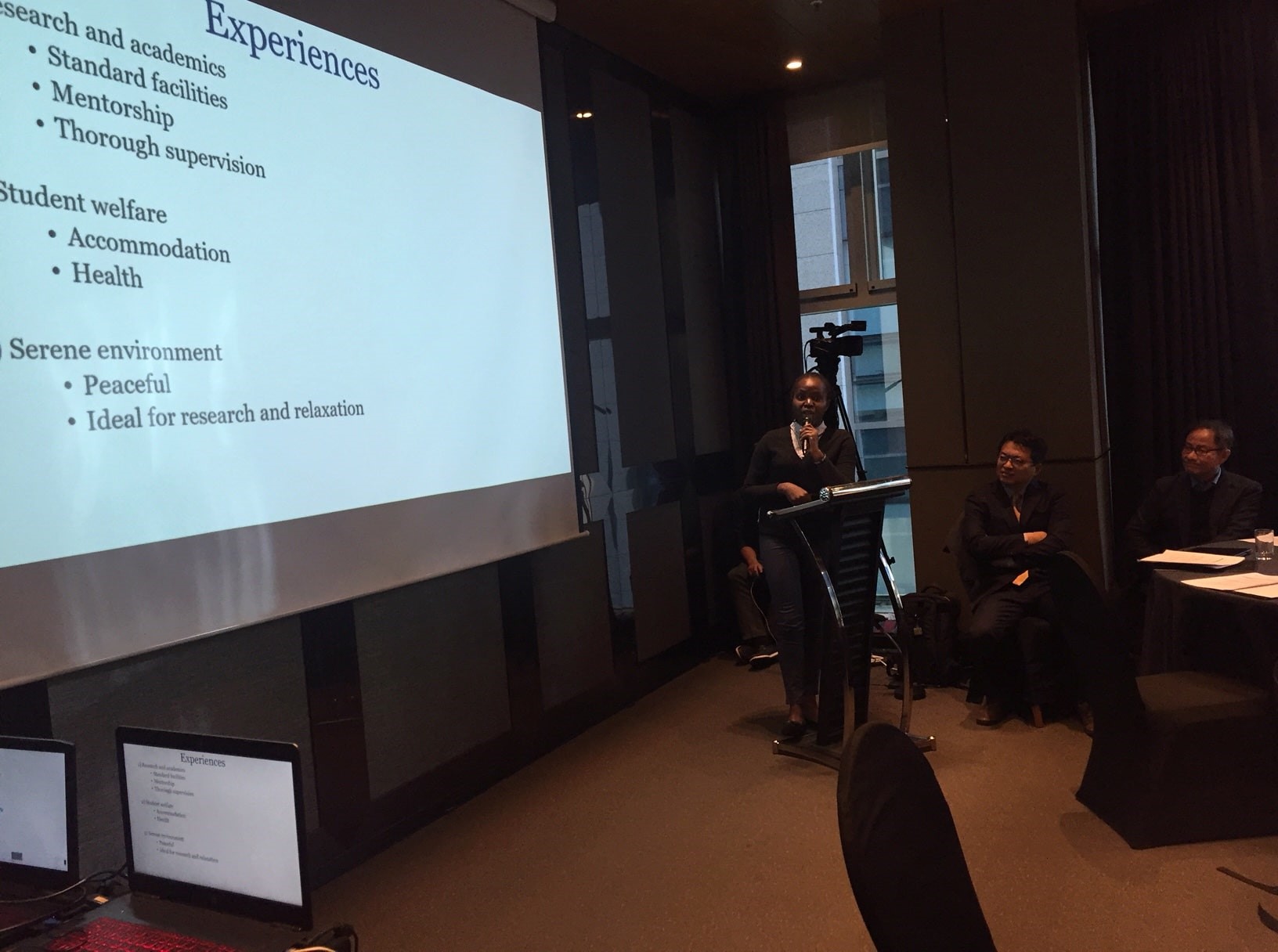 Sylvia Wairimu Maina presenting her experience at KIST. Photo Credit : PASET Secretariat
"Review our dreams, protect our dreams, and run after our dreams" said Sylvia Wairimu Maina, a recipient of the Partnership for skills in Applied Sciences, Engineering and Technology (PASET)
Regional Scholarship and Innovation Fund (RSIF) scholarship in a presentation at the PASET event on November 22nd in Seoul, South Korea.
Sylvia shared her experience on her Ph.D training under the RSIF program, specifically at the Korea Institute of Science and Technology (KIST) where she is pursuing the international component of her doctoral program. Sylvia, who had arrived from Sokoine University of Agriculture (SUA) in Tanzania, was joined at the event by three other scholars under the RSIF as the first cohort.
The November 22nd event reiterated the six year-long multi-faceted partnership between South Korea and PASET, which includes collaboration on the RSIF, technical assistance, knowledge exchange and financial support. The partnership between South Korea and African countries is a stepping stone to identify tangible solutions to Africa's key development challenges. In May 2018, the Government of South Korea contributed a US$10 million grant to support PASET's RSIF, and added to this, the Samsung Dream Scholarship Foundation is partaking in these collaboration efforts and is offering leadership programs and financial support to select African RSIF scholars studying in South Korea.
Speakers at the event included Mr. Sangwoon Park, Deputy Director for Development Finance Division at the Ministry of Economy and Finance of Korea, and H.E. Shiferaw Shigute, Ambassador of Ethiopia who first initiated PASET in 2013.
H.E. Shiferaw Shigute, expressed his gratitude to "Korean representatives [who] have been part of PASET's journey right from the first regional PASET forum in Addis Ababa in 2013 and African countries have been able to learn from and leverage Korea's successful experience in building science and technology capacity to transform the economy".
The Human Development Vice-President of the World Bank, Annette Dixon, delivered a video message supporting the PASET initiative. After which, Hoon Sahib Soh, Special Representative/Country Manager at the World Bank Group Korea Office delivered the Office's solid support to PASET. Dr. Song Chang Hong, Director at the Center for International Development in Korea Development Institute (KDI) and Member of the PASET Executive Board (EB) provided an overview of the partnership as well as facilitating the event. Prof. Aminata Sall Diallo, Executive Director of the PASET EB, and Dr. Sajitha Bashir, Global Adviser on Science, Technology and Innovation at the World Bank spoke via video link.
Mr. Sangwoon Park shared that "[South] Korea will continue to support Africa's youth in building high-level skills through means such as PASET, and aim to leverage the potential of ICT and innovation in preparing Sub-Saharan African students, faculty and institutions for future jobs in the midst of the 4th Industrial Revolution".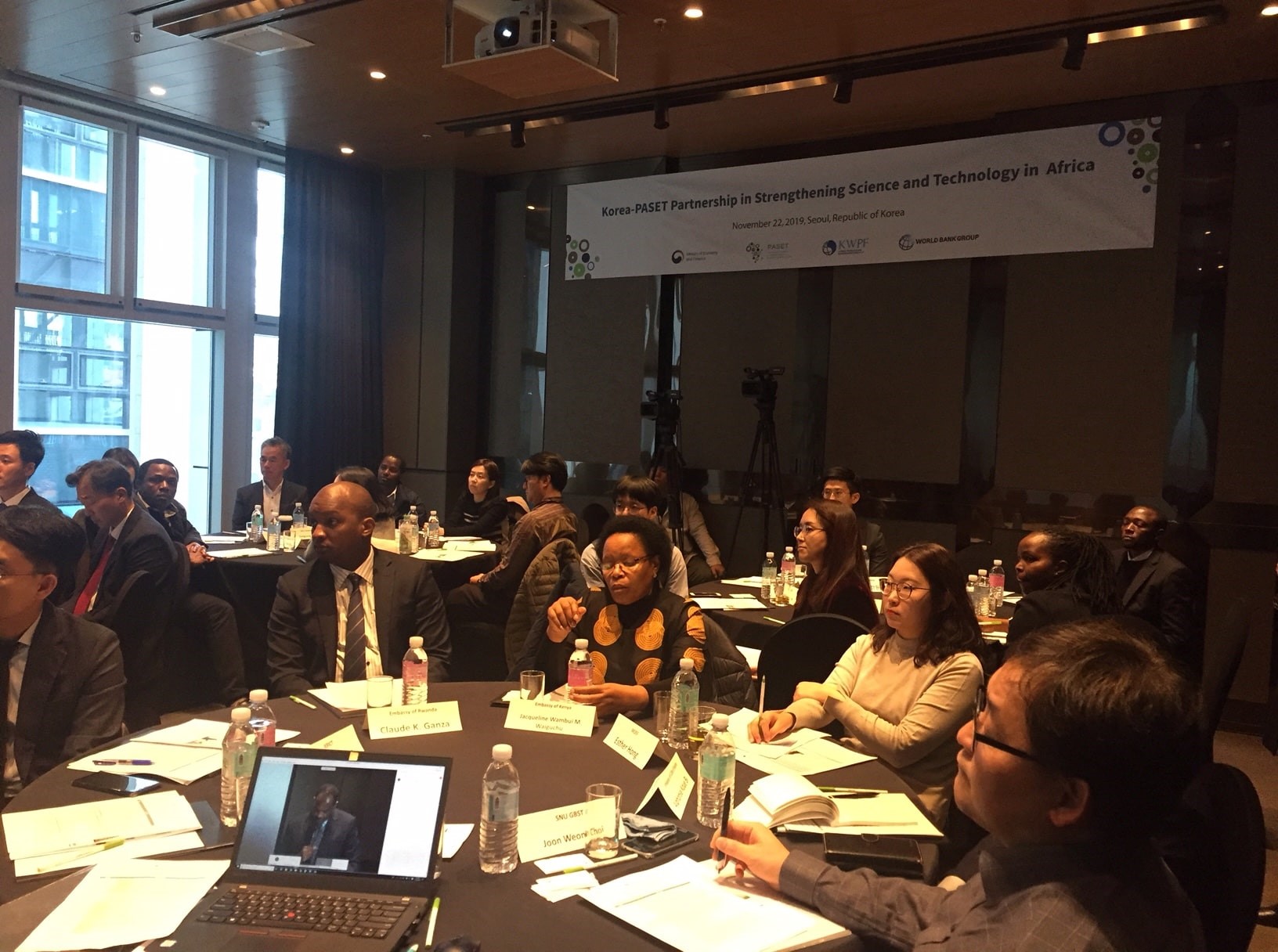 Participants during the event in Seoul, Korea, on November 22. Photo Credit : PASET Secretariat
"PASET highlights the impact we can have working with partner countries focusing on the issues that are fundamental to development. When we retire, I will look back fondly this moment to share with people that these are kinds of interesting and inspiring works that I was involved during my career at the World Bank [...]. I believe programs such as PASET are critical to this objective because enhanced human capacity is essential for developing countries to adopt and apply advanced technologies. I look forward to working closely with governments and institutions from Africa and Korea to tap into Korea's successful development experience through PASET" concluded Hoon Sahib Soh, Special Representative/Country Manager at the World Bank Group Korea Office.
Looking ahead, PASET RSIF is now engaging in its next round of trainings. Fifty scholars are expected to be selected from among 1,700 applicants for the second cohort, and a number of these scholars, like Sylvia, will study for a part of their PhD program in South Korean institutions at SNU, KIER, and KRICT.