September 12, 2019
El Salvador
Authors: Jessica Grisanti, Ana I. Aguilera, and Arturo Villegas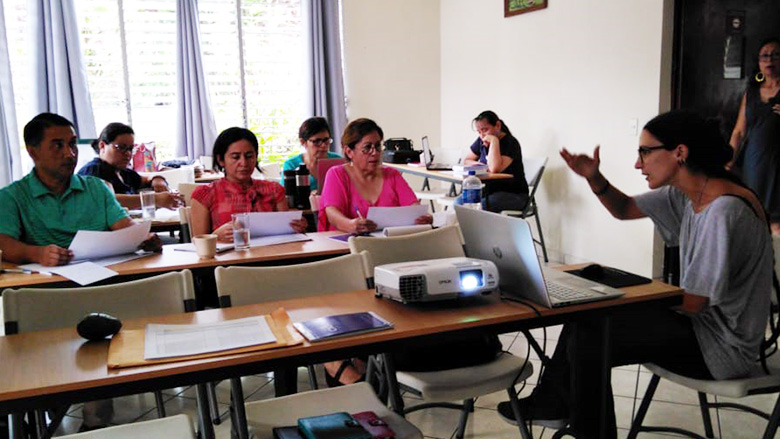 Field force in training for launching MICA 2019 El Salvador
Photo credits: CIDE Inc. El Salvador


The conversation today on city resilience goes beyond preparation and recovery from environmental shocks or natural disasters and encompasses concerns about social and economic stability. Cities around the world are facing increasing and more complex responsibilities yet are often ill equipped to respond to them. As cities rapidly grow and local governments take on a more protagonistic role, it is essential to define their competencies and strengthen their institutional capacities, to balance scope with capacity. A tool to accomplish the thorough understanding of existing capabilities can become important for subnational and national levels of government to assess the gaps and chart a way ahead. In today's world it is increasingly important to give local governments the tools they need to provide high quality services and solutions to their citizens, but most importantly provide the foundations for a longer term and sustainable development.

The World Bank has been working together with countries in Latin America in piloting and scaling up the Municipal Institutional Capacity Assessment (MICA) toolkit. MICA draws from best practices in the region, including work in Argentina, Colombia, Guatemala, El Salvador, and Paraguay, and was recently strengthened by using the Competitive Cities Framework. The tool has been used to provide technical assistance, strengthening the knowledge base on municipal performance, and informing project preparation. Read more on this in the team's blog (in Spanish).

Supported by the Japan-World Bank Program for Mainstreaming DRM in Developing Countries and implemented by CIDE El Salvador, this tool recently allowed World Bank teams in El Salvador to rigorously measure local institutional capacity on four areas: (1) disaster risk management (DRM), (2) municipal finances, (3) municipal investments, and (4) better understand the mechanisms municipal governments use for engaging with citizens.

Using a statistically representative sample of 64 municipalities and all 29 municipal associations in the country, this instrument provided much needed information on the realities on the ground, identify gaps, and inform policy making. Data collection took place between February and April 2019. Results are representative for the country as a whole and for three types of municipalities, classified by their level of institutional capacity: low, medium, and high capacity. The implementation of the toolkit includes multiple visits, on-site data validation to minimize measurement error and respondent bias, and carrying out face-to-face questionnaires answered by the Mayor and 2-3 delegated key respondents in each local government.

Results from this work were critical to inform the design of the US$200 million El Salvador Local Economic Resilience lending project, which is the first results-based municipal program being piloted in all 262 municipalities in the country. The assessment helped define the annual and incremental goals to be achieved by each municipality (calibrated by their institutional capacity level) to receive rewards funded with project proceeds. The results also informed the prioritization of technical assistance activities in areas of critical weaknesses (Figure 1 and 2). For instance, the assessment showed that only 1 in 3 municipalities use a DRM Plan and slightly over half (56%) have a designated staff in charge of DRM. The lack of planning instruments and systems to manage disaster risks is critical in a country highly exposed to multiple hazards. The way municipal governments plan and transform local territory, natural resources, the built environment and other assets, has an enormous influence on how hazard, exposure, vulnerability and resilience are configured in each locality and together define the social territory of risk.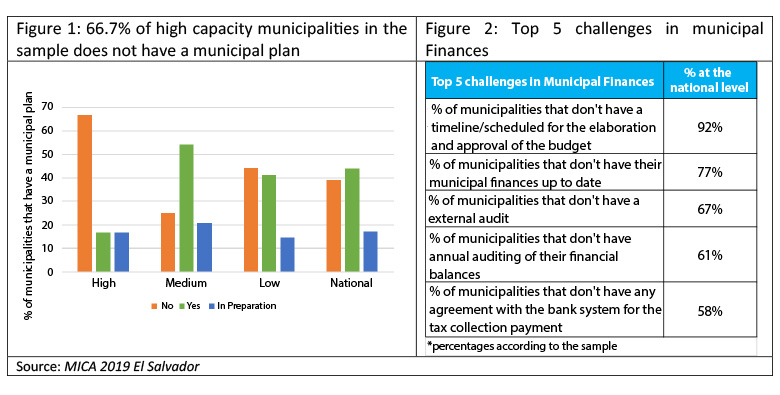 The interactive tool MICA in El Salvador has been well received by the Ministry of Finance, Ministry of Local Development, former Technical Secretariat of the Presidency, and Mayors across the country. Local authorities welcomed the opportunity to self-reflect on some of their biggest institutional challenges and target specific areas of improvement. National authorities showed strong interest on how this work can become a powerful tool for territorial planning, as well as targeting of capacity building and compliance efforts, especially as the new government took office recently on June 1, 2019. The methodology also allows for international benchmarking with countries where the methodology has been applied, although this is scope for future work.

By using a systematic, comparable methodology to measure institutional capacity at the municipal level, this toolkit can help inform national programs, financial operations and advance research and analytical work to mainstream municipal resilience more effectively in data-constrained developing countries.

About MICA

The objective of MICA is to gather information that can help build systems and incentives to encourage local governments to improve their administrations for the benefit of citizens, rewarding municipalities that are implementing good practices in various areas such as results-oriented planning, financial management, coordination with other agents and levels of government, provision of services to citizens, among others.