September 10-11, 2019
Kathmandu, Nepal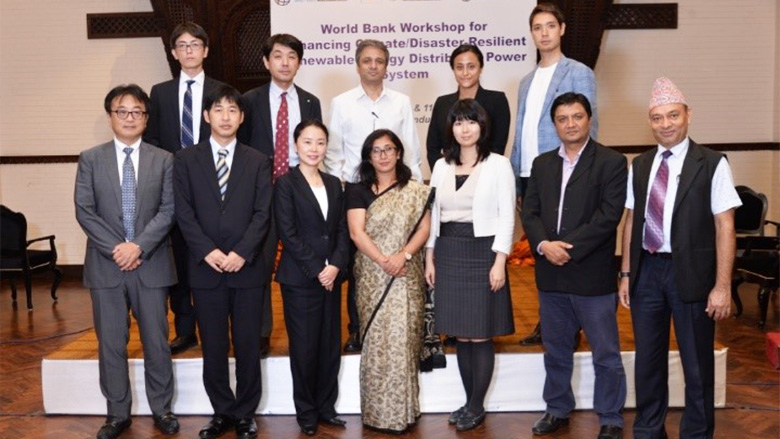 Interactive discussions were made by and among presenters and discussants
On September 10-11, the World Bank, in partnership with the Government of Nepal and Alternative Energy Promotion Center (AEPC), organized the two-day workshop on "Enhancing Climate/Disaster-Resilient Renewable Energy Distributed Power System in Nepal", at Yak and Yeti Hotel Durbar Hall in Kathmandu, Nepal. The workshop invited a team of experts from the Government of Nepal, development partners and Japan's energy sector to provide inputs on how to build a resilient renewable energy distributed power system in Nepal.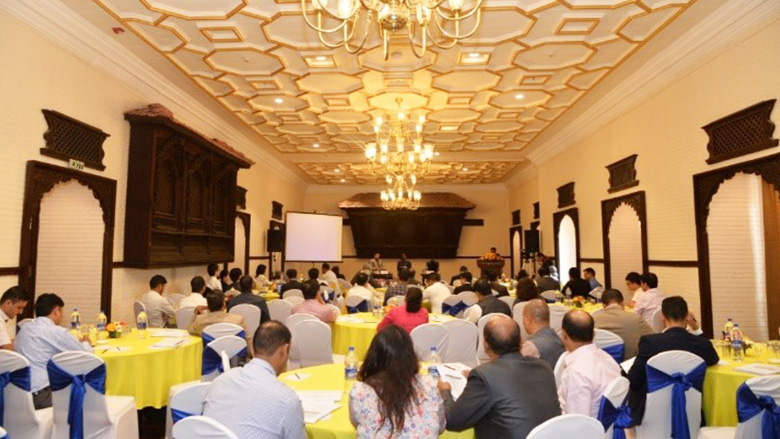 The workshop opened with the welcoming remarks by Dr. Idah Z. Pswarayi-Riddihough, Country Director, Nepal, Sri Lanka and the Maldives, World Bank, Mr. Madhusudan Adhikari, Executive Director, AEPC, and Mr. Nabin Raj Singh, Joint Secretary, Ministry of Energy, Water Resources and Irrigation (MoEWRI)
On Day 1, Mr. Santosh Rai from AEPC shared the overview of and lessons learned from their mini-grid projects during the Introductory Session.
In response to AEPC's lessons learned, the Japanese experts shared their experience achieving resilient infrastructure. Dr. Keiichi Hirose from New Energy and Industrial Technology Development Organization (NEDO) shared its operational experience of the Sendai Micro-grid System, which survived one of the foremost earthquakes in Japan in 2011 without any interruption. Mr. Yasuhiro Yokosawa from TEPCO Power Grid Incorporated and Dr. Daisuke Takeda from Toshiba Energy Systems and Solutions Corporation shared their flood and earthquake resilient system design, as well as their feasibility study on a renewable energy micro-grid system in Maldives utilizing advanced technologies. Ms. Sanae Sasamori from Toyo University explained key considerations to achieve resilient infrastructure under Public-Private Partnerships (PPPs), including appropriate allocation of disaster risks between the public and private.
On Day 2, Dr. Alexander Ryota Keeley from Kyushu University introduced resilient designs for batteries and Solar Photovoltaics, as well as the optimal design of renewable based mini-grid systems. Mr. Tetsuya Hirayama from Kansai Electric Power Co., Inc. introduced its advanced smart grid technologies, as well as the counter measures to disasters using Emergency Disaster Response Headquarters.
Notably, experts of Nepal's energy sector and its disaster risks also presented their views from the Nepali context, which was followed by an interactive discussion. The presenters included: Dr. Kozo Nagami from Japan International Cooperation Agency (JICA) Nepal Office; Dr. Ramesh Guragain from National Society for Earthquake Technology; Dr. Narayan Prasad Chaulagain from GiZ; Dr. Anusuya Joshi from AEPC; Mr. Manoj Khadka from DFID; Mr. Subodh Adhikari from the World Bank; Mr. Bhishma Pandit from IFC; Mr. Pushkar Manandhar from Asian Development Bank (ADB); Mr. Niraj Subedi from KfW Development Bank in Nepal; and Ms. Ranju Pandey from Nepal Electricity Authority (NEA).
Lastly, Ms. Eriko Ichikawa from the World Bank wrapped up the discussions from each session. Key lessons learned in order to establish a resilient distributed power system in Nepal include the following:
(i) creating solid laws and regulations which respond to the country's climate and disaster risks is critical;
(ii) the utilities and manufacturers shall also develop resilient technical designs;
(iii) for active private sector participation, Feed-in-Tariff policy and subsidies from the government to developers could be a starting point, and under such scheme, cooperation among the public, private, and academia, and appropriate PPP contract designs should be considered; and
(iv) the success of the resilient system ultimately depends on well-trained engineers who establish the resilient system and deal with operations after the shock.
The full agenda of the workshop can be found here.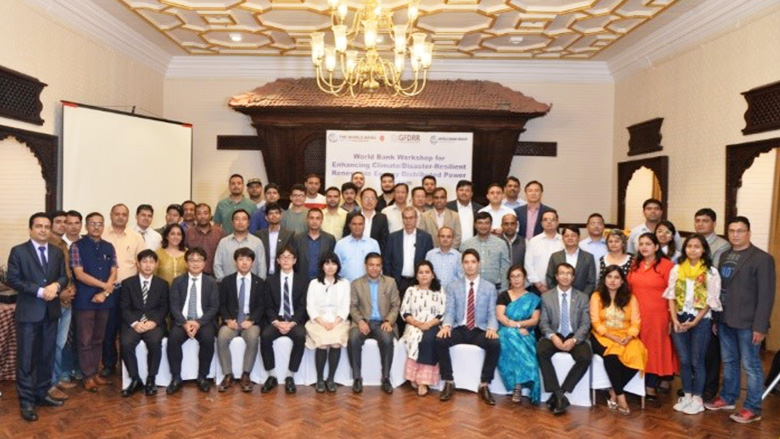 About 70 invitees joined from AEPC, Ministry of Energy, Water Resources and Irrigation (MoEWRI), Nepal Electricity Authority (NEA), Department of Electricity Development (DOED), Nepal Reconstruction Authority (NRC), development partners (JICA, GiZ, DFID, ADB, KfW, MCC), developers, private banks, academia and the Embassy of Japan.
After the workshop, the meeting among AEPC's management and technical staff, the Japanese experts, and the World Bank was held to discuss the challenges AEPC has been facing. During the meeting, AEPC and Japanese experts discussed the issues and solutions surrounding those challenges, and potential ways of further collaboration.
The workshop provided support to the Nepali stakeholders in order to ultimately improve the country's overall energy supply situation, through mobilizing energy-service companies to increase capacity of renewable energy mini-grids, capturing private sector efficiencies through PPPs, and encouraging private capital investment in the sector, while ensuring the resiliency of the system.
Note: This workshop was organized by the World Bank, with the support of "Japan-World Bank Program for Mainstreaming Disaster Risk Management in Developing Countries," which is funded by the Government of Japan and managed by Global Facility for Disaster Reduction and Recovery (GFDRR). The Task Team also acknowledged support from World Bank Tokyo Disaster Risk Management (DRM) Hub, in identifying relevant Japanese experts in the area.