ANTANANARIVO, May 21, 2019― She is wearing a purple t-shirt bearing the words "Vatsin'Ankohonana"—the same t-shirt worn by most of the mothers in her village. It is a symbol of their solidarity and a virtual shield against the ups and downs of life for Sonia Erisy. With her two children on her knees, this 28-year-old mother recalls the severe blow she was dealt a few years ago. "My partner had just left me, leaving me alone with my two boys. I had nothing back then. No job, no regular sources of income, no land to cultivate," she says. "When you are in such a state of despair, you often think of the worst solutions, especially when you have two innocent mouths to feed. But Vatsin'Ankohonana came at just the right time and saved me and my two boys. "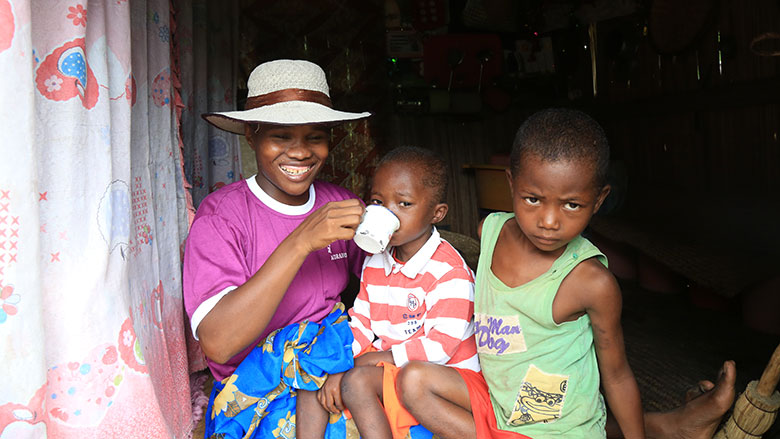 With no stable source of income and two young children to feed after being left by her husband, Sonia Erisy would have struggled to get by without the family allowance that she is receiving every two months. Photo: Diana Styvanley, World Bank
An incentive to send children to school
Sonia Erisy is among the 39,000 beneficiary families of the Vatsin'Ankohonana (family allowance in Malagasy), a conditional cash transfer program that seeks to promote human development. This program, which has been financed by the World Bank since 2015 and is being implemented in the five most vulnerable regions in Madagascar (Atsimo Andrefana, Atsinanana, Haute Matsiatra, Vakinankaratra, and Vatovavy Fitovinany), pays 30,000 ariary ($10) every two months to parents, on condition that they send their children to school. Households collect an additional 10,000 ariary ($3) for each child attending school, in order to cover education expenses, with Sonia Erisy receiving a total of 50,000 ariary ($16), a regular source of funds that has allowed her to send her sons to school. "I rushed to sort out my boys' birth certificates so that they could be enrolled in school. My older son Olivio is six years old and is in Grade T1 and four-year-old Olivier is in preschool. I can't read or write, but I am overjoyed when Olivio tells me and shows me what he has learned in school. I really want them to be successful and have a better than life than I did. "
Many other parents share this enthusiasm, as evidenced by the results of the mid-term review of the program, which show a substantial increase in school-related expenses in households receiving the family allowance. Supplemented by Ndao Hianatra (Let Us Learn in Malagasy), the bimonthly allocation from UNICEF of 20,000 ariary ($6) per child to support continued enrollment in secondary school, the program has boosted enrollment in primary and secondary schools.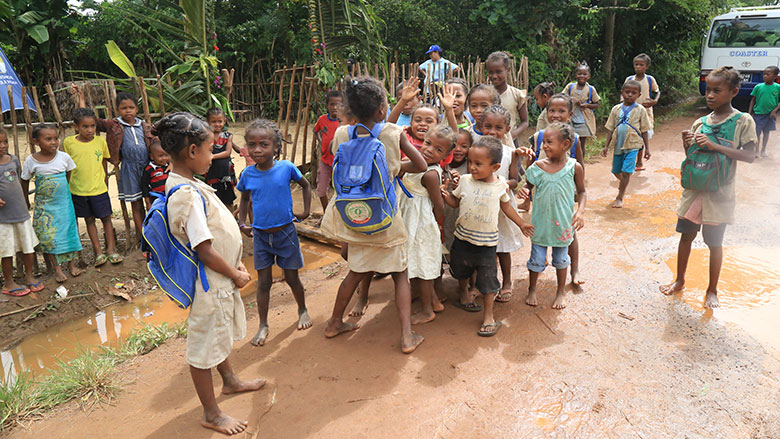 Payment of the family allowance is conditional upon parents sending their children to school. Photo: Diana Styvanley, World Bank
"I am a widow. Women in my town don't inherit land. What can I pass on to my children, if not an education? ," notes Aline Ravaomanantsoa, a mother of six, four of whom are still in school, who is happy to be able to send her daughter to lower secondary school. "I have even been able to send my daughter to the Catholic lower secondary school with the money that I am receiving. This is a luxury that I never would have thought possible given my financial situation. "
Uniting mothers and pooling the benefits
The positive impact of the Vatsin'Ankohonana program extends beyond higher enrollment rates. This financial support also allows households to increase the number and quality of their meals. The results of the program's mid-term review show an average of 18 fewer food insecure days per year in households. "My husband and I grow rice and I also weave mats and hats at night to make ends meet. When we had a bad harvest or during the lean season, sometimes we didn't eat lunch and ate very little in the evening," says Dalia Marie, a mother of six. "Now we have three meals a day and I have noticed that my children are rarely sick, they are no longer hungry. "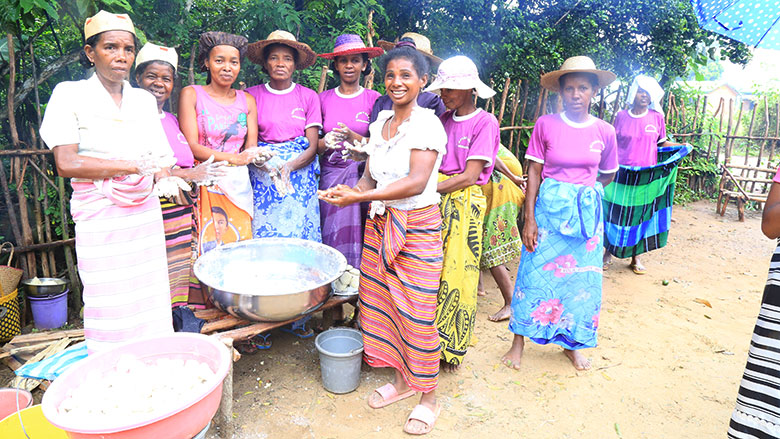 Cooking workshop in a "wellness space." In addition to cash payments, the program carries out a host of activities to pass on good hygiene and nutrition habits to the mothers. Photo: Diana Styvanley, World Bank
Along with the family allowances, the program carries out all kinds of additional activities for households on the benefits of good family practices for early childhood development. These monthly sessions with the mothers are facilitated by "mother leaders," who are themselves program beneficiaries who have been elected and trained to conduct this activity. It is where—what they affectionately refer to as "Sehatra Mahasoa" (wellness space in Malagasy)—some 20 women meet, often wearing the same symbolic purple t-shirt, to share advice and tips, while monitoring their pooled savings. It is often in these wellness spaces that mothers learn, for example, to use local ingredients to prepare healthy meals for their babies and children. "I never miss a meeting even if I am very busy," says Samia Randrianarison, a mother of five, the youngest of whom is her six-month-old daughter named Baonesy. " Look at how healthy my daughter is; it's all thanks to the advice and training I get here."
"These wellness spaces are not only a place for sharing and learning for the female beneficiaries, but they have also forged and strengthened a bond of solidarity among these women, as a result of the introduction of pooled savings in particular. Each of them can draw from this reserve to finance their individual projects or cover unexpected expenses such as illnesses and other urgent needs," explains Verosoa Razafimiarantsoa, regional director of the Fonds d'intervention pour le développement (Development Intervention Fund) in the Vatovavy Fitovinany region, the agency implementing the Vatsin'Ankohonana program. "These wellness spaces have clearly helped foster the personal development of these women and given them greater autonomy."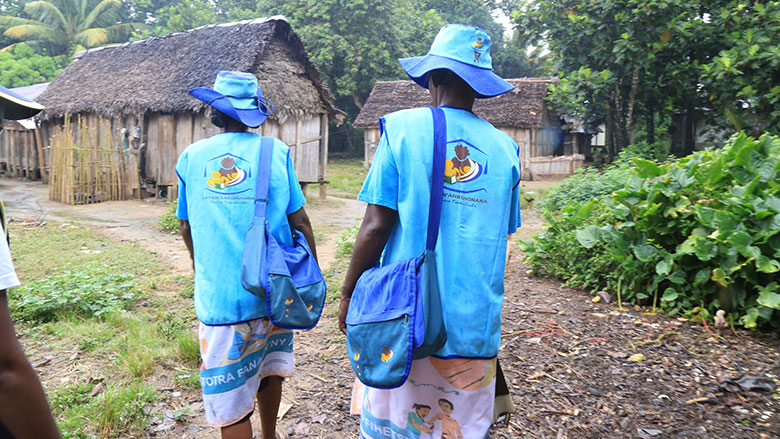 Apart from the monthly sessions that they conduct, "mother leaders" regularly visit the homes of women benefiting from the Vatsin'Ankohonana project. Photo: Diana Styvanley, World Bank
Mélanie Gaston, a "mother leader" of a group of women in her neighborhood, alternates facilitating monthly sessions and paying regular visits to the homes of the women benefiting from the project. This routine has been adopted by all the "mother leaders" in an effort "to better persuade them and help them to adopt hygienic habits, to see how they are preparing meals for their family, or to inquire about everyone's health and encourage them to go to the health centers..."
Spaces to stimulate the development of children
Over time, these wellness spaces have been transformed into dedicated venues for mothers and their children, which have been organized and equipped to foster their development and effective interactions.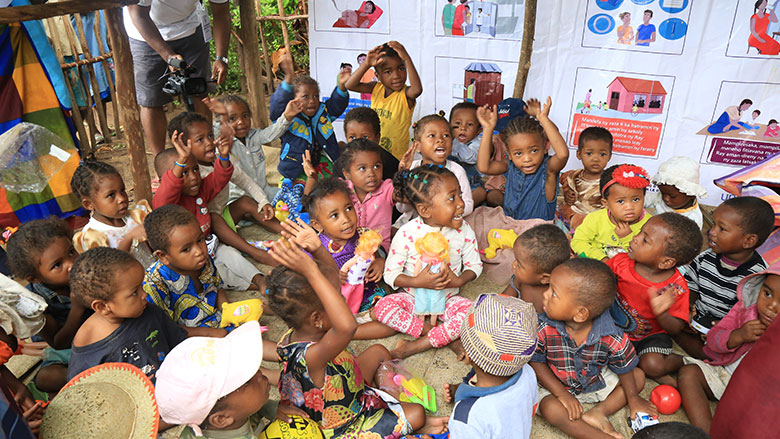 Dedicated venues for mothers and for the personal development of their children, the wellness spaces offer all sorts of play and educational activities to stimulate the cognitive development of young children. Photo: Diana Styvanley, World Bank
While the mothers hold their meeting, the children are taken care of—they sing, play, dance, do riddles, and engage in all types of games. "This activity is critical for stimulating the physical, cognitive, and social and emotional development of children," explains Julia Rachel Ravelosoa, Senior Social Protection Economist at the World Bank. "These stimulating activities will have an impact on the school career and health of these children and, later, on their productivity. Since these activities have been implemented, there has been more interaction between parents and their children and the cognitive skills of these young children have improved."
International Development Association (IDA)-financed, the Vatsin'Ankohonana is part of the social safety net programs that have been implemented by the Government of Madagascar under the national social protection policy. It is being financed by the World Bank ($11.5 million) and UNICEF ($1.2 million).