May 13-14, 2019
Geneva, Switzerland
The fourth World Reconstruction Conference (WRC4) on "Inclusion for Resilient Recovery" was held in Geneva, Switzerland, on May 13-14, 2019.
This conference, held in conjunction with the 6th Global Platform for Disaster Risk Reduction (GPDRR, May 13-17, 2019), has brought together experts in resilience and recovery biennially since 2011.
This year, leaders, experts, policy makers, and practitioners from both developing and developed countries gathered to identify effective ways for governments, international organizations, NGOs and civil society groups to encourage active participation of vulnerable groups in building resilience and inclusive recovery processes.
Mr. Kiyoshi Murakami, Special Representative of Mayor & Senior Executive Advisor City of Rikuzentakata, and Ms. Midori Hirano, Chair of the Japan National Assembly of Disabled Peoples' International (DPI), played a critical role in sharing best practices and lessons learned from the Japanese experience in disaster risk management. Their participation was supported by the World Bank's Tokyo Disaster Risk Management Hub.
Mr. Murakami participated in the plenary session "Inclusion vs. Exclusion: Risks and Opportunities", where he shared from his extensive experiences leading the recovery of Rikuzentakata, a coastal town devastated by the 2011 Great East Japan Earthquake and Tsunami. During the session, he discussed the risks and potential costs associated with social exclusion in recovery processes, the benefits that inclusive approaches can bring in creating more just and resilient societies, and recommendations for promoting an inclusive recovery approach.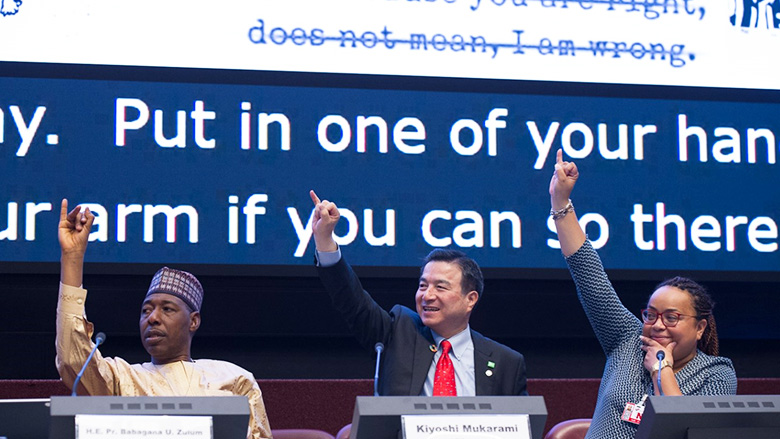 Mr. Murakami participating in the session "Inclusion vs. Exclusion: Risks and Opportunities"
The perspectives of women and people with disabilities (PWDs) should be incorporated into local and national plans for disaster evacuation, to fully ensure that everyone's needs are accommodated.
Ms. Hirano participated in two sessions; "Inclusion of People with Disabilities" and "Addressing the Inequality of Risk and Promoting Women's Leadership in Recovery". As a woman leader with disabilities, she shared insights from her personal and professional experiences as the Chair of DPI and a former member of the Kumamoto Prefectural Assembly.
During the sessions, she shared experiences and lessons learned especially from the Kumamoto Earthquake in 2016. She presented the efforts of the local leaders with disabilities to establish the Kumamoto SOS Center, an initiative to provide specialized services to PWDs to respond to the needs which are diverse and specific. For example, the Center provided food and commodities to those who were physically not able to reach evacuation centers.
When asked about the tools for identifying gender-based needs, Ms. Hirano presented that women are increasingly recognizing the need for them to voice their needs and opinions to municipal governments and support organizations through platforms such as social media and women's associations. In addition to these efforts, she emphasized that the integration of gender-based training into the formal education system would be a major step towards achieving a more inclusive society and would enable more all-of-society engagement in disaster recovery.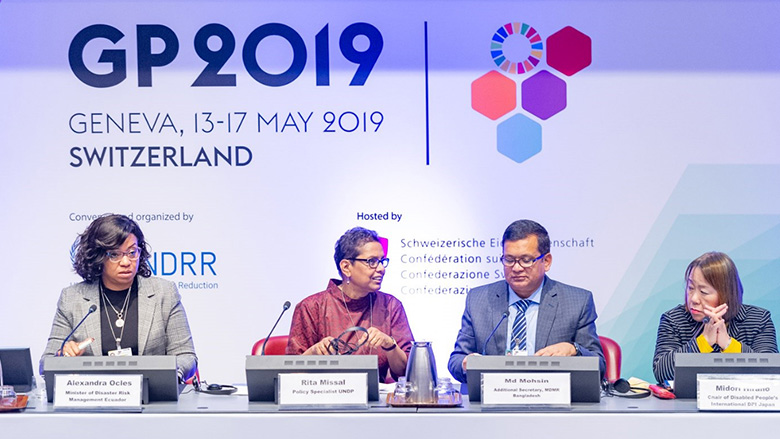 Ms. Hirano participates in the session "Inclusion for people with disabilities"