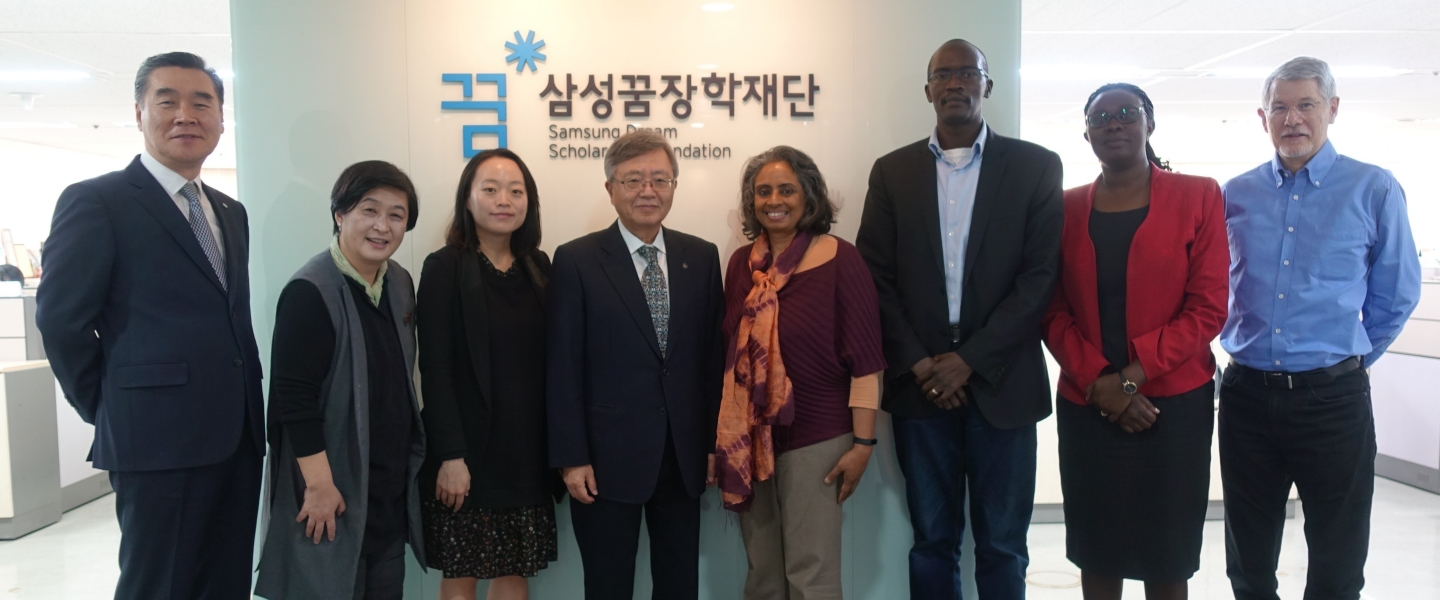 The World Bank and PASET RSIF Implementation Unit, icipe, visiting the Samsung Dream Scholarship Foundation. Photo: PASET Secretariat
The Korean Government and universities have deepened the partnership with Partnership for skills in Applied Sciences, Engineering and Technology (PASET) and Regional Scholarship and Innovation Fund (RSIF) to boost exchange between African and Korean universities, researchers and faculties in the science and technology (S&T) area.
Joined by the World Bank and RSIF implementation unit, icipe, a fruitful information-sharing workshop and meetings were organized from February 25 and February 26-28, 2019 respectively in Seoul and Pyeonchang, Korea. The workshop provided opportunities to discuss the current partnership with Korea Institute of Science and Technology (KIST) in depth and expand partnerships to new institutions by introducing the RSIF program widely to new Korean universities and research institutions. Korean partners including Seoul National University (SNU), Ewha Womens University and the Ministry of Science and Information and Communications Technology (MSIT) with its affiliated Science and Technology (S&T) institutes listed below joined the discussion on potential collaboration:
· Korea Advanced Institute of Science and Technology (KAIST)
· Gwangju Institute of Science and Technology (GIST)
· University of Science and Technology (UST)
· Electronics and Telecommunication Research Institute (ETRI)
· Korea Institute of Energy Research (KIER)
· Korea Research Institute of Bioscience & Biotechnology (KRIBB)
· Korea Research Institute of Chemical Technology (KRICT)


Memorandums of Understanding are currently under discussion with SNU, KIER and KRICT.
During the three days, other exciting future collaborations were also discussed including:
1) Collaboration with private sector
2) Annual knowledge exchange in Korea among African and Korean universities
3) Annual RSIF technical workshop in Korea to bring together RSIF scholars and their supervisors
Throughout the workshop, current Korean partners expressed values that they see in this partnership. Dr. Chang Geun Lee, Head of Innovative Enterprise Cooperation Center from KIST Gangneung Institute of Natural Product, emphasized the benefit of the RSIF program from the perspective of KIST, "(…)The sandwich program and joint research will benefit not only the African host universities, but the capacity of Korean institutions as well."
Samsung Dream Scholarship Foundation, another partner that supports RSIF scholars through providing stipends, is interested in expanding the support.
"The cultural and environmental adjustment of the RSIF scholars are just as important as their academic performance in Korean institutions" emphasized Dr. Woojoo Chang, Chief Manager of Scholarship Affairs Division in Samsung Dream Scholarship Foundation.
"In order to support the social and emotional adjustment of the scholars while conducting their research in Korea, PASET and Korean partner institutions will also need to support their cultural experience, learning the Korean language, and promoting a sense of community." concluded Dr. Sajitha Bashir, World Bank Education Global Practice Adviser for Science and Technology, emphasizing the importance of social and emotional support for the scholars while studying abroad. Dr. Bashir thanked the Samsung Dream Scholarship Foundation for raising this issue and stressed, "this issue was emphasized among the PASET team and the team will provide a comprehensive orientation and continued support for scholars' adjustment during their research in Korea."
The team is currently working with KSIT and other potential partner institutions to invite more RSIF scholars in Korea for the doctoral training, research and innovation in priority fields of Applied Sciences, Engineering and Technology (ASET). More interesting partnerships are expected to emerge from this initial step.