April 5, 2019
Tokyo, Japan
On April 5, 2019, the World Bank's Tokyo Disaster Risk Management (DRM) Hub organized its 21st public seminar on the theme of "Public-Private-Academic Engagement in Hydromet Services."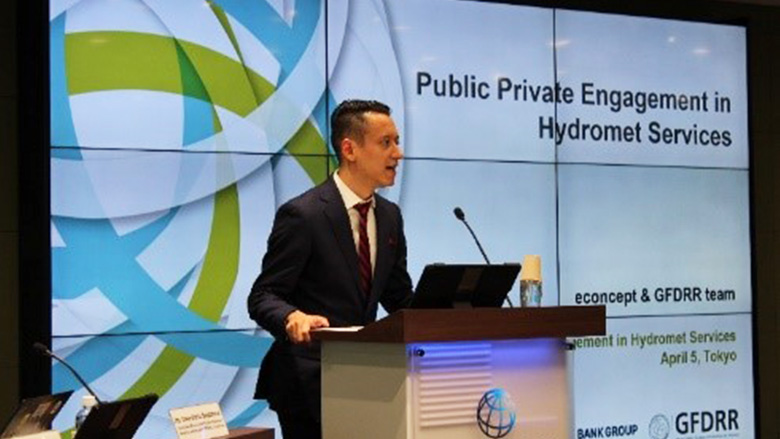 Moderated by Mr. Guillermo Siercke (Disaster Risk Management Specialist, Tokyo DRM Hub), this event was held with the objective of commemorating the upcoming launch of the Global Facility for Disaster Reduction and Recovery (GFDRR) and Tokyo DRM Hub's new publication on
"The Power of Partnership: Public-Private Engagement in Hydromet Services."
Effective weather, climate, and hydrological services (hydromet services) are critical to protect lives and property and to enhance socio-economic benefits. However, national meteorological and hydrological services (NMHS) are facing serious challenges in responding to increasing demands. The issue is more severe in low- and some middle-income countries due to lack of resources, technical capacity, and visibility within their governments. At the same time, in developed countries technological advances and open data policies have significantly enlarged the role of the private sector in the provision of hydromet services. Leveraging private sector capabilities without jeopardizing the provision of public hydromet services is a key condition to maximize their socio-economic benefits. There is therefore much interest from countries to explore the best ways of taking advantage of the opportunities offered by public-private engagements (PPE) in their hydromet investments.
Featuring a panel discussion on PPE in the hydromet services sector, the seminar convened Japanese, international, and World Bank experts to discuss these recent trends and explore future prospects for public-private and academic hydromet engagements in developing countries.
Mr. Vladimir Tsirkunov, GFDRR Lead Specialist and World Bank Hydromet Program Team Leader, offered opening remarks and set the context regarding public-private and academic collaborations and their contributions to deliver more effective hydromet and early warning services. Mr. Stefan Von Grunigen, Lead Consultant at eConcept, then introduced an analytical framework on the hydromet sector value chain and presented the country case studies and models of public-private engagements included in the forthcoming publication highlighting case studies from the United States, Japan, United Kingdom, Indonesia, Myanmar, and Ghana.
This was followed by an in-depth discussion by a panel of industry leaders, moderated by Ms. Anna-Maria Bogdanova (Operations Officer, GFDRR). The panel session explored opportunities and challenges related to public-private engagements in the hydromet sector and enabled sharing of insights from each of the panelists: Mr. Tatsuya Kimura (Japan Meteorological Agency (JMA)); Ms. Miki Inaoka (Japan International Cooperation Agency (JICA)); Mr. Shoichi Tateno (Weathernews Inc.); Mr. Stefan Von Grunigen (eConcept); Mr. Makoto Suwa (GFDRR, Hydromet Program); and Mr. David P. Rogers (GFDRR).
The seminar, attended by over 50 participants from Japanese and international public and private organizations, provided valuable insights into the Japanese experience in public-private engagements and highlighted the potential for further cross-sector partnerships to enhance hydromet services in developing countries going forward. The publication "Power of Partnership: Public-Private Engagement in Hydromet Services" will be officially launched in the fall.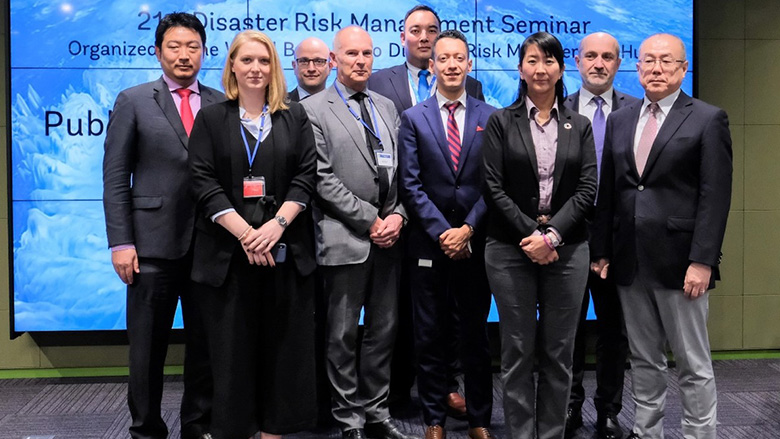 Panelists and speakers posing for a group photo after the session. From left to right: Mr. Makoto Suwa (Senior DRM Specialist, GFDRR, Hydromet Program); Ms. Anna-Maria Bogdanova (Operations Officer, GFDRR, Hydromet Program); Mr. Stefan Von Grunigen (Lead Consultant, eConcept); Mr. David P. Rogers (Lead Consultant, GFDRR), Mr. Shoichi Tateno (Public Private Partnership Section Leader, Data Strategist Committee, Weathernews Inc. Global Center); Mr. Guillermo A. Siercke (DRM Specialist, GFDRR); Ms. Miki Inaoka (Deputy Director, Disaster Risk Reduction Team 1, Global Environment Department, Japan International Cooperation Agency (JICA)); Mr. Tatsuya Kimura (Director, Public Awareness and Partnerships Division, Japan Meteorological Agency (JMA)). Photo credit: World Bank