April 3, 2019
Tokyo, Japan
Organized by the World Bank Tokyo Disaster Risk Management Hub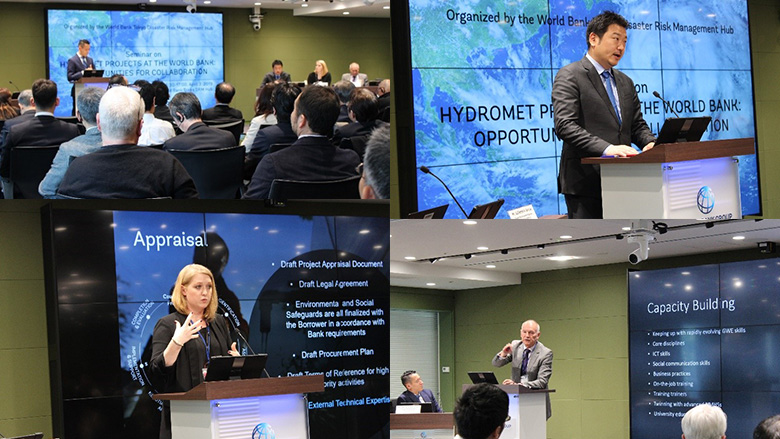 Speakers introducing World Bank hydromet projects and exploring avenues for collaboration
On April 3, 2019, the World Bank's Tokyo Disaster Risk Management (DRM) Hub hosted a seminar on "Hydromet Projects at the World Bank: Opportunities for Collaboration."
The seminar convened Japanese, international, and World Bank experts to discuss the World Bank's global hydromet engagements and explore opportunities for Japanese stakeholders to participate in different phases of current and future projects.
After opening remarks were delivered by Mr. Makoto Suwa (Senior Disaster Risk Management Specialist, Global Facility for Disaster Reduction and Recovery (GFDRR) Hydromet Program), Ms. Anna-Maria Bogdanova (Operations Officer, GFDRR) provided an overview of the World Bank's structure, project cycle, procurement processes and selection methods, as well as the World Bank's and GFDRR portfolio of hydromet engagements across multiple regions.
This was followed by a presentation on new approaches to strengthening of hydromet services presented by Mr. David P. Rogers (Lead consultant, GFDRR). The presentation was based on the recent GFDRR publication "Weathering the Change" and touched upon topics such as hydrometeorological services as "system of systems" and change management, public and private engagement and various partnership arrangements. On the latter, the presentation also suggested potential avenues for collaboration engaging Japanese expertise in World Bank hydromet operations due to Japan's extensive experience in the field.
The topics introduced in the first part of the seminar were explored further through a panel discussion moderated by Mr. Guillermo A. Siercke (Disaster Risk Management Specialist, GFDRR, Tokyo DRM Hub). The panelists, each with their own sets of expertise and perspectives, discussed how World Bank projects are planned and implemented, as well as the kinds of skills and resources that can contribute to hydromet and Early Warning Systems projects at different stages, leading to a rich and insightful dialogue. Opportunities for further collaboration between Japanese experts on hydromet services and the World Bank were also explored in depth.
Attended by more than 60 participants from academia, civil society, and the private and public sectors, the "Hydromet Projects at the World Bank: Opportunities for Collaboration" seminar served as not only a platform to share information, best practices and ideas, but also to forge new relationships between hydromet actors across sectors in Japan and World Bank teams.