October 18, 2018
Jakarta, Indonesia
On October 18-19, 2018 the Indonesian Ministry of National Development Planning (BAPPENAS) convened a workshop in Jakarta, with support from the World Bank's East Asia and Pacific Region Disaster Risk Management team, the Tokyo Disaster Risk Management Hub, and CBM Australia, inviting National and local government officials and community organizations to share lessons learned from disability-inclusive post-disaster recovery initiatives in Indonesia, Japan, Haiti, and Nepal.
"Cities are not always created 'friendly' for people of all abilities. Disasters can further exacerbate this challenge, such as through inaccessible evacuation routes or information, poorly designed shelters, loss of assistive aids, and limited opportunities to rebuild livelihoods" (Turning 'disability' into 'ability': opportunities to promote disability inclusive development in Indonesia). In this context, the workshop was held to exchange and disseminate international good practices and concepts of disability-inclusive development with Government of Indonesia officials working on World Bank projects and investments in urban development and disaster risk management to promote disability-inclusive development in Indonesia.
Ms. Midori Hirano, Chair of the Japan National Assembly of Disabled Peoples' International (DPI), participated in the workshop's "Sharing and hearing experiences from people with disabilities" session and presented a Japanese disaster risk management case study on the second day. As a person with a disability and wheelchair user herself, she reported personal experiences from past earthquakes in Japan regarding inaccessibility to shelters and lack of understanding from emergency response workers toward needs of people with disabilities (PWDs). During the workshop she presented on how she worked with a network of PWDs to create an emergency service for PWDs based on the challenges she faced in the past and highlighted valuable lessons in mainstreaming disability inclusion into post-disaster development programs. She also discussed the importance of protection principles and considerations of gender within an inclusive response.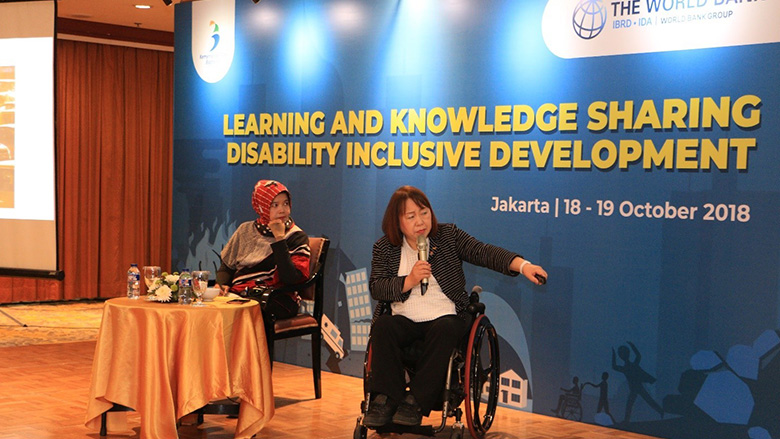 Photo: Ms. Midori Hirano-Chair of DPI Japan sharing her experiences of being in an earthquake
Source: World Bank



The workshop in Jakarta encouraged participants to think beyond implementing disability inclusion in all government projects and provided an opportunity for them to recognize their roles in supporting the implementation of inclusive initiatives. Ms. Hirano's knowledge and experiences contributed valuable input to influence the government and public perception of PWDs, and presented lessons learned from Japan on how countries can integrate disability inclusion principles in disaster risk reduction investments.