What does the Black Death, World War I, and the Great Depression have in common? In economic terms, they are called Black Swans. They are risks that are devastating, unpredictable, and uninsurable. Latin America and the Caribbean (LAC) is among the riskiest regions in the world and, therefore, not immune to Black Swans.
Some examples of Black Swans in LAC are earthquakes in places where they do not typically occur, for example on the east coast of Brazil in 2008, or the extreme drought in Argentina in 2018 which was the worst drought in 70 years.
Additionally, LAC endures trade volatility, it is exposed to external financial shocks, and has the highest per capita rate of disasters: one event per 100,000 persons a year. Especially in light of the current fragile economic recovery, volatile economic environment and less optimistic prospects than expected, understanding the different types of shocks and what insurance mechanisms may be available is important to reduce vulnerability. The good news is that the region has made tremendous advances in the ability to insure against different types of risks.
That is the central theme of the report of the office of the chief economist of the World Bank entitled "From Known Unkowns to Black Swans: How to Manage Risk in Latin America and the Caribbean", released today in Washington, D.C.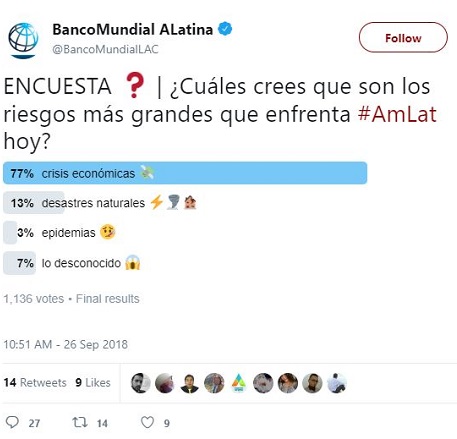 A recent poll on Twitter shows that 77 percent of Latin Americans think that economic crises are the biggest risks that the region face, followed by 13 percent who say natural disasters are the largest threat, and 7 percent who think that the most dreadful event possible for the region is the 'unknown'.