Decked resplendently in her traditional attire, Archana Thakur stepped confidently on stage. As a soft folk tune serenaded the audience, she led a group of seventeen models, who welcomed everyone to the 'South Asian Festival on Handicrafts', and bowed gracefully to tumultuous applause.
Archana and her friends were no ordinary models. They were the real artisans behind the fair, representing seven districts of Nepal – Dailekh, Dang, Dhanusha, Gorkha, Kapilbastu, Myagdi, and Tehrathum – and all of them were on an international stage for the first time.
After the event, an elated Archana said, "I felt as if I had waited for this moment all my life, it was a recognition of our original skills and expertise."
This The project, launched in 2011 by Poverty Alleviation Fund, Nepal (PAF) with support from the World Bank and Japan Social Development Fund (JSDF), succeeded in reaching more than 7500 rural artisans. The project has also set up 13 Common Facility Centers (CFCs) across these areas, kitting them with modern equipment and storage facilities, which helps artisans produce marketable present-day products.
The products developed by these artisans were showcased in the three-day fair, which included a fashion show of the ensembles, exhibition and sales of products clustered around ten traditional skillsets – allo fibre, leather, felt craft, woolen craft, moonj grass, terracotta, lokta paper, bamboo crafts, dhaka weaving and Mithila art – along with panel discussions on opportunities and challenges for women-led enterprises, cultural industries and community organizations. Visitors thronged to the wide stage, where artisans seated underneath and beside aesthetically arranged handicraft products worked steadily on their own designs.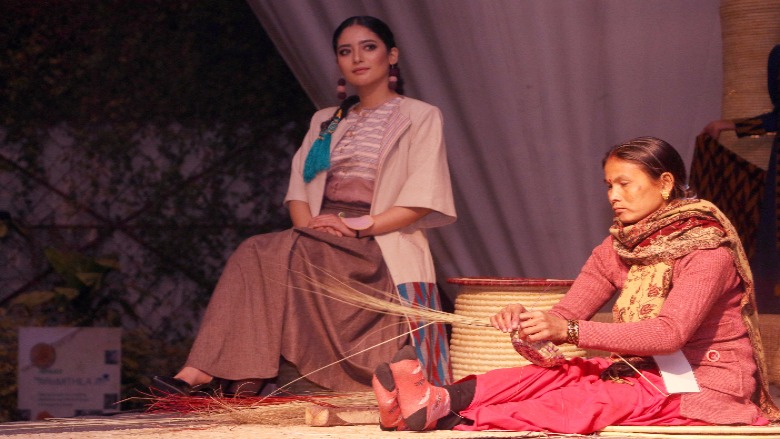 Elucidating upon the significance of the event, Dr. YB Thapa, Vice Chairman of PAF, said,
Last Updated: Feb 08, 2018