On November 11, 2017, the foyer area of Lahore's Al Hamra art gallery wore a festive look.
The space was dressed with exquisite collections, designs and embroidered textiles from South Punjab and Sindh. Overhead, hundreds of colourful thread spools interspersed with scores of embroidery frames creating a 'sky of Pakistan's embroidery'. Traditional sitar music played in the background, adding to the grand display of Pakistan's embroidery tradition.
Sitting amidst dignitaries, designers, business persons and development professionals was Shamshad Bibi, a traditional artisan from a remote village in Pakistan's Sindh province. She peered expectantly at the runway, as did everyone else in the room.
Moments later, Moammar Rana, a popular Pakistani actor walked in wearing an elegant black kurta paired with an intricately embroidered tribal shawl. A buzz went around the room, as excited guests scrambled to take a look. Shamshad Bibi was thrilled too, albeit for a slightly different reason. Rana was wearing her creation.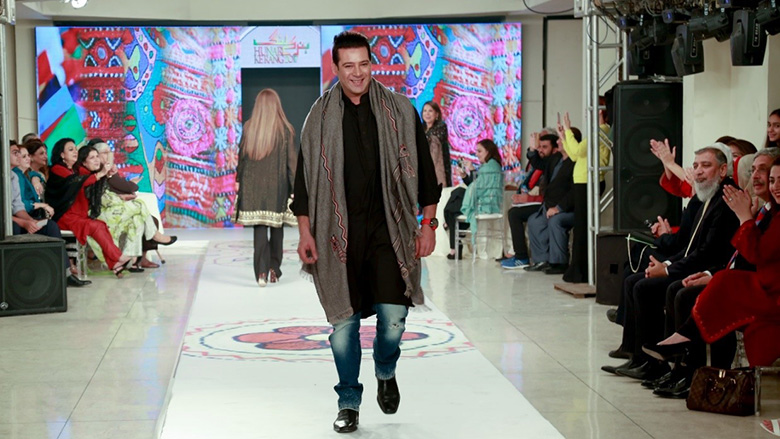 Actor, Moammar Rana, in a tapestry of colours, traditional skill and perseverance supported by the the Rang project
Actor, Moammar Rana, in a tapestry of colours, traditional skill and perseverance - the Rang project
Hunar ke Rang or 'colour of skills' is a marquee event organized every year by the Indus Heritage Trust (IHT) to celebrate Pakistan's glorious craft traditions and their unsung rural practitioners. Besides the one-of-a-kind fashion show, the event features an exhibition showcasing various collections, interactions with traditional artisans on traditional techniques, and discussions with sector experts from across South Asia. Hunar ke Rang 2017, which is the second annual event, featured the running stitch collection, the Soojni collection, the tribal collection and the Daftry (office) range of stationery products - the four distinctive collections of the Rang project.
"RANG aims to empower artisans by supporting them to set up their own producer groups as well as higher level artisan institutions and enterprises. We have worked with the artisans and supported them in the creation of as many as 17 cluster enterprises and worked with them in developing businesses and supply chain skills. RANG has reached out to national and international designers to work with the artisans and create more than 3000 innovative prototypes that we are now aggressively marketing through various channels," said Siddiqa Malik, Chairperson, IHT.