The 2018 International Dam Safety Conference was held in Kerala, India on January 23-24, 2018. The conference, now in its fourth year, is an annual event to bring together dam professionals and experts in the various inter-related disciplines from within India and around the world to discuss, reflect and share technology and experience in addressing dam safety issues and strategies to address them. It is an initiative implemented as part of the World Bank's Dam Rehabilitation and Improvement Project (DRIP), implemented by the Indian Government's Central Water Commission (CWC) which aims to rehabilitate about 225 dams in India along with improvements to the system-wide information management system.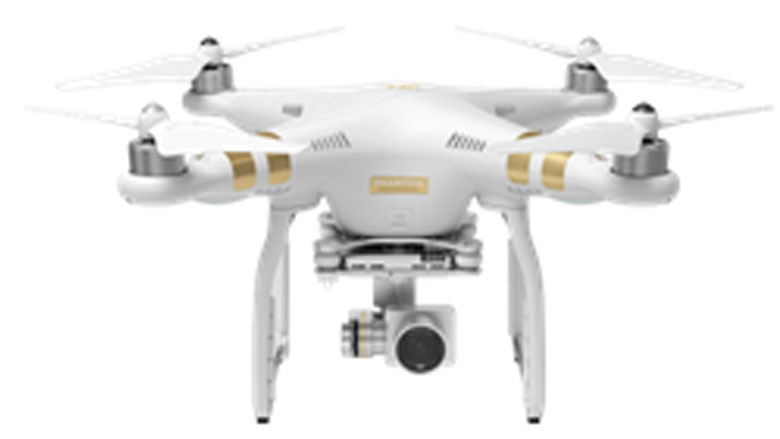 PHANTOM3-Pro (by DJI) which is the most popular model used for dam inspection in Japan and by JWA (Photo credit: DJI)

During the International Dam Safety Conference, Japanese knowledge on mainstreaming DRM for resilient dam management was shared by experts from the Japan Water Agency (JWA). In the Technical Session on Operation, Maintenance, Rehabilitation and Upgrading of Existing Dams, Mr. Tastsuo Kunieda, Director of JWA spoke about techniques for "Visual Inspection of Anchor Work Site with Small-Sized Multicopter" where he showcased innovative methods of using Unmanned Aerial Vehicles (UAVs) for making efficient visual inspection of ground anchors to conduct primary screening for maintenance. He stressed the importance of using popular equipment and generic technology to keep efforts simple, rather than using high specification UAV or complex analysis theory.

Furthermore, Mr. Hideshi Sasahara, Deputy Secretary General of Network of Asian River Basin Organizations (NARBO), and Director of International Affairs Division (IAD) of JWA Co-chaired the Technical Session on Dam Safety Management Practices where he presented a paper on "Recent efforts for Better Dam Safety Practices." Various innovative technologies for dam construction, operation and maintenance were showcased, including real time monitoring of conditions by sensors with GPS installed in dam and quick grasp on seismic condition and efficient dam management by 3-dimensional civil information modeling (CIM).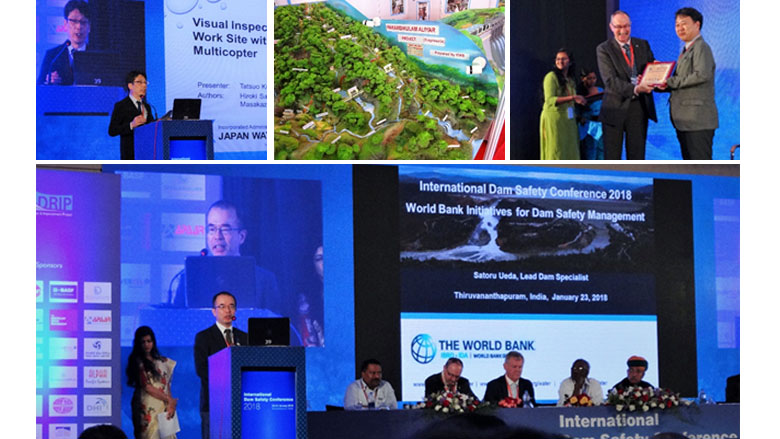 Top left: Mr. Kunieda, Japan Water Agency presentation; Top middle: Model of Parambikulam Aliyar Project; Top righ: Mr. Sasahara, JWA with Dr, Anton J. Schleiss, President of ICOLD; Bottom: Mr. Satoru Ueda, Lead Dam Specialist, World Bank. (Photo Credit: Tatsuo Kunieda)


Since 2015, the World Bank Tokyo DRM Hub has supported India's efforts to strengthen disaster resilience of dam operations in India by connecting Japanese expertise to the World Bank's Dam Rehabilitation and Improvement Project.

JWA is associated with the Dam Rehabilitation and Improvement Project in several engagements. To date, six Exposure Visits to Japan have been organized by the World Bank DRM Hub in collaboration with JWA, one Post Seismic Event Inspection Manual for Dam Field Engineers for Ichari Dam has been prepared by JWA in partnership with UJVN Limited and another one for Maithon Dam, in partnership between JWA and Damodar Valley Corporation is under preparation.

The next International Dam Safety Conference, India is scheduled to be organized during 13-14th February 2019 at Bhubaneswar.