Over the past 25 years, the World Bank has supported Azerbaijan in implementing critical structural reforms to help stabilize the economy after a long-lasting contraction. The Bank's strategic advice has helped bring about institutional reforms, develop a public investment program, negotiate a production sharing agreement with foreign oil companies, and establish an Oil Fund which now accumulates part of its revenues from oil and gas exports. Pension reforms and a targeted social assistance program, which the World Bank helped to design and implement, have been instrumental in the remarkable levels of poverty reduction in Azerbaijan.
Investments have been used to rehabilitate, rebuild and develop critical infrastructure such as water and sanitation networks, highways and rural roads, schools and hospitals, irrigation and drainage canals. And it has not only been about financing. World Bank projects have helped introduce best international practices and to grow local businesses and human capital.
Today, the World Bank program in Azerbaijan supports the country's economic diversification agenda, as well as the delivery of quality, accessible and effective public services - in order to benefit all Azeri citizens.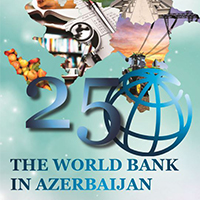 Download the Brochure (PDF)