How do you view the status of women in the Middle East and North Africa now?
A: Women in the region have made a lot of progress in areas like education and health over the past two decades. The level of our participation in public life has improved and led to changes in common perceptions of its value. Despite all this, difficulties remain: Although women have done better than men in education, they are yet to gain access to the same work opportunities.
It is fair to say our situation differs from country to country across the Arab region. In some, we have a marked presence in public life, including political life. The UAE, for example, is at the top in terms of women in parliamentary life: The speaker of the Federal Council is a woman and there are women ministers serving in the federal government. This is so rare in Arab countries. But it also applies to Saudi Arabia, where women make up 20% of the Shura council.
Otherwise, proportional to our numbers in the general population, we have not got very far in other decision-making areas, like social justice or the judiciary. Our representation rises dramatically in the private sector, though, where we run large and medium-size businesses, banks, and multinational companies, for example in the Arabian Gulf.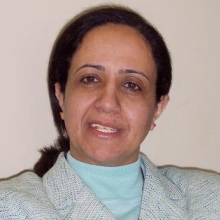 Q: What do women stand to lose as a result of the conflicts in MENA?
A: In countries where life is clouded by conflict or instability, we face the challenge of preserving our hard-won gains. We may lose everything we've struggled for in the past. But if our status were equal to our role, we could play a pivotal role too in ending the conflicts.
Women are among those most affected by violence as it spirals around them. We experience hardships as displaced people, as refugees, and during the process of asylum seeking—a long journey of suffering that is not often highlighted. The absence of state institutions often leads to harm for women; these used to guarantee us some sense of citizenship, security, and rights.
Women are peacemakers: we play a role in relief efforts and the cohesion of society and family, particularly where men have abandonned their families because of the difficulties. When that happens, women take the lead and bear a burden they have not been prepared for. Involving women on an equal footing would let them accelerate the pace of their contribution to peace.
Q: Could you tell us about your role in the World Bank with regards to women?
A: I prepared a paper to help integrate women more comprehensively in the Bank's MENA strategy. In the new strategy, which keeps pace with the changes currently taking place in the region, gender is mainstreamed in a way that ensures the protection of women in development.
The new social contract being formed in MENA must include women as an essential part of reconstruction. We should not allow women's progress to backtrack. We should not always be considered victims. There must be investment in women and our constructive roles.