BRAZZAVILLE, March 2, 2017─The thing that struck me when I met Noëlle Ntsiessie for the first time was the quality of her language and her general culture, to the point that I could not help asking her what she was doing growing vegetables in this remote corner of Soungi. "In our family," she says, smiling as if she had read my mind, "gardening is very much a family affair, handed down from father to son and from mother to daughter."
In her early forties, Noëlle Ntsiessie is one of 2,000 gardeners ousted from various farms around Brazzaville owing to road works. Along with 79 others, she was able to relocate some 10 kilometers away, in the southern outskirts of Brazzaville, specifically in Soungi, where they farm 10 hectares along the Djoué River with the assistance of the Agricultural Development and Rural Roads Rehabilitation Project (PDARP). "Quite frankly, I was desperate when we were evicted from our location, but when I arrived in Soungi and saw the facilities provided for us under the PDARP, I immediately had renewed hope," remembers Ntsiessie.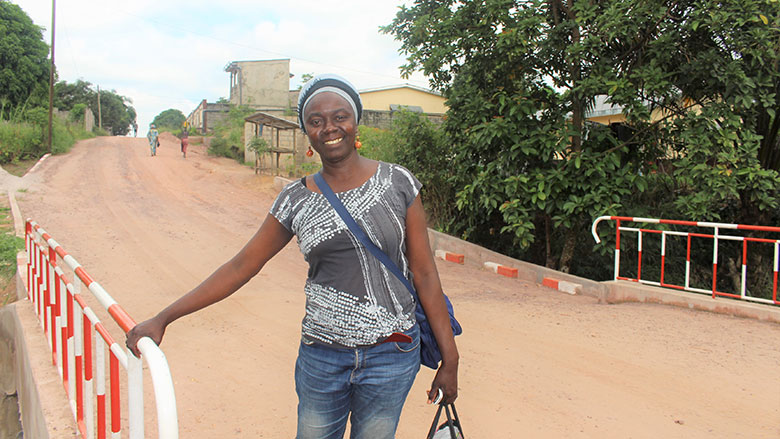 Each morning, Noëlle Ntsiessie crosses the bridge constructed by the PDARP to go to Soungi. Photo: Franck Bitemo/World Bank
Noëlle Ntsiessie has not had an easy life. She did not know her father and lost her mother at the age of 10. She was raised by her grandparents, who as farmers gave her a taste for gardening. But after failing to complete secondary school she gravitated toward vocational training and found a job as a secretary with a private company in Brazzaville. The armed conflicts that broke out sporadically in Brazzaville in the 1990s forced her to move to Pointe-Noire, the economic capital of the Congo. Her search for freedom led her to artistic circles, where she was hired as a dancer and later as the manager of a choreography company. In 2000, she left the Congo with her company to take refuge first in Côte d'Ivoire and then in Burkina Faso. Upon her return to Brazzaville after eight years of exile, she was penniless and without any prospects. Her mother-in-law encouraged her to reconnect with her childhood passion. "My mother-in-law said to me one day: 'there is money in the land' and that encouraged me to return to horticulture," says Ntsiessie.
Since June 2015, she has been a founding member of the Makedika market gardening group, for which she acts as treasurer. Its name means "honesty." Like the other members, she has a 500 square meter personal lot on which she grows chives, endive, black nightshade, spinach, and eggplant. Her first harvest brought in almost CFAF 250,000 (approximately $405) in profits, and the future seems promising. "There is still a lot of prejudice against farming in Congolese society," she says. "Some people do not even consider it to be work, and those who work in market gardening are often ashamed to admit it because it is associated with poverty. There is not enough emphasis on farming as a noble profession that generates wealth." As if to be sure of convincing us, she adds that it is thanks to the farming income that she and her husband, who is also a gardener, have earned, they have been able to purchase their house where she has installed a plant nursery. Moreover, it is by farming that she has been able to finance the artistic activities that she still participates in as the manager of an international theater festival.