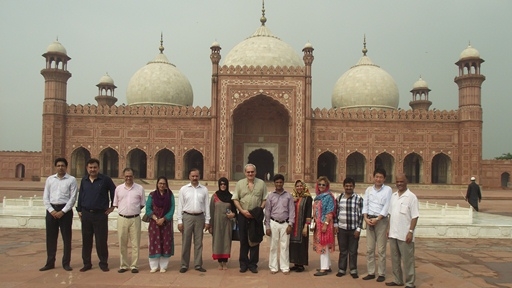 With a living history of over 1000 years, Lahore's androon shehr (Walled City) serves as the city's historic core and forms a part of Pakistan's rich cultural heritage. It also represents a link to the shared history of the countries of South Asia, having served as the capital of the Mughal and Sikh Empires, and then a major administrative center of colonial India. It is thus apt that Philippe H. Le Houérou, the new Vice President of the South Asia Region (SAR) of the World Bank Group and an avid student of history, chose to visit the Walled City on his first visit to the region.
The Walled City also serves as a site of an ongoing World Bank-assisted project which is helping the provincial government restore neighborhoods along a heritage trail, the Shahi Guzargah (Royal Trail), while uplifting livelihoods of the community living there. Beginning early in the morning, Le Houérou entered through the Walled City historic Delhi Gate and met with residents and project team members including a youth group and activists of the social mobilization teams that the Project has helped organize. They gave him a tour of the city's streets, some wide enough to only fit one person at a time, and treated him to a traditional Lahori breakfast at the Shahi Hamam (Royal Bath).

Ready for another Lahore staple, its searing summer heat, Le Houérou then visited the Wazir Khan and Badshahi mosques, both within the Walled City. Wazir Khan's almost 400-year-old artwork, Le Houérou said, reminded him of Vincent Van Gogh's work.
This tour occurred on the last day of a four day trip to Pakistan. Having just assumed his new office, following his tenure in the same role for the Europe and Central Asia Region (ECA), his first visit to the region is meant to serve as a learning and listening tour, as well as to introduce himself to Bank Group staff based in the region.
Landing in Islamabad on August 21, Le Houérou spent his time learning about the Bank's activities and more broadly about the country and its history, with a packed schedule meeting people from across Pakistani society. He chose this as an ideal time for such a visit, with recently-elected national and provincial governments beginning to formulate their development agendas, coinciding with the Bank beginning the process of forming a new Country Partnership Strategy.

In Islamabad, he met with Prime Minister Nawaz Sharif, Finance Minister Ishaq Dar, Chief Minister of Punjab Shahbaz Sharif and other members of the federal cabinet. He also held a breakfast with major Pakistani think tanks and a lunch with representatives of Pakistan's development partners. In Lahore, the country's second-largest city and capital of its most populous province, Punjab, he met with members of the private sector and members of civil society and academia.
At the World Bank office, Le Houérou held an all-staff meeting with Bank, IFC, and Water and Sanitation Program colleagues, introducing himself and answering questions. Drawing from his experience in ECA, he said that implementation was the key to successful completion of development projects. "When we do a project, we have to build something," he told staff. "What we learn in projects is invaluable," he said, stressing that client focus is very important and the Bank should never lose that link.
Country staff introduced him to the country with 'Stories of Pakistan', a video showcasing stories of three inspirational citizens: Abdul Sattar Edhi, humanitarian and founder of the charity Edhi ambulance service; Samina Baig, who recently became the first Pakistani woman to climb Mount Everest; and Zafar, an electrician from Swat who began a micro-hydropower project after his village was devastated in the 2010 floods.
A portfolio review meeting was also held, where Le Houérou encouraged staff to share challenges they face, particularly working in crisis affected regions , to identify the systemic issues, and what he can do to help resolve them.

The Pakistan Country Office Staff Association also organized a farewell event for outgoing Vice President Isabel Guerrero, accompanying Le Houérou on the trip, which included classical dance performances and a performance by a local folk-fusion band from Peshawar. Guerrero was presented with gifts from the staff, as an appreciation for her work for the country over the past four years, including a tribute video personally made by Country Director Rachid Benmessaoud.
Concluding their visit, Le Houérou and Guerrero moved on to India, as many travelers have before them, embarking from the Delhi Gate via the historic Grand Trunk road, crossing the border on foot at the Wagah-Atari crossing, another powerful gesture pointing to the possibilities of regional cooperation and trade.