Ludhiana District, Punjab: Despite his advancing age, 65-year-old Harchand Singh's quality of life has taken a turn for the better. Sitting at a roadside food stall in Gill village, in India's northern state of Punjab, this frail man with a flowing white beard says he sleeps more peacefully at night because the state highway that ran right through his village now bypasses it altogether.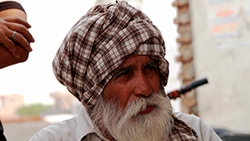 "Trucks would blow their horns or play loud music or even park their vehicles inside the village. There were several accidents," Singh recounted. "Now, I sleep a lot better and feel more energetic throughout the day."
Jagdeep Kaur, who runs a coaching centre on the main village road is also happy with the new bypass. "Earlier, parents hesitated to send their children to my centre since this meant crossing the highway which was always busy. But now, with the bypass, the enrolment at my centre has doubled."
Driving conditions on state highways improve
The bypass road is one of the many improvements made to several state highways by the Punjab government under the World Bank-supported Punjab State Road Sector Project. Although all the villages in the state are connected by paved roads, most state highways are too narrow to meet the rapidly growing needs of increasing traffic. Vehicle speeds are low – just 30-35 kmph on average for trucks and buses – resulting in long travel times and increasing costs for road users.
Since good roads are essential for the efficient transportation of agricultural produce and manufactured goods from the state's fertile heartland and major industrial centers, the project has sought to widen state highways, eliminate bottlenecks, and upgrade the roads' surface quality to allow for higher speeds and greater road safety.
New-age signage and reflectors have been installed to alert drivers, especially at night. Parking spaces have been provided on hard shoulders along the road, reducing congestion and making for the smoother flow of traffic. Nearly 1,000 kilometres of state roads along Punjab's key economic corridors have been taken up for improvement.