Nestled among the winding back streets behind the Maharajah's grand palace in Mysore, Hotel Ashodaya, looks as any other eatery in India's southern state of Karnataka. But this is no ordinary restaurant. Instead, it is a bold and unusual effort to dispel the scorn and discrimination heaped upon one of the most ostracized sections of society: the male, female, and transgender sex workers of this historic city, many of whom are living with HIV.
For many among the sex worker community, it is also a beacon of hope. Opened barely a year ago with help from a World Bank Development Marketplace grant, the restaurant has boosted the self-esteem of those at the very margins of acceptability.
People from all walks of life flock to the eatery, where sex workers serve lunch and strong south Indian coffee. Slick bankers, tourists, and policemen too – once the dreaded adversaries of the sex worker community – form part of the restaurant's upmarket clientele. Says Prashant Kumar, an official of HSBC Bank, who comes here to eat regularly, "For me it's the quality and taste of the food that matters. I also come here to show my support for the good work the restaurant is doing."
His statement indicates the gradual acceptance the restaurant has managed to earn as it chips away at one of the most deeply-held prejudices of this conservative society. For Bhagya, a sex worker, it is particularly thrilling that people now address her politely, especially as all she has known is a life of scorn, hatred, and abuse.
Lives of violence and shame
It was not always so. When, in 2004, the University of Manitoba under a grant from the Bill and Melinda Gates Foundation, started an HIV prevention program in Mysore, sex workers faced a life of brutal violence and discrimination. The police humiliated them, hurled foul language at them, beat and jailed them and demanded free sex. Doctors and nurses refused to treat them, while shopkeepers hounded them off the streets. Local rowdies attacked them, leaving many with broken bones. Shunned and alone, their self-esteem at rock-bottom, many were driven to drink.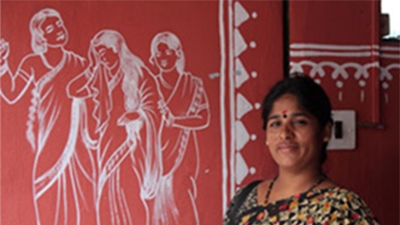 Outside the Ashodaya Samithi's premises
Said Dr. Sushena Reza Paul, from the Community Health Sciences Center of the University of Manitoba, who has overseen the program since its inception, "Sex work was vibrant in Mysore, an important tourist hub. Female, male and transgender sex workers operated from the same 'hotspots'. Condom availability was negligible and violence and harassment were rampant. Yet, there was no HIV prevention program on the ground. An explosive epidemic was just waiting to happen."
"This was both a challenge and an opportunity," she adds. "Challenge: because HIV prevalence could already be high and the setting was street-based sex-work, where experience in India was very little. Opportunity: because the environment of sex work had not been touched as yet and the population was very visible."
A new beginning
When the sex workers heard that "outsiders" had come to work for them, they were skeptical. "We couldn't believe that others were willing to help us when our own families had shunned and disowned us," said Raghu, a male sex worker.
Trust was built over time. It was only after a sex worker from Kolkata's well-known Sonagachi red light district came to talk to them, and 130 Mysore sex workers went to see that highly successful group, that they were convinced to form a group of their own. Several community meetings were held over the next six months and finally, in December 2005, a democratically elected board was constituted -- and the Ashodaya Samithi, or Dawn of Hope, was born.
Coming together for the first time with others like them was an experience many will never forget. Tears of release flowed unrestrainedly as long-suppressed emotions resurfaced and old hurts were recalled. "I could understand their pain and feet their hurt," said Bhagya, now Ashodaya's elected secretary, of that cathartic experience. "And, for the first time I realized I was not alone."