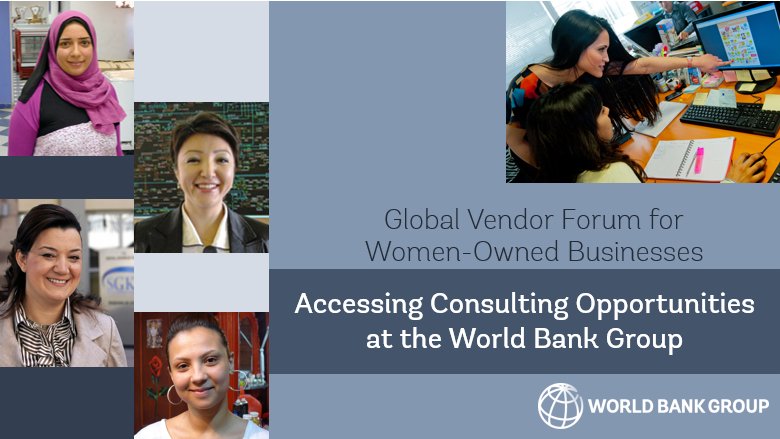 March 22, 2023 | 9:00 am EST | Zoom
Featured procurement category:
Consulting Services for WBG Operational Activities
Are you a women-owned business interested in doing business with the WBG? Join the World Bank Group Corporate Procurement unit for an engaging presentation on how to access corporate procurement opportunities.
The World Bank Group (WBG) is a world-class leader that works in every major area of development and provides a wide array of financial products and technical assistance to help countries share and apply innovative knowledge and solutions to the challenges they face. A range of advisory services, analytical work, capacity building, research, project appraisal and consulting services at the country, regional and global level are being procured by the WBG through Corporate Procurement to support these operational activities. They support areas such as human development, agriculture and food security, climate change, social sustainability and inclusion, education, trade, and many others.
During this event you will learn about the consulting services we purchase to support WBG-executed operational work and how to access such opportunities, including a live demonstration of our new WBGeProcure RFx Now platform and the Supplier Registration portal. You will also hear from WBG procurement experts on our corporate procurement rules and procedures as well as vendor eligibility criteria. The event will also feature the role the WBG plays as an agent of change towards sustainability, gender equality and women's economic empowerment, and the efforts we make to increase participation of women-owned businesses in our supply chain.
Language:
The language of the event will be English.
Registration:
Registration for this event is required and participation is free.
9:00

House-keeping instructions and Agenda overview 

Kenny Cheung, Chief of Corporate Procurement, World Bank Group

9:05

Welcome and Opening remarks​ 

Shaolin Yang, Managing Director and World Bank Group Chief Administrative Officer

9:10

How the WBG is advancing gender equality and women's economic empowerment

Andrea Kucey, Manager, Gender Group, World Bank Group

9:15

Round-table discussion: Promoting Supplier Diversity & Inclusion across the WBG

Enzo De Laurentiis, Chief Procurement Officer, Operations Policy and Country Services, World Bank
Heather Mae Kipnis, Senior Operations Officer, Gender and Economic Inclusion Group, International Finance Corporation
Adam Rubinfield, Head of Secretariat & ESG, Corporate Procurement, World Bank Group
Moderated by: Despoina Kouria, ESG Procurement Specialist, Corporate Procurement, World Bank Group

9:45

Doing Business with the World Bank Group:  Overview of WBG Corporate Procurement procedures

Lily Cheung, Senior Procurement Specialist, Corporate Procurement, World Bank Group

10:15

Registering as a potential WBG vendor

Afzal Basha, Procurement Analyst, Corporate Procurement, World Bank Group

10:25

Finding and Responding to WBG business opportunities

Maha Zaqout, Procurement Specialist, Corporate Procurement, World Bank Group

10:35

Question and Answer 

10:55

Closing Remarks
Event Details
Registration:

Registration is now closed.

Language:

The language of the event will be English.

CONTACT:

Corporate Procurement