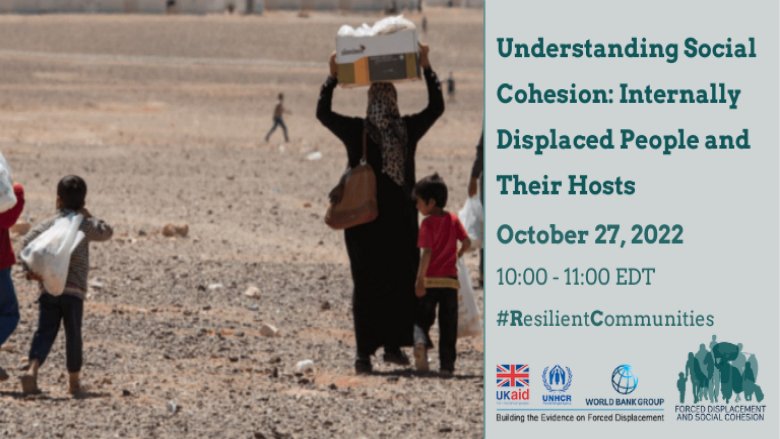 Event recording forthcoming
Conflict, violence, and disasters caused 38 million new internal displacements across 141 countries and territories in 2021, which according to the Internal Displacement Monitoring Centre (IDMC) constitutes the second highest annual figure in a decade after 2020's record-breaking year for disaster displacement. IDPs make up most of the world's forcibly displaced people—an estimated 59.1 million people at the end of 2021 (IDMC 2021).
This event brought into sharp view the important needs of IDPs and their hosts, by drawing on newly published papers focused on Colombia, Mali and Nigeria. These papers provide insights on long-term welfare impacts on IDPs; inequality, poverty, and conflict outcomes in IDP and non-IDP-hosting communities.
This event presentations focused on the following papers respectively:
This event is part of an ongoing partnership between the World Bank, the UNHCR, and the FCDO, on forced displacement and social cohesion (more information here).
Opening Remarks (5 minutes): Clara Ana Coutinho de Sousa
Framing Remarks: Varalakshmi Vemuru (5 minutes)
Panelist Presentations (5-7 mins each):
Juan Fernando Tellez
Jeremy Foltz
Barbora Sedova
Moderated Discussion (30 minutes)
Moderator: Varalakshmi Vemuru
Discussant: Sumbul Rivz
Closing Remarks: Varalakshmi Vemuru (3-5 minutes)