A national 100-day action program to support girls' education and women's economic empowerment launched today at Quaid-i-Azam University, supported by the Ministry of Education, Ministry of Human Rights, and the World Bank Group.
The 'Girls Learn, Women Earn' (GLWE) initiative launched today in Islamabad with an evidence for policy-making conference in Islamabad. Sessions focused on challenges and opportunities in eliminating Learning Poverty and increasing women's economic empowerment. The initiative highlights statistics that show that 55% of Pakistan's 22.5 million out-of-school children are girls and only 26% of women are active in the country's labor force. The 100-day campaign calls for awareness, advocacy and action on a national scale to address this.
Learning Poverty
Minister for Education Shafqat Mahmood and Advisor to the Prime Minister for Finance Hafeez Shaikh led discussions on the need to address 'Learning Poverty'. Three in every four children in Pakistan cannot read and understand a simple story by age 10, says a recent report from the World Bank, Ending Learning Poverty: What will it take? It highlights that Learning Poverty in Pakistan is at 75%, which is substantially higher than the average in South Asia of 58%. The report argues there are two underlying factors to this. First, 27.3% of all children remain out of school, which particularly affects girls, who are more likely to never be enrolled and to drop out faster in early adolescence. Second, 47.5% of children cannot read and comprehend a simple paragraph by age 10, even though they make it to school. This means that literacy instruction in schools is not adapted to the needs of children, particularly those from illiterate families.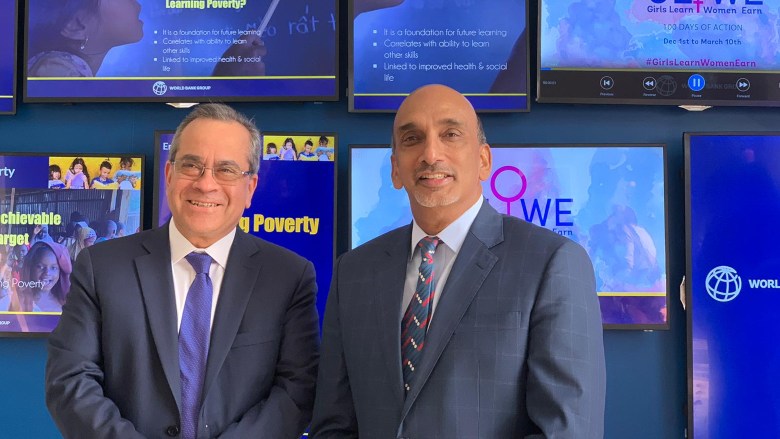 Jaime Saavedra, World Bank Global Director for Education with Illango Patchamuthu, World Bank Country Director for Pakistan attending the event.