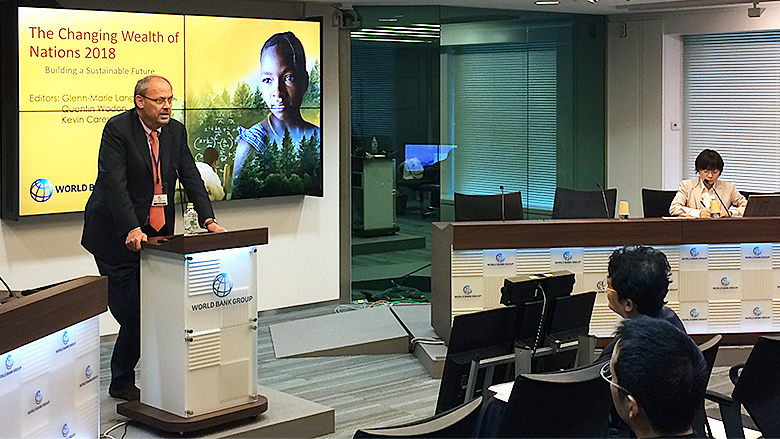 Global wealth grew significantly over the past two decades but per capita wealth declined or stagnated in more than two dozen countries in various income brackets, says a new World Bank report "The Changing Wealth of Nations 2018: Building a Sustainable Future" issued in January 2018. Going beyond traditional measures such as GDP, the report uses wealth to monitor countries' economic progress and sustainability.
Press Release: World Bank Report Finds Rise in Global Wealth, but Inequality Persists
The report tracks the wealth of 141 countries between 1995 and 2014 by aggregating natural capital (such as forests and minerals), human capital (earnings over a person's lifetime); produced capital (buildings, infrastructure, etc.) and net foreign assets. Human capital was the largest component of wealth overall while natural capital made up nearly half of wealth in low-income countries, the report found.
At this seminar, Benoit Blarel, Practice Manager, World Bank's Environment and Natural Resources Global Practice, presented the main findings of the new report, and implications to the World Bank's Environment and Natural Resources strategy. And Kaori Fujita, Senior Producer and Editor, Nikkei Ecology / Nikkei BP Eco Management Forum, shared her comments introducing examples of Japanese private sector and local government trying to measure wealth.
Program
Opening Remarks
Masato Miyazaki
Special Representative, Japan, World Bank Group
Keynote Speech
Benoit Blarel
Practice Manager, Environment and Natural Resources Global Practice, World Bank
Presentation Material: The Changing Wealth of Nations 2018: Building a Sustainable Future (PDF)
Comments
Kaori Fujita
Senior Producer and Editor, Nikkei Ecology / Nikkei BP Eco Management Forum