The 2016 World Development Report (WDR)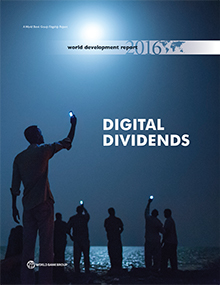 The World Development Report (WDR) is the World Bank's most important analytical publication and each year it focuses on a contemporary topic of interest to the broader development community. This year's Report aims to expand our understanding of the impact of digital technologies on the lives of poor people in developing countries. In fact, this is the first report in 37-year history of WDR to address the role of ICT.

The WDR 2016 (https://www.worldbank.org/wdr2016) documents many profound and transformational effects of digital technologies that are boosting growth, expanding opportunities and improving services. It also finds that the broader benefits have fallen short and are unevenly distributed. For digital technologies to benefit everyone everywhere requires closing the remaining digital divide. But greater digital adoption will not be enough. The WDR 2016 argues that to get the most out of the digital revolution, countries also need to work on the "analog complements"—by strengthening regulations that enable firms to connect and compete, by adapting workers' skills to the demands of the new economy, and by ensuring that institutions are accountable.

The Russia country launch of the 2016 WDR: "Digital Dividends", which will take place on April 12, 2016, in Moscow, at the Analytical Center for the Government of the Russian Federation, will help to build a global consensus on finding the right balance that allows digital technology to continue to empower humans to do great things while also addressing legitimate concerns.