If you're not able to attend the event in person, join us on World Bank Live starting at 9:30AM EST on November 16 & 17. Make your voice heard and send your questions and comments.
The Youth Summit 2015 will focus on young people's role in the fight against climate change. The event will gather exceptional future leaders to tell the story of climate change and inspire communities everywhere to take action.
We are looking for inspirational young people to showcase their ideas and enhance their knowledge on climate action.
The Youth Summit 2015 will be a two-day event taking place on November 16 & 17.
Day 1 (November 16) – Plenary Discussion and Sessions
The first day of the Summit will provide training on climate change related topics. The day will start with a dynamic high level plenary session which aims to contribute to the conversation on the Road to Paris and after Paris (UNFCCC COP21)by highlighting the historical objectives that could be agreed at the international conference and by discussing how implementation of those objectives could be efficiently achieved. Following the plenary session, participants will attend climate related tracks that will cover the following topics: Climate Finance, Green Energy, Climate Resilience, Landscapes, Green Buildings, Green Transport and ICT. The goal of the tracks is to provide hands-on training and actionable skills to the participants.
Day 2 (November 17) – Live Competition
The second day of the Summit will feature a live competition in which selected young professionals will present their final competition proposals in front of a jury.
About Us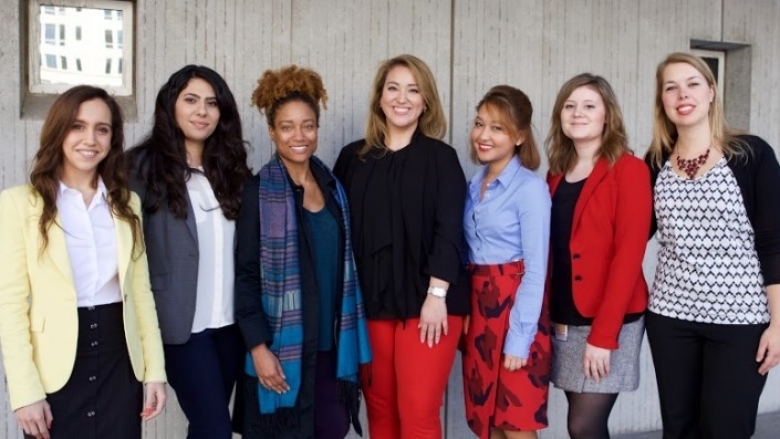 Youth Summit Organizing Committee pictured from left to right:
Ines Gonzalez Del Mazo, Chair; Mora Farhad, Treasurer; Jewel McFadden, Youth Engagement Lead; Alejandra Bustamante, Event Logistics Lead; Meerim Shakirova, Event Content Lead; Vivian Klein, Communications Lead; Victoria Flamant, Committee Advisor.
Not pictured: Arezo Kohistany, Committee Advisor.
Established in 2013, the Youth Summit is an annual event that serves as a platform for conversation and action to make the World Bank Group more relevant to the global youth and to better involve young people in the work of the World Bank Group. The Youth Summit Organizing Committee is comprised of young World Bank Group employees and is supported by World Bank Group senior management.
The first Youth Summit was held in October 2013 and emphasized youth entrepreneurship, revitalizing a new chapter of World Bank Group involvement and engagement with a dynamic generation of young entrepreneurs, activists, development professionals, and others interested in global youth-related issues. The 2014 Youth Summit focused on Governance, leveraging the experiences and expertise of participants to offer workshops highlighting the work of youth globally to increase transparency, accountability and collaboration in the context of participatory governments.
Attendance to the event is free of charge. Interested youth are encouraged to find sponsors to pay for their transportation tickets and accommodation for the two days of the event. If attendance to Washington DC is not possible please send an email to youthsummit@worldbank.org with "WBG Country Office" in the subject line and the Youth Summit Organizing Committee will make efforts on arranging a conference room in the WBG Country Office to watch the event live.