Turkey is particularly vulnerable to the impacts of climate change. Average temperatures are rising, precipitation amounts are decreasing, and climate-related hazards, such as floods and droughts, are becoming more common. These shifts hinder agricultural yields, endanger food security and threaten the safety and welfare of hundreds of thousands of people in Turkey.
Recent announcements from Turkey's leadership indicate ambitious plans to mitigate the adverse impacts of climate change, strengthen adaptation and resilience, and address several environmental priorities. Turkey ratified the Paris Agreement on climate in October 2021 and renamed the Ministry of Environment, Urbanization and Climate Change, affirming its commitment to climate action and long-term greener growth. This will drive increased demand for green finance and a stronger role in climate action for the private sector in the future.
Given its unique role in mobilizing and directing investments, the financial sector can and should step up its role in mobilizing capital for climate action.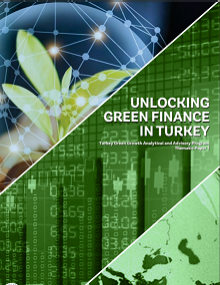 A new World Bank Technical Note,
Unlocking Green Finance in Turkey
, provides an in-depth analysis of global developments in green finance and potential options for unlocking investments in priority areas of climate action in Turkey.