DAR ES SALAAM, MARCH 21, 2018 – In the first few months after commissioning the Birisima solar-powered water project in Gidewari, a significant number of shops sprung up around the village.
Foreman Isaack Abdiel, who oversaw the construction of the project in northern Tanzania, attributed the influx of businesses around Gidewari to the savings in time and health costs that residents were able to make once they were supplied with safe, clean, inexpensive water. Before that, this pastoral community depended on seasonal rivers, "even though this water was muddy and unsafe because our cows also watered there," said Rosalie Margwe, a wife and mother of three. "As a result, many people often got water-borne diseases which cost a lot of money to treat."
A 2012 World Bank study, Scaling Up Handwashing and Rural Sanitation: Findings from a Baseline Survey in Tanzania, found that of the US$206 million toll on the country's annual gross domestic product (GDP) imposed by water supply, sanitation, and hygiene (WASH) annually, 83% was lost due to premature deaths from diseases heavily linked to poor WASH, such as diarrhea, malaria, and acute lower respiratory infections. Approximately 26,500 Tanzanians, including 18,500 children under five die each year from diarrheal disease, and close to 90% of those deaths were directly due to exposure to poor water, sanitation, or hygiene conditions. About US$1.6 million was linked to productivity losses from sickness or seeking healthcare because of diarrheal disease.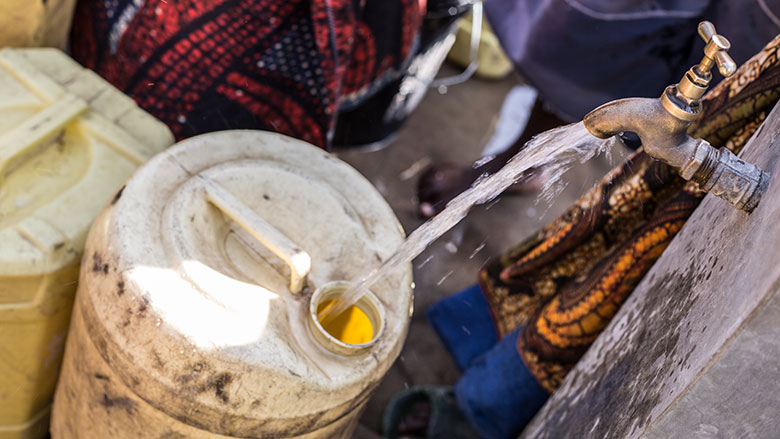 Photo: Alessandra Argentti/World Bank
Reaching for the SDGS: The Untapped Potential of Tanzania's Water Supply, Sanitation and Hygiene Sector, a new World Bank diagnostic, shows that with WASH inextricably linked with human development, several of the Sustainable Development Goals (SDGs) will not be reached without an improvement in WASH.
For example, the report notes that targets outlined in SDG-6, which aims to ensure the availability and management of water and sanitation for all, are "inextricably linked with other targets including ending extreme poverty, ending forms of malnutrition and reducing infant mortality."
The diagnostic, developed jointly by the World Bank's Water and Poverty Global Practices, includes a specific focus on stunting—a key nutrition concern in Tanzania. The report also identifies rurality and poverty as primary drivers of low WASH coverage in Tanzania – with rurality explaining 45% of lack of access to improved water, while poorer wealth status explains 50% of lack of improved sanitation access.
"Chronic undernutrition among children is not a problem for the poor. Among the richest 20% of the Tanzanian population, one in five children under five are not attaining the height for their age," says Dr George Joseph, co-author of the report. "Improvement in WASH is critical not only to Tanzania success in attaining the SDGs but also to ensuring rapid strides in enhancing health and education outcomes and therefore poverty reduction of the current and future generations."
According to the report, the SDGs era is an opportunity for the country to ambitiously move its WASH agenda forward, inching it closer to meeting its human development goals and eradicating poverty.
The study proposes a way to prioritize the challenges, and offers seven recommendations to speed up progress on the country's WASH agenda, with a focus on the bottom 40% of the wealth distribution:
Integrate the SDG framework into poverty-reduction strategies and water and sanitation programmatic approaches such as Water Sector Development Program II;
Make further investment in rural water and sanitation and 'celebrate maintenance' to enhance sustainability in the future;
Address utility inefficiencies, the growth in dependence on informal private providers, and the need for expanded regulation;
Formulate more coherent policy, more clearly define and assign responsibilities for sanitation, and identify sanitation champions;
Adopt, in urban areas, citywide sanitation approaches that recognize that different solutions are suitable in different contexts;
Design WASH interventions with a "nutrition-sensitive" lens and seek to integrate WASH into multi-sectoral strategies addressing education, health, and nutrition outcomes.
Facilitate efficient, transparent, and predictable financial flows between water and sanitation services actors—from donor, to government, to community—to promote sustainable governance.