Chile is at a historic moment, facing central questions of governance, the social contract and its economic model. Despite tremendous economic progress and poverty reduction over the last few decades, the existing policy framework has been insufficient to continue fostering productivity growth and economic diversification, improve labor market outcomes, and further address deep-rooted inequality.
The 2019-20 protests exposed the vulnerability of the socio-economic system, with protesters demanding a change in the country's political and social direction. The stagnation of growth and productivity in the last decade has raised questions over the sustainability of the country's growth trajectory and the type of reforms needed.
In this context, the COVID-19 pandemic has plunged the economy into the worst recession in decades. GDP contracted 6.0 percent in 2020, although a loosening of lockdown measures allowed a partial recovery towards the end of the year. Over one million jobs were lost, affecting mostly women and workers in commerce, agriculture, and hospitality, further undermining the fragile middle class. In conjunction with the economic contraction, the fiscal deficit increased to 7.5 percent of GDP in 2020, the largest in over three decades.
Although the authorities tapped into fiscal buffers, public debt rose from 28 percent in 2019 to 33 percent in 2020. Poverty is expected to have increased from 8.1 to 12.2 percent, with about 780 thousand people expected to have fallen into poverty. The effects of mobility restrictions and uncertainty were only partially offset by one of the largest policy responses in the region. This response included cash transfers, a job retention scheme, tax deferrals and reductions, liquidity provisions and guarantees, and early withdrawals from pension funds.
Growth is expected to rebound to 5.5 percent in 2021, on the back of a continued government stimulus and a rapid vaccination rollout. Chile is the fourth country in the world and the first in the region in terms of per capita vaccination rates. As of March 26, 2021, Chile has vaccinated more than 30% of its adults with a goal of vaccinating 80% of its 19 million people by June 30, 2021. Another factor that will boost the economy is accumulated liquidity due to monetary stimuli and pension fund withdrawals. Although uncertainty will curb private investment recovery, domestic demand will be spurred by accommodative policies. Exports should benefit from higher copper prices and a strong recovery in advanced economies and China. Despite all this, Chile will likely not reach pre-pandemic GDP levels until 2022 (Figure 1).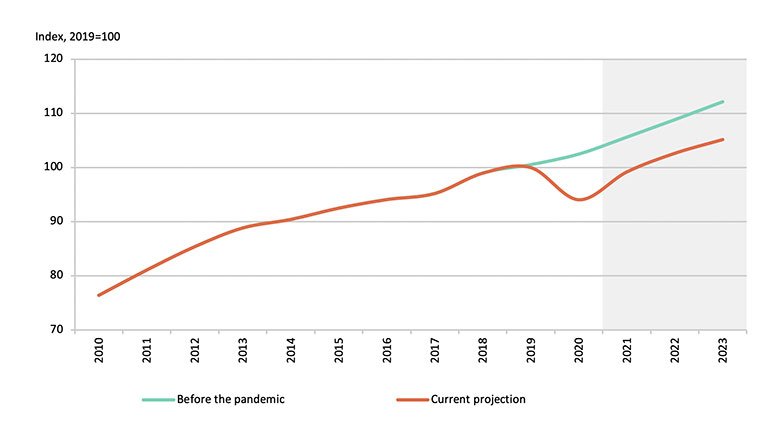 Figure 1: Real GDP prospects before and after the pandemic
Last Updated: Apr 08, 2021