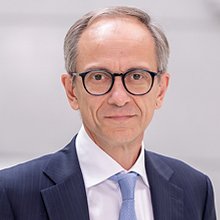 Chief Economist for Infrastructure
Dr. Stéphane Straub is a distinguished economist and scholar renowned for his extensive contributions to the fields of economics, infrastructure development, and institutional economics. As the Chief Economist for the Infrastructure Vice-Presidency, Stéphane brings his wealth of knowledge and expertise to drive forward the analysis of transformative infrastructure projects and policies.
With an illustrious academic career, Stéphane has served as professor of economics at the Toulouse School of Economics at Université de Toulouse Capitole, where he remains an associate member. His academic journey has spanned across multiple continents, encompassing teaching and research positions in Latin America, the United States, the United Kingdom, and France.
Stéphane's engagement with international organizations underscores his dedication to driving positive change on a global scale through rigorous economic analysis. It includes his experience as a Lead Economist with the Sustainable Development Practice Group at the World Bank in 2016-17 and regular consultancy contributions throughout his career to institutions such as the World Bank, the Inter-American Development Bank, the European Union, and the Asian Development Bank.
Stéphane's research addresses the complexities of infrastructure development, procurement, impact, and institutional evolution in developing countries. His research has delved into contractual arrangements for critical infrastructure projects spanning transportation, energy, water and sanitation, and ICT. In particular, he has focused on public-private partnerships and concessions, and private financing for infrastructure, in collaboration with esteemed colleagues, with the aim to pave the way for more efficient and effective infrastructure solutions.
His work extends to the impact of infrastructure on societies, and its profound effects on businesses and households, as well as to corruption, drug procurement efficiency, health procurement systems, and broader issues of informality and political connections, showcasing his commitment to addressing multifaceted challenges that hinder development.
As a former President of the European Development Network (EUDN) and Secretary of the Jean-Jacques Laffont association, Stéphane Straub is dedicated not only to advancing academic excellence but also to fostering positive change in the world. His blend of applied theory, empirical rigor, and practical experience make him an exceptional leader and economist.