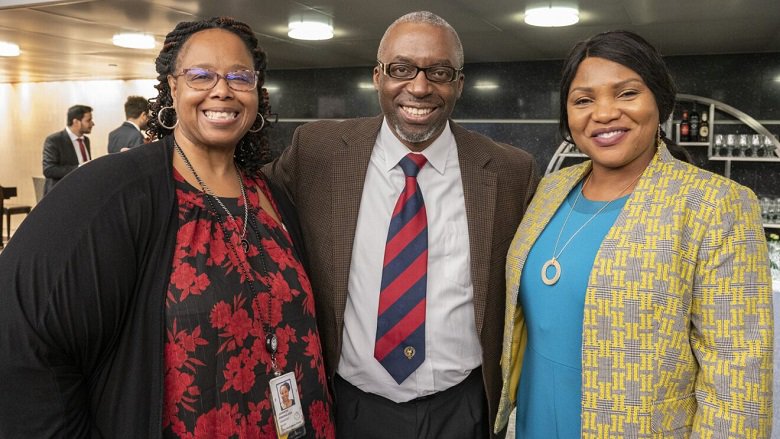 The World Bank Group Voice Secondment Program (VSP) was initiated in 2004 by the Executive Directors (EDs) of the World Bank Group (WBG) to promote capacity-building of government officials from client countries in WBG-operational policies, procedures and instruments, and to strengthen the dialogue between the capitals and WBG operational teams as well as with EDs' offices. Some alumni of the VSP have gone on to occupy key government positions in their respective home countries as well as in various international organizations.
The VSP Secretariat is a unit within the World Bank Group's Corporate Secretariat. The VSP Secretariat comprises a Program Manager, a Senior Program Assistant and a Program Assistant.
Each year, the VSP hosts 32 VSP Secondees from various client countries to spend six months in Washington DC. Each cohort has a fairly balanced geographical representation of participants drawn from Africa, Eastern Europe, Central Asia, Latin America, Caribbean islands, South Asia, East Asia, the Pacific islands, and the Middle East. To support efforts in promoting an equal playing field for women working in development, each VSP cohort also comprises not less than fifty percent (50%) female participants.
Through the work of the VSP, the WBG equips Secondees with deeper knowledge of the institution and strengthens the interaction between client countries and WBG country operational teams.
The VSP does not accept unsolicited applications from interested parties. All applications have to come through as nominations made by the government authorities in the home country of the interested parties. The nominations are then submitted by the government authorities to the World Bank for a competitive selection process in Washington D.C. Further details on the eligibility and selection criteria of the VSP are set forth below.
Eligibility Criteria
1. Candidates are selected from Low and Middle-Income countries with an active engagement with the World Bank Group (WBG) as well as from RAS-only (Reimbursable Advisory Services) countries. Priority will be given to candidates from Fragile and Conflict-Affected States (FCS) and Small Island Developing States (SIDS);
2. Government officials in a focal government agency (such as Ministry of Finance, Ministry of Planning, Central Bank), who are considered early or mid-career professionals, with potential for career-growth and advancement;
3. A minimum of a Bachelor's degree (a PhD is scored as 3 points, a Master's degree is scored as 2 points; and a Bachelor's degree is scored as 1 point);
4. A reasonable level of English language proficiency;
5. Fluency in any other WBG language would be an advantage (e.g. Arabic, French, Spanish, Chinese, Portuguese and Russian); and
6. Work experience relevant to the work of the WBG, especially if the nominee has had some operational experience with a WBG team or the offices of the World Bank Executive Directors.
Other Considerations
1. Greater consideration is given to countries that have had the least number of VSP Secondees participate in the Program;
2. Only one nominee per country will be considered for participation in the VSP each year;
3. A nominee for the VSP should be someone who is expected to continue working in the focal government agency for the next two (2) years following his or her secondment to the WBG;
4. Diversity and inclusion in the selection of VSP Secondees shall apply, regarding not only gender parity, but also the selection of people with different abilities and those from under-represented groups;
5. A reserve VSP candidate will be selected by the WBG for each region in the event that a selected candidate for that region is not able to take up his/her slot;
6. Where the candidate selected as a VSP Secondee is an expectant parent, the candidate is allowed to defer his/her admission to the Program for one year so that he/she can join the subsequent VSP cohort, without being subject to another selection process; and
7. Where the candidate selected as a VSP Secondee is not very proficient in English, the releasing focal agency is encouraged to fund an English language course before the Secondee joins the Program in Washington, DC.
Administrative aspects of the Selection Process:
1. Thirty (30) VSP Secondees are selected on a competitive basis from a pool of nominees, with priority given to those coming from Fragile and Conflict-Affected Situations (FCS) and Small island Developing States (SIDS);
2. To bring the total number of each VSP cohort to thirty-two (32) participants, two (2) additional VSP Secondees will be selected, following the same competitive process, from non-FCS countries that have no lending portfolio with the WBG but receive Reimbursable Advisory Services (RAS) from the WBG, and are willing to fund the participation of their candidates; and
3. Unless the selection committee agrees that a nominating country has had very limited participation in the VSP, in comparison to other countries, no country is allowed to have two or more VSP Secondees participate successively in the Program for two or more years in a row.
Appointment Type
6 months with no extension, no exception rule. One group is inducted with approximately 32 participants starting the first week of January each year, exceptions may apply.
Placement and Governance
Voice Secondees are placed in various WBG units with a mentor who provides coaching.
To avoid any potential conflict of interest, VSP Secondees work on assignments other than their own country (unless there is a very strong business case to do so).
The Program is managed in the Corporate Secretariat of the WBG under the oversight of a Steering Group, comprising high level staff from WBG management and offices of Executive Directors.
The Steering Group is responsible for the finalization of the selection of VSP Secondees.