Creating More and Better Jobs through Stronger Labor Markets
Targeting Investment toward Growth Opportunities, and Fostering Better Working Conditions
April 28, 2014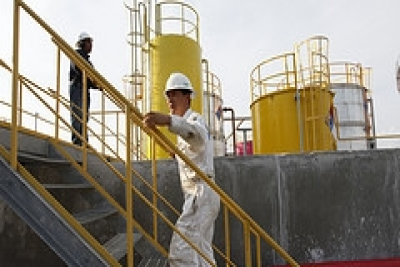 The World Bank Group (WBG) supports job creation and worker protection through various lending and knowledge instruments. Initiatives range from business regulation reform to infrastructure, public works, labor regulations and social insurance programs.
1.5 million
labor market program beneficiaries
Challenge
Despite sluggish growth, labor markets in developing countries continue their gradual recovery from the global financial crisis. Although there was a small acceleration in the median growth rate of wages, in sharp contrast to the dynamics observed during the first half of 2012, employment growth slowed down and the unemployment rate increased slightly. Most of the slowdown in employment growth took place in Asia and, particularly, in Latin America. Even in countries where employment continued to expand—Brazil, Turkey, and Romania—either the unemployment rate increased or wages fell. These outcomes can be explained in part by the slowdown in economic growth starting in the second half of 2012. The weak global recovery and uncertainty regarding fiscal and monetary policies in the United States and Europe could aggravate current trends. More than 1 billion people worldwide are marginally employed in low-income or informal jobs. Labor market outcomes are particularly worrisome for youth. Youth unemployment rates are up to three times higher than for adult workers and an estimated 260 million—around 40 percent in the Middle East and North Africa region—are out of the labor force and are not studying.
Solution
The Bank's job creation initiatives coordinate efforts on macroeconomic policy, the investment climate, industrial development, innovation and entrepreneurship, private-sector development, labor regulations, education and skills, and social protection. To help countries meet their job-related challenges, the Bank is providing technical assistance as well as lending and investment, building an evidence base for successful initiatives, and promoting cross-country learning.
Results
From FY11 to FY13, the WBG supported 1.5 million new labor market program beneficiaries, 731,000 of which are female.
Examples:
El Salvador: Income Support and Employability Project [IBRD]. The Temporary Income Support Program (PATI) in El Salvador, financed by a US$50 million IBRD loan, guarantees a minimum level of income to poor urban families while providing a labor market experience. The project had the following cumulative results since being approved in FY10:
24,841 individuals received PATI income support, 72.3 percent of which are female.
17,449 18-25 year olds without secondary education have enrolled in National Employment Network (Red Nacional de Empleo – RNE).
Dominican Republic: Youth Development Project [IBRD]. This project closed in FY13 and had the following results over the life of the project:
38,000 beneficiaries participated in employer demand-driven job training courses. About 95 percent of these beneficiaries were from the poorest areas of the Dominican Republic and 58 percent were women.
A total of 3,920 low-income, unskilled unemployed youth received training and employment from the temporary employment program.
72 percent of the Youth Employment Program graduates were employed or self-employed six months after program completion.
3,002 private firms offered internships as a result of the program.
3,965 and 29,288 additional beneficiaries participated in the Adult Basic Education (EBA) and Adult Secondary Education (PREPARA) second chance education programs respectively. 51 percent of these beneficiaries are female and 76 percent are from the poorest 40 percent of households.
Papua New Guinea: Urban Youth Employment Project. A US$16.7 million IDA loan and WBG technical assistance is helping the National Capital District Commission to implement the Urban Youth Employment Program. Since project approval in January 2011:
3,500 youth have been selected to participate in the project. Out of these, 2,800 have completed the five-day Basic Life Skills Training; 1,200 have participated in the Youth Job Corps intended to generate short-term employment and 800 have been engaged in one of the two Pre-Employment Training schemes, of which 500 have already graduated.
The On-The-Job Training component, which aims to provide more in-depth skills and longer-term employability, continues to build momentum, and the number of job placements has increased to 240 (from 115 in April 2013), with about 80 employers. About 60 of these youth have already secured longer-term employment with employers.

I feel proud to be a graduate in a job I love

Daniela
One of the 421 young girls trained in non-traditional jobs to graduate at the Historic "Parc de la Canne a sucre" in Port-au-Prince, Haiti.
IDA results

Liberia: Empowering Adolescent Girls and Young Women (EPAG project)
The EPAG project was launched by the Liberian Ministry of Gender and Development in 2009 with the goal of increasing the employment and income of 2,500 young Liberian women by providing livelihood and life skills training and facilitating their transition to productive work. Strong impacts were found on the employment and earnings outcomes of program participants, relative to a control group of non-participants. The EPAG program increased employment by 47 percent and earnings by 80 percent. In addition, the impact evaluation found positive effects on a variety of empowerment measures, including access to money, self-confidence, and anxiety about circumstances and the future. The evaluation found no net impact on fertility or sexual behavior. At the household level, there is evidence of improved food security and shifting attitudes toward gender norms. Finally, preliminary cost-benefit analysis indicates that the budgetary cost of the EPAG business development training for young women is equivalent to the value of two years' income among program beneficiaries.
Link to MDGs
Eradicate extreme poverty and hunger
Promote gender equality and empower women
Bank Group Contribution
In FY13, the WBG labor-related lending totaled US$321 million, up from US$189 million in FY12 (comprising US$210 million through IBRD lending, US$110 million through IDA lending, and US$1.3 million in grants). In addition, the WBG delivered 34 economic and sector analyses and 22 technical assistance projects on labor markets topics. Programs included unemployment benefits, public works, employment services, training, support to self-employment and entrepreneurship, and access to credit. Regionally, FY13, the Bank's Latin America and Caribbean and Africa units were the largest borrowers to support their jobs agendas, with US$11 million and US$9 million in labor market lending, respectively.
Partners
The Social Protection Inter-agency Cooperation Board (SPIAC-B), co-chaired by the ILO and the WBG, was established in 2012 upon request of the G20 Development Working Group. The objective of the SPIAC-B is to coordinate SP efforts among multilateral and bilateral agencies. Numerous UN-agencies, regional Banks, and bilaterals are members of SPIAC.
IFI-Global Union Dialogue: Facilitating and enabling the continuous dialogue with the international trade union movement (especially with ITUC, the umbrella organization), including organizing biannual and other meetings with the International Monetary Fund and trade unions.
Youth Employment Inventory (YEI) is a global repository that reviews youth employment interventions. It is done in collaboration with the International Labour Organization (ILO), the Inter-American Development Bank, the Youth Employment Network (YEN), and the German Implementing Agency (GIZ).
Working with the Bonn-based Institute for the Study of Labor (IZA) on activities related to the Jobs Knowledge Platform, and on various joint training activities and research conferences.
Managing a multi-donor trust fund on labor markets, job creation, and economic growth, which addresses knowledge and capacity gaps in low- and middle-income countries. The trust fund is financing pilot activities, research, and capacity building work on entrepreneurship, skills and employability, migration, informal labor markets, self-employment, and entrepreneurship.
Coordinating the Global Partnership for Youth Employment on methods and outcomes, with a special focus on Sub-Saharan Africa and the Middle East. The partnership released studies on youth employment issues and policies, funds impact evaluations, provides technical assistance, and organizes workshops and other learning events. Partners include the International Youth Foundation, Understanding Children's Work, the Youth Employment Network, and the Arab Urban Development Institute.
Moving Forward
After the launch of the 2013 World Development Report (WDR) on Jobs and Social Protection and Labor Strategy 2012-2022, the WBG is operationalizing the strategies. The WDR 2013 Jobs places jobs at the center of economic development, driving not only households' welfare but also productivity and social cohesion.
To help achieve these goals, the Bank Group is:
Continuing the partnership platform of the Jobs Knowledge Platform in partnership with IZA, McKinsey & Company, the Latin American and Caribbean Economic Association, and the Canadian International Development Research Centre. The Knowledge Platform brings together experts and policymakers from around the world to strengthen the multi-sector approach to the jobs agenda.
Leveraging resources and partnerships to improve the flow of capital toward job-creating investments.
Promoting and facilitating the development of multi-sectoral job strategies at the country level.
Pursuing analytical work with national governments and the private sector to identify and invest in the job-creation potential of specific industrial sectors.
Conducting and promoting impact evaluations.
Supporting data collection and analysis to help improve labor market assessments and benchmarking and strengthening countries' labor market information systems and survey instruments.
Developing and sharing operational manuals for scalable employment interventions.
Beneficiaries

"I feel proud to be a graduate in a job I love," says Daniela. After completing a six-month heavy equipment training program, she is one of the 421 young girls trained in non-traditional jobs to graduate at the Historic "Parc de la Canne a sucre" in Port-au-Prince, Haiti. This group of girls is the first cohort to graduate from the Adolescent Girls Initiative (AGI), a World Bank program. The project will impact 1,000 young women. So far, only 10 percent of those who enrolled have dropped-out. In partnership with community-based NGOs, training centers (public and private) and employers, the Haiti AGI provides technical training and soft skills development to vulnerable Haitian young women (17-21 years old) who are largely under-represented in formal labor markets. The objective is to facilitate a school-to-work transition and improve their employment and earnings potential. Girls are trained in masonry, electricity, heavy machinery, carpentry and hotels. By also focusing on behavior change, training allows girls to increase their self-confidence and be more aware of inter-personal skills.