A Multi-Donor Fund that Supports Reconstruction and Development in Mindanao
Addressing the Needs of Conflict-Affected Communities in Southern Philippines
April 10, 2013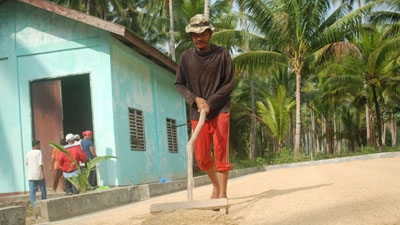 Started in 2006, the Mindanao Multi-Donor Trust Fund (MTF) supports economic and social recovery while promoting effective governance in conflict-affected areas in Southern Philippines. As of January 2012, over 300,000 people in 155 war-torn communities from 75 municipalities have benefited from the completion of classrooms, health stations, access roads, water supply systems, and community centers all over Mindanao.

300,000
People have been trained and empowered to plan, prepare, construct, operate and maintain their priority development projects.
Challenge

Conflict-affected communities in Mindanao are among the poorest in the country, suffering from decades of poor infrastructure and lack of basic services (including education and health), weak local governance, and minimal private sector investment.
The main cause of underdevelopment has been insecurity. Frequent armed clashes, driven by multiple and inter-related forms of conflict—insurgent groups, clan disputes (rido), and quasi-ideological criminal banditry—have created severe economic dislocation and displacement of people. In 2000 and 2008, for instance, conflicts led to an estimated 900,000 internally displaced persons. Armed conflict and poverty are inextricably linked. The Autonomous Region in Muslim Mindanao, for example, is one the most heavily conflict-affected regions in the country, with the poverty incidence reaching 38.1 percent in 2009, higher than the poverty incidence in the entire country at 26.5 percent for the same year.
Solution

The MTF provides financing to programs and projects that empower communities and other partners in Mindanao to recover from conflict. The fund also promotes participatory and effective governance where members of the community identify and carry out projects that will improve conditions in their areas. The MTF complements other programs and projects (e.g. the Autonomous Region in Muslim Mindanao –ARMM-- Social Fund) aimed at promoting peace and development in Mindanao.
The unique feature of the program is that it works through the Bangsamoro Development Agency (BDA), the development arm of the Moro Islamic Liberation Frontwhich is in peace talks with the Government of the Philippines. Based on an agreement between the Government of the Philippines and the Moro Islamic Liberation Front in 2001, the BDA is tasked to determine, lead, and manage relief, rehabilitation and development projects in the conflict-affected areas of Mindanao. Thus, the program plays an important confidence-building role in bringing the government and the Moro Islamic Liberation Front together on development issues. The program also provides skills and management training to the BDA so that the Moro Islamic Liberation Front will have a core of technical experts in development.
Results

Results as of January 23, 2013:

• By the end of January 2013, a total of 240 reconstruction and development projects have been successfully completed (for example, classrooms, health stations, access roads, water supply systems, core shelters, and community centers) and turned over to the 154 targeted conflict-affected communities in 75 municipalities all over Mindanao.

• From 2005 to 2013, approximately 300,000 beneficiaries, including women from 154 communities, have been trained and empowered to plan, prepare, construct, operate and maintain their priority development projects.

• In 2011 alone, the project delivered services to over 31,000 households, including water supply, livelihood and small-scale infrastructure.

• Since its establishment, and mainly through MTF's assistance, the BDA has produced a critical mass of trained and productive leaders working towards the achievement of its vision of an "enlightened, progressive, self-sustaining and healthy Bangsamoro community living in harmony, dignity, security and peace."


The Bangsamoro Development Agency held a consultation with us in our village, to ask the community about our needs. We identified water as the most important to us because even without food, with water one can survive. We decided as a community that we wanted to build a water system. We used to walk more than 1 or 2 kilometers to fetch water, carrying big containers. Today the water system is a big help to us. It's near our homes and we use it for cooking, for bathing, for watering our plants and as Muslims, to wash ourselves for prayer.

Elmer Donaire
farmer and Barangay Chairman -Tarragona, Davao Oriental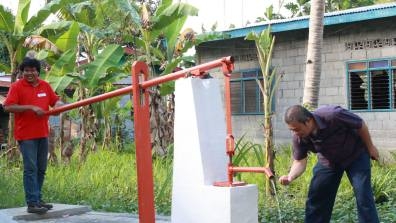 Bank Group Contribution
The Mindanao Trust Fund (MTF) enables development agencies to pool resources and coordinate support for conflict-affected areas in Mindanao. The MTF is administered by the World Bank which contributed US$1.5 million out of a total of US$15.62 million. The Bank's development partners have made the following contributions: Australia (AusAID-US$.37 million), Canada (CIDA-US$1.6 million), New Zealand, (NZAID-US$.2 million), United States (USAID-US$.75M), Sweden (SIDA-US$4.2 million), and the European Union (US$7.06 million)
Partners
Besides the BDA, other partners in the project are Community and Family Services International (CFSI), a humanitarian organization that has been involved in reconstruction and development work in conflict-affected areas in Mindanao since 2000, and the Mindanao Land Foundation (MinLand), a nongovernmental organization that has been working for social cohesion building in conflict-affected communities in Mindanao since 2001. Both CSFI and MinLand provide assistance to BDA to ensure smooth operations and efficient fund use.
On the government side, the co-chair of the program steering committee is the Office of the Presidential Adviser on the Peace Process. The BDA also works with local government units (LGUs) in project sites and has signed Memorandums of Agreement with 75 LGUs to promote cooperation and support for the program.
Moving Forward

The World Bank and the development partners have recently provided additional financing for the Mindanao Trust Fund amounting to US$5.25 million. The new funds will support community development for 65 more villages in 21 municipalities in conflict-affected areas of Mindanao. In particular, the assistance will support livelihood and small-scale infrastructure to speed up reconstruction and create small businesses and jobs in these war-torn communities.
A portion of the grant will be channeled through the International Labour Organization to help establish new businesses at the community level. It will also provide skills training to help people secure steady employment.