PRESS RELEASE
Opening of Baganuur District School Marks the Successful Completion of the EFA-FTI Project
February 22, 2014
Opening Of Baganuur District School Marks The Successful Completion Of The EFA-FTI Project Which Created Schools And Kindergartens For 1,200 Children
Baganuur, February 22, 2014– Today, the Ministry of Education and Science and the World Bank inaugurated a new school in Baganuur district, Ulaanbaatar. The school has the capacity to receive 640 students and offers a high-quality environment for learning. During the opening ceremony on February 22, 2014, the World Bank's Country Manager for Mongolia Coralie Gevers said "Offering a better environment for children to learn is one of the best investments we can make for Mongolia's future."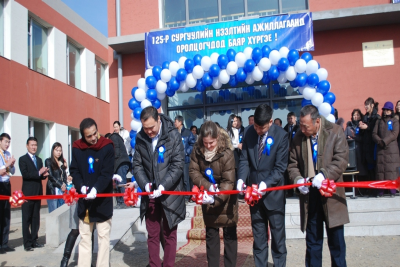 This school was built as part of the Education for All-Fast Track Initiative (EFA-FTI) project financed by the international donor community and administered by the World Bank. This project supported Mongolia in improving access to basic education for all children, enhancing the quality of education, and transitioning to a 12-year education system.
In terms of access, besides the school in Baganuur, the project financed the construction of schools and kindergartens in Arvaikheer soum (Uvurkhangai aimag), Murun soum (Khuvsgul aimag), and Mogod soum (Bulgan aimag) for a total capacity of 600 children. It has helped reduce the overcrowded classrooms both in schools and kindergartens.
To help children living with their families in remote areas prepare for primary school, 171 mobile ger kindergartens were established and were supplied with furniture, equipment, learning materials and toys. Ger kindergartens are helping children of herder families participate in educational activities from an early age and transition to primary school when they turn six.
With the objective of improving the quality of education, more than 10,000 first grade teachers, dormitory teachers and social workers were trained in new teaching skills and methodologies in accordance with the new curriculum. Schools were equipped with new technical equipment including notebooks, mobile teaching stations, and teaching kits.
Mongolia was approved by the EFA-FTI Board of Directors to receive a Catalytic Fund Grant of $29.4 million with the objective to ensure universal completion of basic education and to close the gender gap and rural/urban gap in enrollment and school completion by 2015. The school in Baganuur is the last school built as part of the EFA-FTI project. A new project for $10 million has started and will finance the construction of 17 kindergartens in Ulaanbaatar.
PRESS RELEASE NO:
02/22/2014