FEATURE STORY
Tertiary Education in Uzbekistan – Meeting 21st Century Challenges
September 2, 2014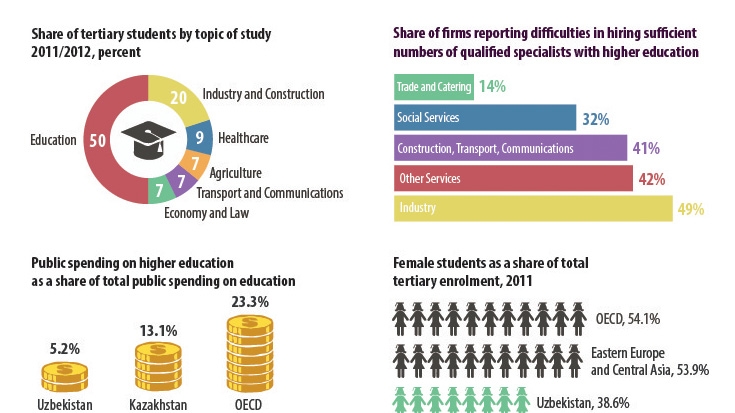 STORY HIGHLIGHTS
Over the last 20 years the economy of Uzbekistan has shifted from agriculture to the service sector.
The tertiary education system in the country has failed to adapt to this shifting economy and access to tertiary education remains limited – creating a gap in the linkages between skilled labor and the needs of the labor market.
A new World Bank report examines the challenges facing Uzbekistan's tertiary education system and provides recommendations on improving and modernizing this sector.
A quick glance at the economic trends in Uzbekistan over the last twenty years reveals both a sharp trend upwards in economic growth and a steady shift away from agriculture and toward industry, energy exports, and, in particular, services. Bolstered by an average growth rate of more than 8% a year since the mid-2000s, Uzbekistan has transitioned from a mostly agrarian society to one dominated by the service sector – which now accounts for more than 50% of employment in the country and represents 45% of Uzbekistan's total Gross Domestic Products (GDP).
However, while the labor market in the country has undergone a major transformation over the last two decades, the country's education system has been slow to react – creating a key challenge for policymakers in Uzbekistan: matching education outcomes, especially with regards to tertiary education, to the needs of new labor market demands.
Although Uzbekistan - a lower middle-income country with a population of 30 million people - needs an increasingly diverse, well-educated, and highly-skilled workforce to continue on its current path of economic development, the tertiary education system in the country is plagued by many challenges, making it increasingly difficult to develop this workforce. Today, Uzbekistan has exceptionally low enrollment in universities – out of every ten secondary graduates only one is able to secure a university place because of restrictive admissions quotas. For every one spot available at the tertiary level, there are six applicants - making this a highly competitive process and forcing many potential candidates to enter the workforce without appropriate skills or training.
The result is a surplus of workers who possess only basic skills, creating wider gaps between the needs of the market and the supply of appropriately-trained employees. One recent survey showed that 35% of firms feel that low skill levels among employees pose a "major" or "very severe" obstacle to growth, while another survey found that nearly half of industrial firms report difficulties in hiring sufficient numbers of qualified specialists with higher education.
Recognizing the need to modernize Uzbekistan's tertiary education system to better adapt to the needs of the country's economy, experts from the World Bank Group have worked with key stakeholders in the country to analyze the challenges and design policies, recommendations, and interventions capable of overcoming these challenges. One result of this collaboration is a recent report that looks at some of the most critical elements of Uzbekistan's education system.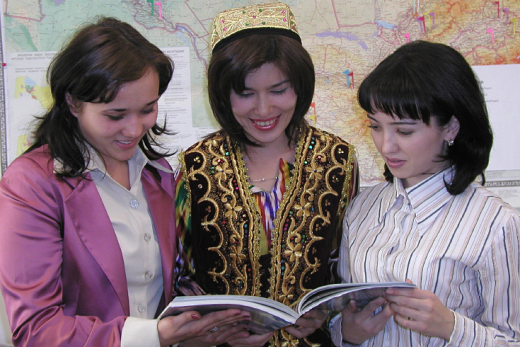 The report, Uzbekistan: Modernizing Tertiary Education, explores various facets of this system – from why the tertiary education system matters and how it contributes to the economy to how it is managed and what can be done to modernize and improve this system – in an effort to better link the supply of employee skills to the demands of the country's evolving labor market through improved access to quality education.
Overall, the report looks at several key areas of intervention to help bridge this gap in the coming years, recommending the development of a comprehensive medium-term strategy to improve tertiary education in the country. Crucial to this strategy will be expanding equitable access to education for all and allowing for greater autonomy among individual universities in enrolling students in line with market demand. These changes will also require improvements to overall governance by increasing transparency in choosing university leaders and the deployment of a modern Higher Education Management Information System (HEMIS).
Finally, significant resources will need to be made available in order to implement key reforms and improve the tertiary education system in Uzbekistan. While Uzbekistan currently spends approximately 8% of GDP on education, only 0.4% of this spending is directed toward tertiary education, one of the lowest expenditures in the world. In addition to boosting spending in this area, policymakers in the country must also consider reforms that emphasize the rationalization of stipends, increases in teacher salaries, and linking pay and performance.
With economic growth continuing to lead to significant changes to Uzbekistan's labor force and overall economic landscape, policymakers in the country are now being tasked with ensuring that labor market demands are met in order to maximize the benefits of this impressive growth. By focusing on reforms in the education sector - particularly increased access to tertiary education and financial reform - these policymakers can go a long way toward building a future for the country that is based on a highly trained and educated population putting skills they learned at university to work – benefitting employees, employers, and the economy of Uzbekistan as a whole.
___________________________
Download the infographics in Uzbek and Russian languages (PDF):