FEATURE STORY
Think Outside Your Boundary: Fast-Growing Cities Need a Metropolitan Approach
May 12, 2014
STORY HIGHLIGHTS
As cities grow rapidly, strategic planning at the metropolitan level is needed to ensure efficient and sustainable service delivery.
The World Bank launched MetroLab with partners to help cities at all stages of development learn from each other.
At an event in Seoul, officials from 18 cities in 15 countries discussed urban transformations, metropolitan transportation and land use, e-government and other issues, and also learned from Korea's experience.
What do Addis Ababa, Paris, São Paulo, New York, Mumbai, and Bandung have in common?
They're all cities committed to taking a metropolitan approach to urban planning. Part of a global network of cities convened by the World Bank and partners, they gathered in Seoul recently to share their experiences at the Global Lab on Metropolitan Strategic Planning, or MetroLab.
"You need to think beyond your boundary," said Didas Massaburi, mayor of Dar es Salaam City Council, explaining the MetroLab mission. "You need to think of the people and the communities that live in surrounding districts, who will be impacted by the economy, social activities, and environment of the region. If you don't, your plan will be useless."
Over four days, 109 participants – mayors, urban planners and other technical experts from 18 cities in 15 countries – engaged in discussions on topics ranging from urban transformations, metropolitan transport and land use, city e-government and the metropolitan economy.
"It's the most relevant international exposure I've had in my field," said Uma Adusumilli, chief of planning at the Mumbai Metropolitan Regional Development Authority. "The issues couldn't be addressed in earlier discourses on just cities. Bringing international focus on regional scale development is very new. That's what makes Metrolab very exciting to me."
As cities grow rapidly, urban development expands beyond existing boundaries to adjoining municipalities, provinces or even countries. To ensure that services are delivered efficiently and sustainably, cities need to manage land use, transportation, watersheds, and other systems at the metropolitan level, through strategic planning.

You need to think beyond your boundary. You need to think of the people and the communities that live in surrounding districts, who will be impacted by the economy, social activities, and environment of the region. If you don't, your plan will be useless.


Didas Massaburi
Mayor, Dar es Salaam City Council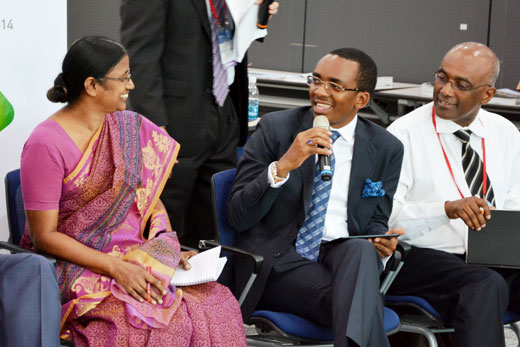 "We are asking cities two fundamental questions: How are you thinking outside your jurisdictional boundaries, and what do you need to think and act effectively outside your boundaries, both from a service delivery and land use perspective? That's the simple yet powerful idea of MetroLab," said Victor Vergara, lead urban specialist at the World Bank Institute.
What did cities learn?
"We are trying to do what we are calling inter-county cooperation. I have learned from cities like Paris and Seoul which have large metropolitan areas how they managed to coordinate their metropolitan regions. That is quite exciting for us," said Martha Muthoni, an urban planner for Nairobi's county government.
"I learned one important thing about Seoul – that land readjustments and land redevelopment is working very well," said Marcelo Fonseca Ignatios, superintendent of structuring projects at São Paulo Urbanismo, which will complete its master plan in a few weeks. "We need to implement that policy and see if it really works like examples in Seoul."
In addition to nearly 40 presentations from the cities themselves, the MetroLab in Seoul, co-organized with Seoul Metropolitan Government, turned the city into a "laboratory for learning." Participants saw for themselves some of Seoul's development successes.
Matewos Assefaw, master plan project manager for Addis Ababa, was impressed by a visit to Mapo Resource Recovery Plant and Haneul Park, a landfill redeveloped into a park. "It's really memorable, seeing a dumping site converted into a lively paradise, creating a viable and vibrant economy," Assefaw said. "In Addis, we are also closing an old dumping site and opening a new landfill. We hope what we have learned here can add big value to what we are doing."
"It was encouraging to see how metropolitan cities, no matter how high or low their income, were coming together, with something to learn from each other," said Ellen Hamilton, World Bank lead urban specialist. "This is the kind of space we want to nurture, to help cities find ways to do integrated regional development better, across jurisdictions and sectors."
The Bank launched MetroLab in April 2013 in collaboration with the Regional Plan Association of New York, a leading regional planning institution in the United States. Since then, MetroLab has held numerous virtual meetings and webinars and developed a community of practice.
Mumbai's Adusumilli, who attended the New York launch, was inspired to organize her own MetroLab event last October, inviting MetroLab partners for consultations on her city's next regional plan. "I thought we should share hands-on experience collectively, on what actually goes on while you plan for regional development," she said. Moving from exchanging ideas to action is high on the agenda.
"For me, cities cannot be just standing alone, they need to interact with other cities, sharing things to be more connected for a better world," said Mochamad Ridwan Kamil, mayor of Bandung, Indonesia. "The key is political will. That's why MetroLab is important, to bring more mayors to the table, because it can really change the situation faster."
Seoul Metropolitan Government's Myoung Gu Kang, director general for international urban development collaboration, summed up another important lesson: "The enemy of a good plan is the dream of a perfect plan. We just need a good plan and we need to act. That's the most important thing."