FEATURE STORY
Angola's Major Natural Gas Project to Cut Emissions from Flaring
September 20, 2013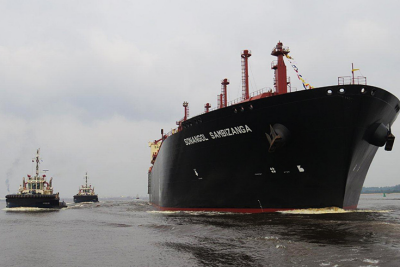 STORY HIGHLIGHTS
One of the world's largest gas flaring reduction projects
Annual C02 emissions to be reduced by nine million tons a year
Global Gas Flaring Reduction Partnership members are key players
Shipped to Brazil on board the SS Sonangol Sambizanga - one of seven 160,000 m3 LNG vessels that are under long-term charter to the project - Angola LNG last month safely and reliably delivered its first cargo of liquefied natural gas.
The project makes Angola the first new LNG supplier to enter the global market since 2010. It also holds a transformational potential for the country as it will enable the continued development of Angola's oil and gas resources with less impact on the environment, and will contribute to the country's economic development. It will also provide cleaner, more reliable energy to customers at home and abroad, and a return on investment that meets shareholder expectations.
Angola LNG is also one of the world's largest gas flaring reduction projects, and a model of the kind of public-private collaboration promoted by the World Bank-led Global Gas Flaring Reduction partnership (GGFR). It is no surprise that most of its partners are GGFR members.
Angola LNG will initially be supplied by associated gas, produced during crude oil production, which would otherwise have been flared or re-injected into the reservoirs. This gas will now be used either domestically, including for power generation, or liquefied and exported to other markets.
Recent estimates based on satellite images are that Angola flared about four billion cubic meters of gas in 2011. This project aims to reduce that volume of gas flaring by 75 percent, thereby reducing CO2 emissions by about nine million tons per year, equivalent to taking some two million cars off the road.

Angola LNG marks a milestone for Angola's flaring reduction efforts and shows that when partners work together, it is possible to develop major projects with minimum impact on the environment. These are impressive efforts and results that should inspire others around the world.


Bjorn Hamso
Manager, World Bank-led Global Gas Flaring Reduction Partnership
"Angola LNG's vision is to be a reliable and competitive supplier, a strong community partner, and a role model for the economic development of Angola," said António Órfão, Chairman, Angola LNG Ltd. "The project provides a solution to minimize flaring and environmental pollution by gathering associated gas from Angola's offshore oil fields to provide clean and reliable energy to our customers and a return on investment for our shareholders."
Angola LNG shareholders include Sonangol (22.8%), Chevron (36.4%), TOTAL (13.6%), BP (13.6%) and Eni (13.6%). Most of these companies are GGFR partners, and committed to reducing gas flaring to minimum levels whenever economically viable.
"Angola LNG is an excellent example of the power of collaboration. Chevron is honored to work with strong partners such as Sonangol and help the country develop and benefit from its natural gas resources," said Ali Moshiri, President, Chevron Africa and Latin America Exploration and Production Company. "As a member of GGFR, Chevron is proud that projects like Angola LNG advance our mutually shared goal of unlocking the value of currently wasted natural gas to improve energy efficiency and minimize environmental impact. This kind of cooperation will be even more important over the coming decades, as governments and the private sector work to promote conservation and commercialize resources to meet the world's increased energy demands."
No small feat
Angola LNG provides a solution that both reduces greenhouse gas emissions and increases the use of natural gas, a cleaner source of energy. It is an integrated gas utilization project encompassing offshore and onshore operations to turn previously flared gas into more productive uses.
In today's climate change context – in which most companies and countries are looking for an opportunity to increase energy efficiency and reduce emissions – Angola LNG is no small feat.
"A major project like Angola LNG has high commercial value and enables a quantum reduction in gas flaring and venting," says S. Vijay Iyer, World Bank's Director for Sustainable Energy. "There are obvious economic and environmental benefits, and huge potential to use these revenues to increase energy access and reduce poverty for the benefit of all Angolans."
High-impact project
This US$10-billion project—one of the largest ever in the country's oil and gas industry— is located at Soyo, in northern Angola. At full production it is expected that Angola LNG will gather, process, sell and deliver 5.2 million tons of LNG per year plus natural gas, propane, butane and condensate.
"A large number of master LNG sale and purchase agreements have been executed with energy companies across the world, providing Angola LNG with a robust and diverse portfolio of customers." said Artur Pereira, CEO, Angola LNG Marketing Ltd. "Our key priority is for safe and reliable production and delivery of cargoes so that we can build a reputation as a trusted global supplier of LNG."
The Angola LNG project will gather associated gas in water depths of up to 1,500 meters initially from five blocks, and it will also develop previously discovered non-associated gas fields in two blocks to supplement the associated gas produced with oil.
The gas production from these blocks will be transported by three high-pressure pipelines to the LNG plant onshore for conditioning and extraction of natural gas liquids (NGLs) before the remaining gas is liquefied to LNG.
"Angola LNG marks a milestone for Angola's flaring reduction efforts and shows that when partners work together, it is possible to develop major projects with minimum impact on the environment," says Bjorn Hamso, manager of the World Bank-led GGFR partnership. "These are impressive efforts and results that should inspire others around the world."