FEATURE STORY
Kim: Now we can begin to imagine a world free from poverty
July 4, 2013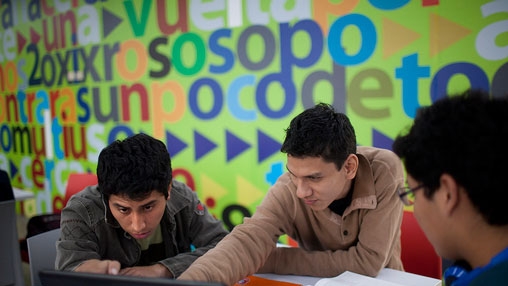 STORY HIGHLIGHTS
World Bank President, Jim Yong Kim, spoke of his vision for shared prosperity with academics and students in Peru.
Kim highlighted the Bank's commitment to improve the quality of education, especially in rural Peru.
While meeting Padre Gustavo Gutierrez, founder of Liberation Theology, Kim remembered his early days working to end poverty and promote social justice.
For World Bank Group President, Jim Yong Kim, this generation, like no other before, can begin to imagine a world free from poverty. That was his message to students and representatives of the Pontifical Catholic University of Peru during a Town Hall webcast broadcast from the university's Law auditorium.
Sharing the stage with Minister for Development and Social Inclusion – and PUCP alumna - Carolina Trivelli, Dr Kim answered questions from students and social media. Often speaking in Spanish, President Kim immediately captured the attention of the room - often joking with the audience and calling upon current cultural references to bring the debate to life.
Explaining that the true owners of the World Bank are the people of the world, Dr. Kim described how the Bank has changed in its approach to creating a world free from poverty by 2030. Today, gender equality, climate change and rights for the world's indigenous peoples are seen as priorities, and, as such, are encompassed within the organization's twin goals of a world free from poverty and building shared prosperity.
"The important thing is to connect words like social justice and poverty," said President Kim, citing the Leader of the Liberation Theology Movement, Padre Gustavo Gutierrez, who he met with at the University campus in Lima.
An active conversation, questions came from both those present in the room and from a global audience via Facebook and Twitter - the event was broadcasted live nationally and globally via the web on the PUCP the World Bank Live sites.
Many of the online participants sent in their solutions for a world free of poverty. Via the WB livechat Diana de la Rosa, commented: "To end poverty, we must educate families, identify their strengths and expand their opportunities… the rest… they do themselves". On Twitter @hector_Cardona6 said "#ittakes hard work with clear goals, applying a certain level of social responsibility from business owners and entrepreneurs."

The important thing is to connect words like social justice and poverty.

Jim Yong Kim
President of the World Bank Group
Investing in next generation
In the past 5 years, Peru has seen poverty rates decline drastically – from 50% in 2005 to 26% in 2012 – but, inequality in the country remains high and who your parents are, still is an deciding factor in which opportunities are available to you.
One important step towards realizing this goal is to invest in education. And this doesn't stop at simply ensuring children go to school. There is also a real need to ensure that teachers are trained, have the equipment to teach and students are given the best environment.
"It's not enough to send in a good teacher, if the children go to school hungry." said Social Inclusion Minister Trivelli during the conversation.
Prior to the Town Hall, President Kim visited a rural school in Lamay in the province of Cuzco, where students have been given the best chance to learn, thanks to a school meals program, highly-trained teachers and sufficient learning materials. Responding to Minister Trivelli, he reiterated how important programs like these are and described the real sense of desire from parents to give their children a better chance in life than they did.
Natural resources
Much of Peru's recent economic growth has derived from the extractive industries and the country's many natural riches. As a result, many of those present at PUCP voiced concerns about the environmental and social effect.
Responding to these concerns, President Kim stated that, while these industries will be very important for Peru in the future, there are ways of both extracting the minerals and strongly benefitting both the local communities and the country as a whole. He did warn that for this to be achieved the country needs to avoid the natural resources curse – or, in other words, the overreliance on natural resources to the detriment of other enterprises.
Instead, he invited those present to think like his native South Korea. Poor in natural resources, the country has consistently innovated to form new industries, most recently investing in its culture, resulting in Psy's global hit.
Fifteen years ago, President Kim came to Peru as a doctor to work with drug-resistant tuberculosis. Recalling his time in Carabayllo, he commented on the significant advances the country has made, not least in reducing poverty, improving education an increasing connectivity.
"There are still many problems," Dr Kim concluded : but I have to say that on this trip, I see enormous optimism for the future."