FEATURE STORY
Quinoa: a "Superfood" enriching the lives of Andean farmers
February 19, 2013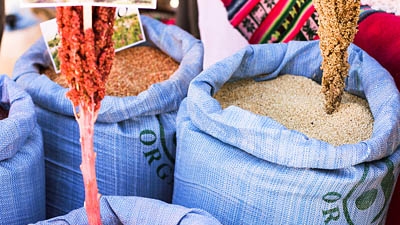 STORY HIGHLIGHTS
The World Bank joins International Year of the Quinoa celebrations.
Through the Rural Partnerships project, it supports the sustainable production of this and other crops in Bolivia.
Since 2005, 3,800 poor Bolivian families have benefited from this initiative.
An Inca legend tells of a fox returning from heaven with a full belly when envious parrots began pecking at the rope during his descent, causing him to fall onto the peaks of the Andean Cordillera. From the burst body spilt quinoa, which it had stolen from the Gods, across the entire Altiplano or Andean highlands.
Fast forward 3,500 years: quinoa, indeed considered sent from heaven for its high nutritional value, is spreading across the globe with a growing reputation as a super-food, which could address food security issues while respecting the environment.
The growing role of quinoa on the world stage has prompted the United Nations, in collaboration with native producers Peru and Bolivia, to declare February 20th as the beginning of the International Year of the Quinoa, a move meant to raise awareness about the nutritional might of the so-called Golden Grain.
The World Bank joins the campaign hosting a full day dissemination event on February 22 with top Bolivian officials including Agriculture Minister Nemesia Achacollo and Deputy Minister for Foreign Affairs and International Trade, Pablo Guzman.
An alternative for food insecurity
Current Bank projects in Bolivia, such as Agricultural Innovation Services - PISA focus on promoting sustainable crops and production methods in non-altiplano areas, including the development of new seed varieties resilient to climates outside traditional quinoa habitats.
"By bringing small-scale quinoa farmers in Bolivia closer to other farmers and national and international markets, the World Bank is responding to one of the priorities of the Bolivian government: reducing rural poverty. At the same time, we promote efforts to guarantee the sustainable production of quinoa", said Hasan Tuluy, World Bank Vicepresident for Latin America and the Caribbean.
Called "the Inca's wheat," this ancestral Andean food — it's thought that it's been cultivated since 1500BCE — has an ever expanding presence within modern-day Bolivian and Peruvian cuisine. According to the FAO, quinoa it is the only plant crop to contain all the essential amino acids, vitamins, mineral nutrients, and, furthermore, it doesn't contain gluten.
Gallery: Recipes with quinoa (SP)
"Faced with a global need to identify crops with the potential to produce quality food in a context of ongoing climate change, quinoa is an alternative for those countries suffering from food insecurity to take advantage of this opportunity to grow their own food," maintains a recent study from the United Nations' Food and Agriculture Organization (FAO).
Although up until now quinoa, also known as quinua or kinwa, has predominately been grown in the Andean highlands, it is a highly adaptable crop. Enduring temperatures between -8 °C and 38 °C, it can be planted up to 4,000 meters above sea-level and its innate water efficiency makes it resistant to the lack of moisture in the soil.
The aim is to promote this valuable Andean heritage grain around the world keeping two key goals in mind: combatting malnutrition while promoting the development of historically impoverished highland communities.
Support for Rural Partnerships
Since 2005, the PAR (Rural Partnerships Project) has supported and financed more than 780 rural partnerships between domestic and foreign producers and consumers in Bolivia, in sectors ranging from fruit and vegetable farming to the production of honey and handicrafts, including, of course, the production and marketing of quinoa.
"With the support of PAR, more than 1,500 producers have on average increased their annual revenue by BOB12,978 per family (close to US$2,000), due to improvements in production systems, the rehabilitation of fallow areas and yield increases of 14%," said Johnny Delgadillo, PAR Coordinator in Bolivia.
"Producers' organizations have implemented their business plans by partnering with market agents. These agents distribute the quinoa crop to international (83%) and domestic (17%) markets. Sales have increased by 38%," Delgadillo added.
The project focuses on helping rural producers increase their market access through a competitive mechanism based on clear and simple rules and principles, always taking into account the unique combination of agro-ecosystems and the crop's cultural institutions and traditions.
There are 98 rural partnerships in Bolivia, of which 53are now self-supporting and 45 are still receiving World Bank advice. That represents 3,800 families who have benefited from the project which seeks to open markets up to poor, rural farmers, helping them add value to their products, increase their income while promoting fair trade and developing the economy of the community as a whole.