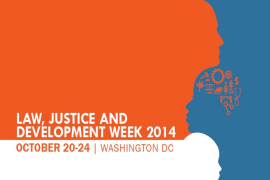 Law, Justice and Development (LJD) Week 2014: Financing and Implementing the Post-2015 Development Agenda
October 20-24, 2014
World Bank Headquarters, Washington
In September 2014, a report on Sustainable Development Goals to guide the post-2015 agenda will be submitted to the UN General Assembly. LJD Week 2014 will provide a timely opportunity to discuss, debate, and define the role of law and justice in the post-2015 development agenda. REGISTER NOW.
Each year, Law, Justice and Development (LJD) week brings together World Bank Group staff, senior officials from other international financial institutions, international development practitioners, government officials, lawyers, judges, scholars and representatives from civil society. As in previous years, LJD Week 2014 will be an event co-organized by the Legal Departments of the World Bank Group and the International Centre for the Settlement of Investment Disputes (ICSID). It will also involve the collaboration and participation of the 150 international partners of the Global Forum on Law, Justice and Development (GFLJD).
GLOBAL FORUM DAYS
The first two days of LJD Week will be devoted to the legal dimensions to the post-2015 development agenda, and will be organized into three parallel sub-themes:
Financing the post-2015 development agenda.
Implementing the post-2015 development agenda.
Social and economic equity in the post-2015 development agenda.
Each sub-theme will be organized coherently to explore the topic in detail, and each sub-theme will generate an issue paper identifying the issues discussed, and the key points of agreement and dialogue.
EUROPE DAY
Each year, LJD Week takes an in-depth look at legal, economic and social developments in a particular country or region. The past four years have focused on Brazil, China, India, and Africa. This year, LJD Week will focus on Europe. The day will include an exploration of how we think of "Europe" ranging from the European Union to accession countries, to all of continental Europe. Subject to contributing partners' inputs, Europe Day is proposed to include the following four themes:
Europe as a contributor to the global development agenda.
Addressing poverty and shared prosperity within Europe.
The ongoing financial crisis in Europe.
Migration into and within Europe.
Potential partners include the European Commission, European Parliament, European Court of Justice, European Central Bank, in collaboration with Italian Central Bank; Council of Europe, European Investment Bank; European Bank for Reconstruction and Development; and European universities and law schools.
IFI DAY
The annual General Counsel' Roundtable will bring together the heads of the legal departments of International Financial Institutions (IFIs) in an interactive format to discuss issues of common interest. General Counsel of other IFIs will be contacted to suggest possible topics for the Roundtable. There will be an open session and a closed session, together adding up to one half day of discussions. In parallel, other representatives of IFIs will address topics that are most relevant to their organizations and their work.
WORLD BANK GROUP DAY
World Bank Group day is specifically reserved for lawyers working in the World Bank Group, and will be devoted to issues of specific interest to them, including operational issues, institutional dynamics, and the role of the new Global Practice Groups.
NEW FORMATS
To maximize learning outcomes, LJD Week 2014 will experiment with a variety of new formats. These include:
Experts on call: practical guidance on law or justice reform projects. Participants can be invited to ask pertinent technical questions in one-on-one 15 minute sessions.
Hard talk: fast-paced, personal and highly interactive interviews. Well-known and respected thought leaders can be interviewed in a BBC-style hard talk format.
Master class: highly interactive workshops run by a trained facilitator and a seasoned expert allows experts to communicate experiential knowledge and know-how.
TED-style talks: a series of informative, inspiring, energetic, 18-minute talks on "burning topics," innovations, and personal challenges faced in engaging clients, or shaping change on the ground.
Knowledge Café: an open discussion on a topic of mutual interest aimed to surface collective knowledge, and facilitate sharing of experiences, ideas and insights.

A Preliminary Agenda is now available and will be updated with speaker information and session descriptions as they are confirmed.
Registration to the LJD Week 2014 will close Friday October 10, 2014 at 6:00 pm Washington DC Eastern time.
Register Now
Registration Fees
| | Full Week | One Day |
| --- | --- | --- |
| Speaker | Free | Free |
| Regular | $400 | $200 |
| ABA Member | $320 | $160 |
| Non-Governmental Organizations | $200 | $100 |
| Governmental and Intergovernmental Organizations | $200 | $100 |
| Student | $150 | $75 |
| GFLJD Member | Free | Free |
| IMF | Free | Free |
| World Bank Group | Free | Free |
Cancellation Policy
Paid Participants
You may cancel the registration on or before September 20, 2014, 6:00 pm EST, in which case you will receive a reimbursement of 70% of the registration fee. In all other cases, including no-show, the financial responsibilities of the participants remain fully effective.
GFLJD/IMF/World Bank Group Participants
We will charge a no-show fee of $200 if you don't cancel your registration by September 20, 2014, 6:00 pm EST.

ENTRANCE AND SECURITY PROCEDURES
Main entrance for registered participants
1818 H Street NW, Washington, DC 20433
Security procedure
Please bring a valid photo ID (such as your national passport) to enter the World Bank premises.
Collection of identification passes
Please collect your identification pass and event badge at the registration desk.
Your identification pass will be valid for the whole week and will be required when you wish to enter Bank premises. For identification and security reasons, participants must display their identification passes visibly at all times while in the Bank premises.
The loss of an identification pass must be reported immediately to the registration desk or security personnel.
DISABILITY ACCOMMODATIONS
The World Bank will provide reasonable accommodations for participants with disabilities as long as we are informed of special needs in writing at the time of registration. Please contact ljdweek@worldbank.org to specify your accommodation needs.
VISA
Please be advised that it is the responsibility of participants to obtain a visa to enter the United States if applicable. You will need a passport that is valid for no less than three months following your departure from the United States.
Please consult the respective United States Consulate regarding United States visa application deadlines and documentation required http://travel.state.gov/visa.
ARRANGEMENTS FOR PARTICIPANTS
All event-related-expenses: travel, accommodation, medical insurance and other arrangements are the responsibility of the participants.
DIRECTIONS
Metro Directions
The nearest station on the Orange Line is Farragut West (about 2 blocks from the main World Bank building). The nearest station on the Red Line is Farragut North (about 3-4 blocks from the main building). For more information about the Washington, DC metro, see Washington Metropolitan Area Transit Authority.
Most trains arriving to Washington, DC arrive at Union Station. To get to the World Bank, either take a taxi or take the Red Line Metro from Union Station to Farragut North. From there, it is about 3-4 blocks to the main World Bank building. For more train information, see Amtrak.
HOTELS
Participants are expected to make their own hotel reservations. We urge participants to make reservations as soon as possible since local hotels fill up quickly.

The Hotels recommended for LJD Week 2014 are:

The St. Gregory Luxury
2033 M Street NW
Washington, DC 20036
Tel (202) 530 3611
Website

Hampton Inn Washington
1729 H Street NW
Washington, DC 20433
Tel (202) 296-1006
Website
CONTACT
For additional information, please send an email to ljdweek@worldbank.org.